Key Russian Bridge to Crimea Is Struck Again as Putin Vows Response to Attack That Killed 2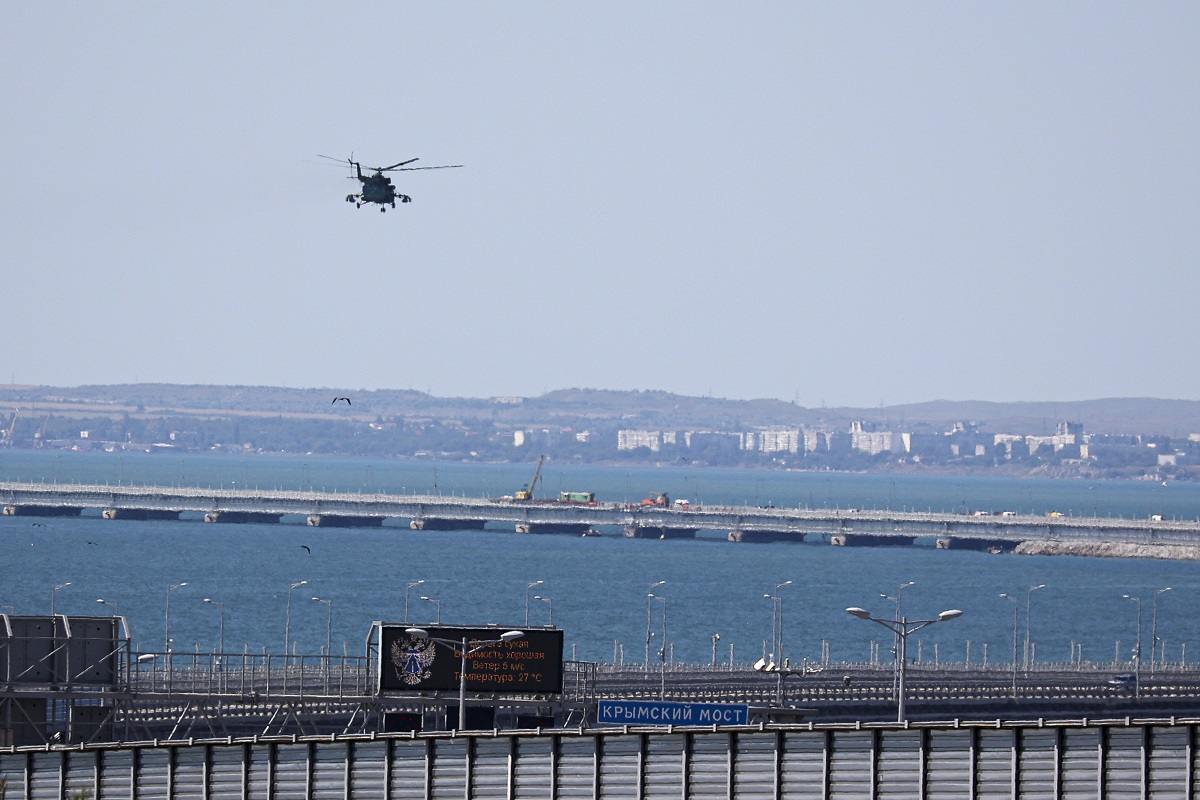 11:01 JST, July 18, 2023
An attack before dawn Monday damaged a bridge linking Russia to Moscow-annexed Crimea that is a key supply route for Kremlin forces in the war with Ukraine, forcing the span's temporary closure for a second time in less than a year. Two people were killed and their daughter was injured.
Russian President Vladimir Putin ordered increased security at the 19-kilometer (12-mile) Kerch Bridge, repeating a call he made in October 2022 when the span was severely damaged by an explosion that Moscow also blamed on Kyiv.
He also promised "there will be a response from Russia, of course."
"What happened is another terrorist act of the Kyiv regime," Putin said at a televised meeting with officials. "It is a crime that is pointless from the military point of view, it bears no significance because the Crimean bridge hasn't been used for military means in a long time, and it is brutal, because blameless civilians were injured and killed."
Vehicle traffic on the bridge came to a standstill on Monday, while rail traffic also was halted for about six hours.
Satellite images taken Monday morning by Maxar Technologies showed serious damage to both eastbound and westbound lanes of the bridge across the Kerch Strait on the part nearest to the Russian mainland, with at least one section collapsed. The railroad bridge that runs parallel to the highway appeared undamaged.
The strike was carried out by two Ukrainian maritime drones, Russia's National Anti-Terrorist Committee said.
Ukrainian officials were coy about taking responsibility, as they have been in past strikes. But in what appeared to be a tacit acknowledgment, Ukrainian Security Service spokesman Artem Degtyarenko said in a statement that his agency would reveal details of how the "bang" was organized after Kyiv has won the war.
The October attack on the bridge came when a truck bomb blew up two of its sections and required months of repair. Moscow decried that assault as an act of terrorism and retaliated by bombarding Ukraine's civilian infrastructure, targeting the country's power grid over the winter.
In Monday's blast, the Ukrainian news portal RBK-Ukraina cited a security services source as saying it was carried out by what it called floating drones. A deputy prime minister, Mykhailo Fedorov, later said on the Telegram messaging service that "today, the Crimea bridge was torn apart by sea drones," but it was not clear if he was making an official confirmation or referring to earlier reports.
Hours after the attack, video from Russian authorities showed crews picking up debris from the deck of the bridge, a section of which appeared to be sloping to one side, and a damaged black sedan with its passenger door open.
Putin ordered authorities to "thoroughly investigate what happened," to come up with "concrete proposals to enhance security of this strategically important transport object," and to "provide all possible support to people who ended up in a difficult position due to the halted traffic on the bridge."
The Kerch Bridge is a conspicuous symbol of Moscow's claims on Crimea and an essential land link to the peninsula, which Russia illegally annexed in 2014. The $3.6 billion bridge is the longest in Europe and is crucial for Russia's military operations in southern Ukraine in the nearly 17-month-old war.
Russia has expanded its military forces in Crimea since its full-scale invasion of Ukraine in February 2022. Occasional sabotage and other attacks against the Russian military and other facilities on the peninsula have occurred since, with the Kremlin blaming Ukraine.
Those attacks and acts of sabotage haven't discouraged Russians from spending their holidays in Crimea, and as car traffic on the bridge came to a halt, long lines formed at a ferry crossing the Kerch Strait, Russian media reported.
Traffic jams also clogged a highway in the Russian-held part of the Kherson region after Moscow-appointed authorities in Crimea redirected motorists to take the land route to Russia, through the partially occupied regions of Kherson, Zaporizhzhia and Donetsk, according to Russian state news agency RIA Novosti. Drivers heading to Crimea were also stuck in a three-kilometer jam between Russian cities of Rostov-on-Don and Taganrog, RIA Novosti reported.
The bridge attack comes as Ukrainian forces are pressing a counteroffensive in several sections of the front line. It also happened hours before Russia announced, as expected, that it is halting a deal brokered by the United Nations and Turkey that allows the export of Ukrainian grain during the war.
Russian media identified the dead as Alexei and Natalia Kulik, who were traveling to Crimea for a summer vacation. The 40-year-old Kulik was a truck driver and his 36-year-old wife was a municipal education worker. Their 14-year-old daughter suffered chest and brain injuries.
Kyiv didn't initially acknowledge responsibility for October's bridge attack either, but Deputy Defense Minister Hanna Maliar acknowledged earlier this month that Ukraine struck it to derail Russian logistics.
Russian authorities said the attack didn't affect the bridge's piers but damaged two road links, one beyond repair. The damage still appeared less serious than in October's attack; Russian Deputy Prime Minister Marat Khusnullin said authorities would gradually resume traffic on one side of the bridge after midnight Monday (2100 GMT Monday).
Andriy Yusov, a spokesman for Ukraine's military intelligence department, declined to comment but said: "The peninsula is used by the Russians as a large logistical hub for moving forces and assets deep into the territory of Ukraine. Of course, any logistical problems are additional complications for the occupiers."
The Security Service of Ukraine posted a redacted version of a popular lullaby, tweaked to say that the bridge "went to sleep again."
Add TheJapanNews to your Google News feed.