Trump Blasts DeSantis in Iowa, Says GOP Rival 'Despises' the State's Ethanol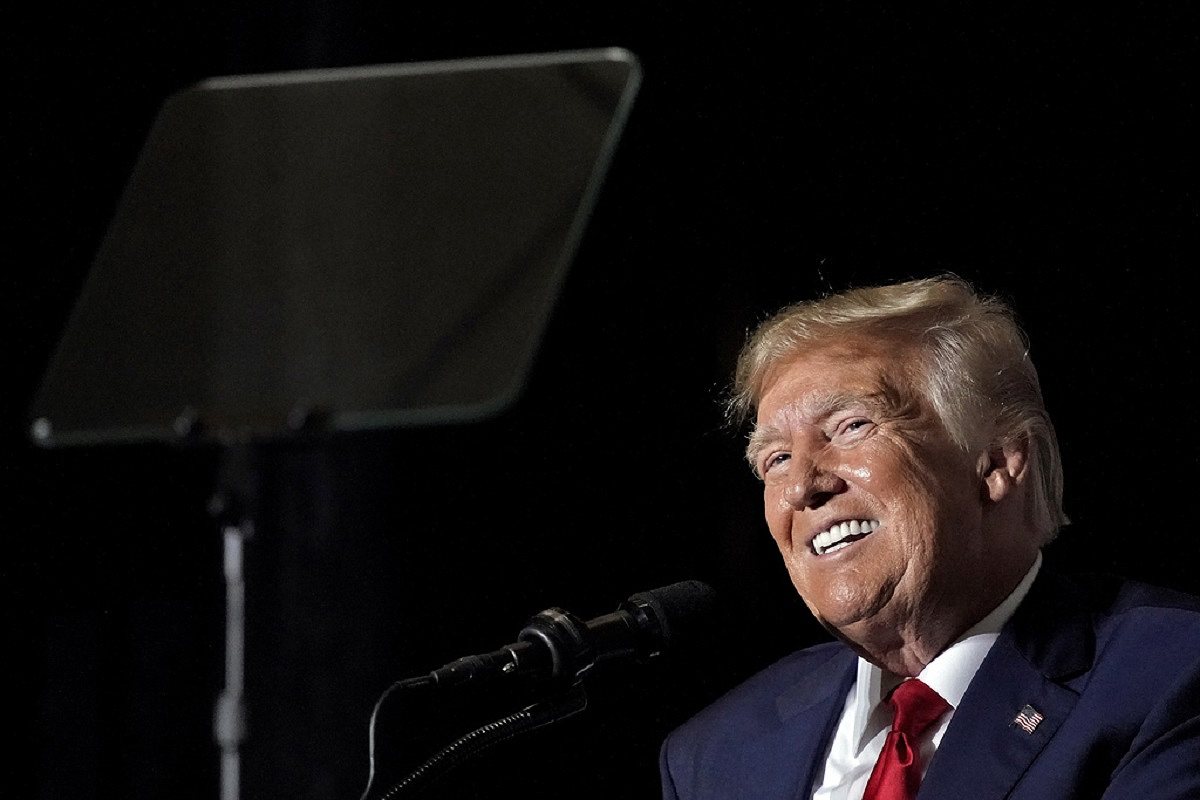 13:49 JST, July 8, 2023
COUNCIL BLUFFS, Iowa (AP) — Campaigning in Iowa, former President Donald Trump attacked Florida Gov. Ron DeSantis as an enemy of corn-based ethanol in his largest campaign event in the leadoff caucus state in nearly four months.
Trump, appearing Friday in Council Bluffs in the western part of the state, criticized his top 2024 Republican presidential rival for voting as a member of Congress to oppose the federal mandate for the fuel additive that Iowa leads the nation in producing.
Trump declared himself "the most pro-farmer president that you've ever had" at the event, which was aimed at promoting his administration's agricultural record and touting his oversight of clawbacks of regulations on farmers. "I fought for Iowa ethanol like no president in history," he said.
On a rainy Friday, Trump spoke to more than 1,000 Iowans and Nebraskans packed into the event hall inside Mid-America Center, with hundreds more huddled under umbrellas in line outside the arena.
As a congressman from Florida, DeSantis co-sponsored a bill in 2017 that would have immediately ended the renewable fuel standard, a position consistent with fiscal conservatives who see such mandates as government overreach.
"Iowa also needs to know that Ron DeSanctus totally despises Iowa ethanol and ethanol generally," Trump said, intentionally mispronouncing his rival's name as he routinely does. "He's been fighting it for years. Don't forget, as a congressman he was voting against it, and fighting for years to kill every single job."
DeSantis' campaign described the attack as a distortion. "As president, Governor Ron DeSantis will be a champion for farmers and use every tool available to open new markets," campaign press secretary Bryan Griffin said in an emailed statement
Trump spoke for 80 minutes, starting with the agriculture theme but blending his attacks on DeSantis and President Joe Biden with asides on such subjects as Russian President Vladimir Putin's invasion of Ukraine — "I told him: Don't do it." — an impression of French President Emmanuel Macron and a dismissal of climate change science, saying during the hottest week in history that global warming is just going to give more people beachfront property.
He touted his three picks for the Supreme Court, who helped make up the majority that voted to overturn Roe v. Wade on abortion last year and to end affirmative action in college admissions last week. He urged caution in the way that Republicans talk about life after Roe and cast the decision as an opportunity for bargaining at the state and federal levels.
Noting his own preference for exceptions to abortion bans for victims of rape or incest and to protect the life of the pregnant woman, Trump said the court ruling gave "pro-lifers a tremendous power to negotiate" abortion restrictions.
"That issue has to be spoken about properly because Republicans, many of them don't speak about it properly," he said, a nod to his criticism of hardline opponents he blamed for holding Republicans to a narrow House win last year. He added: "It's really a great victory to get something done. You now have tremendous power to negotiate something."
Trump took three audience questions and then headed to a local Dairy Queen. He teased the onlooking news media as he entered and wondered aloud what DQ's signature "Blizzard" was before handing them out to adoring fans. "Anyone want one back there?" he asked the crowd, which chanted, "USA! USA! USA!"
Although Iowa's caucus campaigns have become more focused on national party priorities over the past two decades, some candidates have continued to portray support for ethanol — specifically the federal requirement that the nation's fuel supply contain a minimum volume of renewable fuels — as a litmus test in the state.
Ethanol is a fuel additive blended with gasoline and sold across the country that is usually produced by fermenting corn. The ethanol industry consumes about half of Iowa's corn crop, and the state leads the nation in corn and ethanol production.
As a candidate, Trump has promoted the executive order he signed as president increasing the retail sale of fuel containing 15% ethanol.
Recent history, however, suggests a lack of support for ethanol may not be disqualifying. In 2016, Texas Sen. Ted Cruz, who opposes the mandate, won Iowa's Republican caucuses, handing Trump an early defeat in his ultimately successful White House campaign. Trump carried Iowa by more than 9 percentage points in 2016 and 8.2 points in 2020.
As he arrived in Iowa, Trump also rolled out his Farmers for Trump Coalition, a group co-chaired by officials including Reps. Mike Sexton and Derek Wulf, the top two Republicans on the House Agriculture Committee.
Before Friday, Trump's last large event in Iowa was in March, when he spoke to more than 1,500 people at a theater in Davenport and also went after DeSantis on ethanol. He was due to hold an outdoor event in May in Des Moines with about 5,000 expected, but his campaign called it off because of a tornado warning.
The large Republican presidential field has spent a lot of time over the past few months in Iowa, the leadoff GOP caucus state. In June, more than a half dozen candidates, including DeSantis, former Vice President Mike Pence, former United Nations Ambassador Nikki Haley and U.S. Sen. Tim Scott of South Carolina, attended Sen. Joni Ernst's annual "Roast and Ride" fundraiser that kicked off a busy summer campaign season.
Trump campaigned in the Des Moines area last month, meeting with GOP state lawmakers, conservative pastors, campaign volunteers and a suburban Republican breakfast club. That visit came about a week before he was indicted on federal charges.
Part of the stop's purpose was also to put supporters in touch with campaign organizers to ensure their participation in the Iowa caucuses, which he predicted Friday he would win.
But noting the robust delegation that had crossed the Missouri River from Nebraska to attend, Trump said, "I hope Nebraska's represented here."
The gesture prompted an eruption of applause from the many Nebraskans in the hall, none of whom would be allowed to participate in the caucuses.
Add TheJapanNews to your Google News feed.