Trump's GOP Support Dips Slightly after His Indictment over Classified Documents, AP-NORC Poll Finds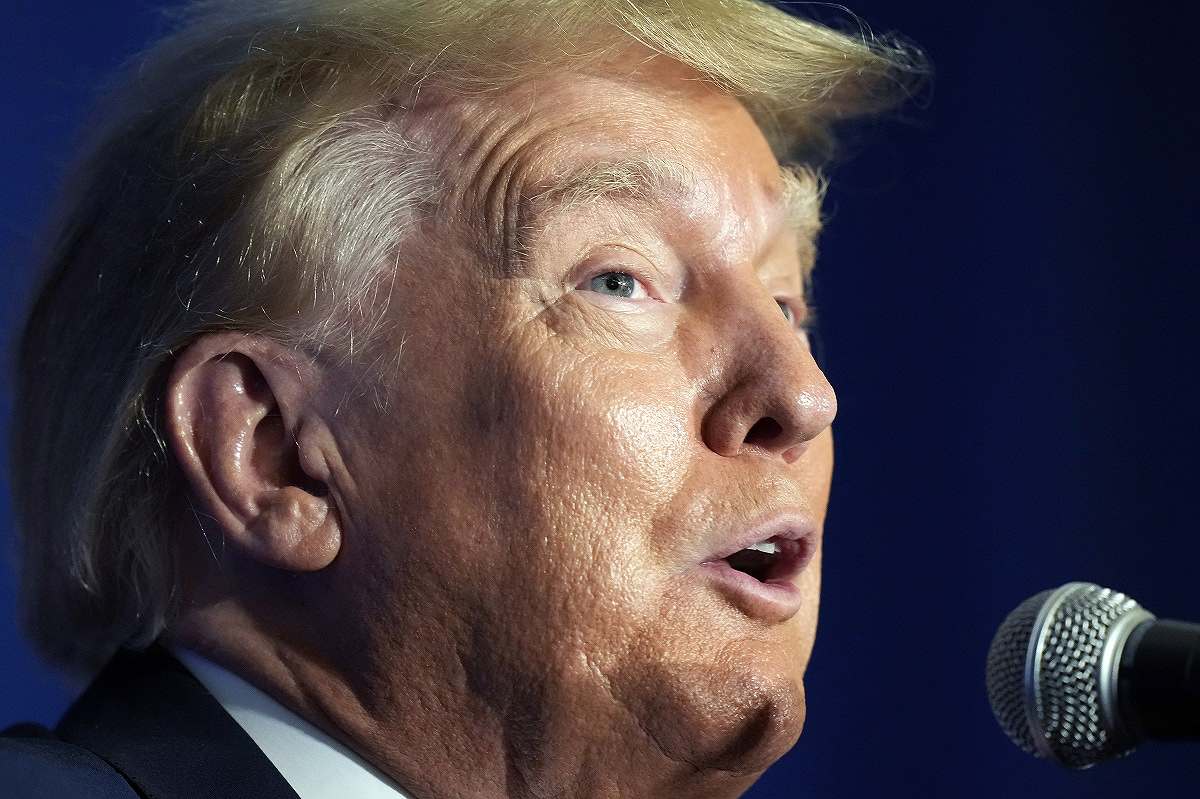 12:26 JST, June 30, 2023
NEW YORK (AP) — Former President Donald Trump's criminal indictment on charges of mishandling government secrets appears to have dented his popularity among Republicans — but only slightly —- according to a new poll from The Associated Press-NORC Center for Public Affairs Research.
Sixty percent of Republicans now have a favorable view of Trump, down slightly from 68% in April for the 2024 GOP presidential front-runner. The poll found 38% of Republicans have an unfavorable view of Trump, up from 30% in April.
The favorability decline suggests some Republicans could be growing weary of Trump's legal drama after he became the first former president in U.S. history to be indicted on federal criminal charges. Trump, who was also indicted on separate charges in New York this spring, pleaded not guilty this month to 37 felony counts accusing him of improperly storing classified documents at his Mar-a-Lago club in Palm Beach, Florida, concealing them from investigators and refusing to turn them over when subpoenaed.
Overall, Americans are more likely to have an unfavorable view of Trump than a favorable one, 63% to 33%, similar to April. The poll was conducted June 22-26, after the full indictment became public and after Trump's not guilty plea.
But the poll also points to challenges faced by Trump's GOP rivals in capitalizing on the situation and trying to change the dynamic of the nomination contest, where Trump remains the clear favorite. U.S. adults overall are slightly more likely than they were earlier in the year to believe the former president acted illegally in his handling of classified documents stashed at Mar-a-Lago. Just over half, 53%, now say he broke the law, compared with 47% in the April AP-NORC poll. But most of that increase is attributable to Democrats.
An overwhelming majority of Democratic voters, 84%, now say they think Trump broke the law in connection to the documents, compared with 75% who said so in April.
When it comes to Republicans, however, only about a quarter say Trump acted illegally in the Mar-a-Lago case, about the same as in April. An additional 29% said he acted unethically but did not do anything illegal, while 26% said they believe he did nothing wrong, with the rest saying they didn't know enough to say.
They include Patty Faber, a registered Republican who lives north of Phoenix and was dismissive of the charges.
"It's a bunch of hooey," said Faber, 62, who runs an RV park. "Should he have taken all that stuff home? No. But other presidents have also taken things home." She noted that President Joe Biden and former Vice President Mike Pence were also found to have classified documents in their possession — though neither has been accused of trying to conceal the documents from or lying to investigators.
Still, Faber, who has supported Trump in the past, said that while she would be "ecstatic" to see him return to the White House, she would much prefer the party nominate Florida Gov. Ron DeSantis, who is currently a distant second in the polls.
"He has a better chance of winning the general election. Trump is carrying too much baggage now," she said.
Others' feelings were more complicated. Nancy Tobeck, 74, a Republican in Crossville, Tennessee, believes Trump may have broken the law. But if he did, she said, "I don't think it was deliberate."
"It's a hard one because I think he might have done something wrong by not giving them all over. But I also understand that he had things in there. So it's kind of half and half on that," she said. "I do believe that it is politically motivated, though."
Tobeck, who voted for Trump in 2016 and 2020, said the indictment had not changed her feelings about him because she had already soured on the former president after he refused to accept the results of the 2020 election.
Indeed, the numbers make clear the challenges faced by Trump's GOP rivals, who have struggled to respond to charges that would, in any other era, spell a candidate's demise.
While former U.N. Ambassador Nikki Haley called Trump's alleged actions "reckless" and Pence has said he "can't defend" the "very serious allegations," the candidates have also criticized the Justice Department for the charges, reflecting GOP voters' deep skepticism of federal law enforcement.
Besides the counts he faces in Florida, Trump was indicted in New York in March in connection to hush money payments made during the 2016 campaign to women who alleged sexual encounters with him. And he faces the possibility of additional charges in other jurisdictions.
In Georgia, a prosecutor is investigating efforts by Trump and his allies to overturn the results of the 2020 election. And in Washington, special counsel Jack Smith continues to investigate Trump's election lies and their aftermath, including the violent riot at the U.S. Capitol on Jan. 6, 2021.
The poll finds half of U.S. adults believe Trump broke the law in his alleged attempt to interfere in Georgia's vote count during the 2020 presidential election. Slightly fewer, 45%, say his actions related to the Jan. 6 insurrection were unlawful.
Just 35% of U.S. adults say he acted illegally in allegedly covering up the hush money payments — a slight decrease from the 41% who said he had in April, just after the indictment in that case. In particular, 57% of Democrats now say Trump acted illegally in that case, down from 68% in April. Just 13% of Republicans say Trump acted illegally in that case, the same as in April.
Nearly all U.S. adults have read or heard at least a little about Trump's federal indictment, with Democrats being slightly more likely than Republicans to say they have heard a lot.
All that attention has proved a challenge for Trump's GOP rivals, who have been grappling with how to break into the spotlight.
Some voters are simply sick of the drama.
Paul Schwartz, 38, a truck driver from Pocatello, Idaho, identifies as an independent but voted for Trump in 2016 and 2020 because he saw him as the better of bad options.
While he says he's no fan of Trump — "I've always disdained the man," he said — Schwartz sees the indictment as nothing but a "witch hunt" and "mudslinging that has no point."
"I believe people are trying to swing opinions on things that are completely irrelevant to how someone governs the country," he said, arguing that what matters are candidates' positions on issues like abortion and immigration.
Plus, he said: "We know these are detestable human beings. They're politicians. That's a job requirement."
Add TheJapanNews to your Google News feed.