Prigozhin Has Moved to Belarus, and Russia Won't Press Charges for Mutiny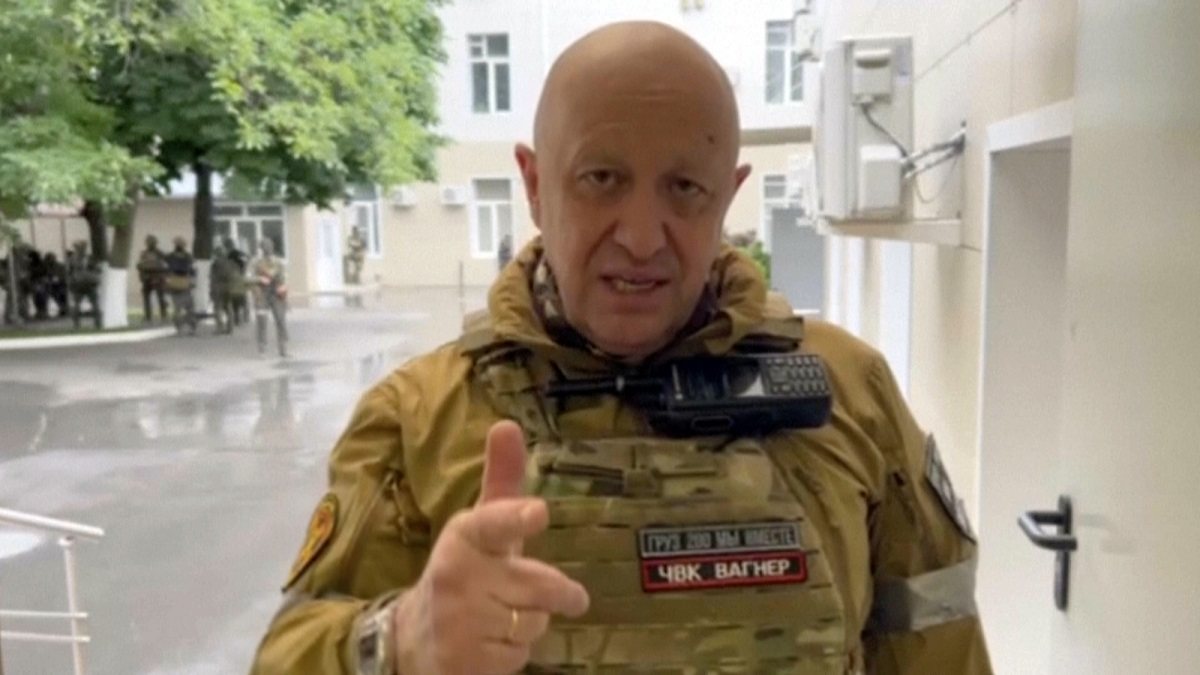 9:28 JST, June 28, 2023
Yevgeny Prigozhin, owner of the private army of prison recruits and other mercenaries who have fought some of the deadliest battles in Russia's invasion of Ukraine, escaped prosecution for his abortive armed rebellion against the Kremlin and arrived Tuesday in Belarus.
The exile of the 62-year-old owner of the Wagner Group was part of a deal that ended the short-lived mutiny in Russia. Belarusian President Alexander Lukashenko confirmed Prigozhin was in Belarus, and said he and some of his troops were welcome to stay "for some time" at their own expense.
Prigozhin has not been seen since Saturday, when he waved to well-wishers from a vehicle in the southern city of Rostov. He issued a defiant audio statement on Monday. And on Tuesday morning, a private jet believed to belong to him flew from Rostov to an airbase southwest of the Belarusian capital of Minsk, according to data from FlightRadar24.
Meanwhile, Moscow said preparations were underway for Wagner's troops fighting in Ukraine, who numbered 25,000 according to Prigozhin, to hand over their heavy weapons to Russia's military. Prigozhin had said such moves were planned ahead of a July 1 deadline for his fighters to sign contracts — which he opposed — to serve under Russia's military command.
Russian authorities also said Tuesday they have closed a criminal investigation into the uprising and are pressing no armed rebellion charge against Prigozhin or his followers.
Still, Russian President Vladimir Putin appeared to set the stage for financial wrongdoing charges against an affiliated organization Prigozhin owns. Putin told a military gathering that Prigozhin's Concord Group earned 80 billion rubles ($941 million) from a contract to provide the military with food, and that Wagner had received over 86 billion rubles (over $1 billion) in the past year for wages and additional items.
"I hope that while doing so they didn't steal anything, or stole not so much," Putin said, adding that authorities would look closely at Concord's contract.
For years, Prigozhin has enjoyed lucrative catering contracts with the Russian government. Police who searched his St. Petersburg office on Saturday said they found 4 billion rubles ($48 million) in trucks outside, according to media reports the Wagner boss confirmed. He said the money was intended to pay soldiers' families.
Prigozhin and his fighters stopped the revolt on Saturday, less than 24 hours after it began and shortly after Putin spoke on national TV, branding the rebellion leaders, whom he did not name, as traitors.
The charge of mounting an armed mutiny could have been punishable by up to 20 years in prison. Prigozhin's escape from prosecution, at least on a armed rebellion charge, is in stark contrast to Moscow's treatment of its critics, including those staging anti-government protests in Russia, where many opposition figures have been punished with long sentences in notoriously harsh penal colonies.
Lukashenko said some of the Wagner fighters are now in the Luhansk region in eastern Ukraine that Russia illegally annexed last September.
The series of stunning events in recent days constitutes the gravest threat so far to Putin's grip on power, occurring during the 16-month-old war in Ukraine, and he again acknowledged the threat Tuesday in saying the result could have been a civil war.
In addresses this week, Putin has sought to project stability and demonstrate authority.
In a Kremlin ceremony Tuesday, the president walked down the red-carpeted stairs of the 15th century white-stone Palace of Facets to address soldiers and law enforcement officers, thanking them for their actions to avert the rebellion.
In a further show of business-as-usual, Russian media showed Defense Minister Sergei Shoigu, in his military uniform, greeting Cuba's visiting defense minister in a pomp-heavy ceremony. Prigozhin has said his goal had been to oust Shoigu and other military brass, not stage a coup against Putin.
Lukashenko, who has ruled Belarus with an iron hand for 29 years while relying on Russian subsidies and support, portrayed the uprising as the latest development in the clash between Prigozhin and Shoigu. While the mutiny unfolded, he said, he put Belarus' armed forces on a combat footing and urged Putin not to be hasty in his response, lest the conflict spiral out of control.
He said he told Prigozhin he would be "squashed like a bug" if he tried to attack Moscow, and warned that the Kremlin would never agree to his demands.
Like Putin, the Belarusian leader portrayed the war in Ukraine as an existential threat, saying, "If Russia collapses, we all will perish under the debris."
Kremlin spokesman Dmitry Peskov would not disclose details about the Kremlin's deal with Prigozhin, saying only that Putin had provided "certain guarantees" aimed at avoiding a "worst-case scenario."
Asked why the rebels were allowed to get as close as about 200 kilometers (about 125 miles) from Moscow without facing serious resistance, National Guard chief Viktor Zolotov told reporters: "We concentrated our forces in one fist closer to Moscow. If we spread them thin, they would have come like a knife through butter."
Zolotov, a former Putin bodyguard, also said the National Guard lacks battle tanks and other heavy weapons and now would get them.
The mercenaries shot down at least six Russian helicopters and a military communications plane as they advanced on Moscow, killing at least a dozen airmen, according to Russian news reports. The Defense Ministry didn't release information about casualties, but Putin honored them Tuesday with a moment of silence.
"Pilots, our combat comrades, died while confronting the mutiny," he said. "They didn't waver and fulfilled the orders and their military duty with dignity."
Some Russian war bloggers and patriotic activists have vented outrage that Prigozhin and his troops won't be punished for killing the airmen.
Prigozhin voiced regret for the deaths in his statement Monday, but said Wagner troops fired because the aircraft were bombing them.
In his televised address Monday night, Putin said rebellion organizers had played into the hands of Ukraine's government and its allies. He praised the rank-and-file mutineers, however, who "didn't engage in fratricidal bloodshed and stopped on the brink."
A Washington-based think tank said that was "likely in an effort to retain" the Wagner fighters in Ukraine, where Moscow needs "trained and effective manpower" as it faces a Ukrainian counteroffensive.
The Institute for the Study of War also said the break between Putin and Prigozhin is likely beyond repair, and that providing the Wagner chief and his loyalists with Belarus as an apparent safe haven could be a trap.
Putin has offered Prigozhin's fighters the choice of either coming under Russian military command, leaving service or going to Belarus.
Lukashenko said there is no reason to fear Wagner's presence in his country, though in Russia, Wagner-recruited convicts have been suspected of violent crimes. The Wagner troops gained "priceless" military knowledge and experience to share with Belarus, he said.
But exiled Belarusian opposition leader Sviatlana Tsikhanouskaya, who challenged Lukashenko in a 2020 election that was widely seen as fraudulent and triggered mass protests, said Wagner troops will threaten the country and its neighbors.
"Belarusians don't welcome war criminal Prigozhin," she told The Associated Press. "If Wagner sets up military bases on our territory, it will pose a new threat to our sovereignty and our neighbors."
While attention focused on the aftermath of the Russian rebellion, the war in Ukraine continued to take a human toll in what U.S. Ambassador to Ukraine Bridget Brink called "terrible scenes from another brutal attack."
Russian missiles struck Kramatorsk and a village nearby in Ukraine's eastern Donetsk region with missiles, killing at least four people, including a child, and wounding some 40 others, with still others under building rubble, including in a café, authorities reported.
Add TheJapanNews to your Google News feed.