DeSantis quiet on Trump indictment as he faces conservatives in Trump country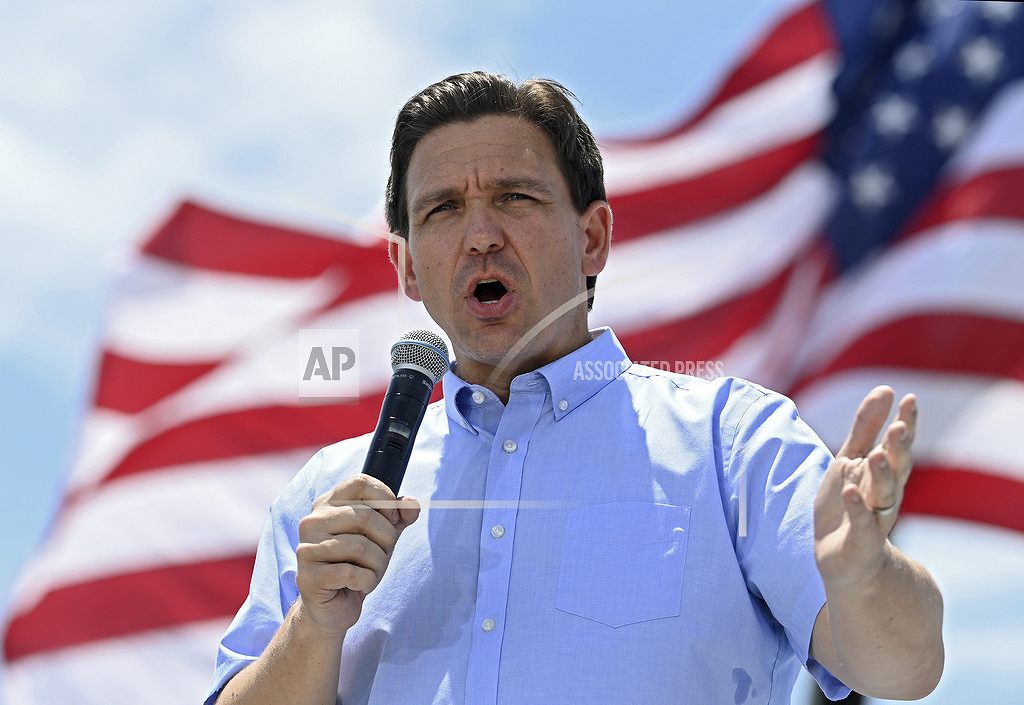 12:38 JST, June 18, 2023
GARDNERVILLE, Nevada (AP) — Florida Gov. Ron DeSantis on Saturday condemned Walt Disney World and the U.S. Justice Department — not his chief Republican rival, Donald Trump — as he courted Nevada Republicans deep in the heart of Trump country.
The U.S. "is off the rails," the Republican governor said. "Insanity is reigning supreme."
Speaking to Nevada Republicans for the first time as a presidential candidate, DeSantis made no direct mention of the federal indictment of Trump, who is facing dozens of felony counts for mishandling classified documents.
"We're going to end this weaponization of government once and for all," said DeSantis, donning an untucked short-sleeve shirt from a podium adorned with bales of hay and bull horns.
The comments come as the GOP's crowded 2024 presidential class grapples with how to respond to Trump's recent indictment. While some Republicans have raised serious concerns about the charges, DeSantis has largely ignored the situation, touching on it only generally by attacking the Justice Department.
Looking up at Trump in many polls, it's unclear if DeSantis can catch Trump by avoiding one of the dominant issues in the race.
The debate was playing out as DeSantis courted more than 2,000 conservatives, many Trump loyalists among them, who gathered for an annual Basque Fry under a blazing sun at a western Nevada ranch.
DeSantis' team believes he is especially well-positioned to compete with Trump in Nevada, one of the first four states to host a presidential primary contest early next year.
Beyond issues like his "war on woke," DeSantis also hopes to benefit from a close personal connection with a top Republican leader. Adam Laxalt, a former state attorney general and host of Saturday's gathering, was a roommate of DeSantis during naval officer training and has long remained a friend. Despite serving as Trump's Nevada chairman during the 2020 election, Laxalt already lined up behind the Florida governor by becoming the chairman of DeSantis' national super PAC.
"I believe Gov. DeSantis is the only person in America who can win the primary and the general and be a conservative warrior for all of us," Laxalt said as he introduced DeSantis.
Despite his optimism, it was unclear on Saturday how many Republican voters in this pivotal western state were convinced to abandon Trump. There was only a smattering of polite applause as the early speakers tried to cast DeSantis as the GOP's best hope in 2024.
Don Fautt, a Republican voter from nearby Sparks, Nevada, said he would support DeSantis in the upcoming primary only if Trump were not on the ballot.
"Trump is the only guy who can go in and fix things," Fautt insisted. "I get tired of his mouth, but I'll tell you what: He's a warrior. He'll fight. That's what we need."
Once he took the stage, DeSantis played up his willingness to fight any and all political opponents — especially Disney.
He told his Nevada audience that the children's entertainment giant is "supporting the sexualization of minors."
The feud between the Florida governor and the Florida entertainment giant started last year after the company, in the face of significant pressure, publicly opposed legislation concerning lessons on sexual orientation and gender identity in early grades that critics called "Don't Say Gay."
As punishment, DeSantis took over Disney World's governing district through legislation passed by lawmakers and appointed a new board of supervisors.
DeSantis was speaking out at Laxalt's annual Basque Fry, an event modeled after cookouts hosted by the former Nevada attorney general's grandfather, U.S. Sen. Paul Laxalt — the son of a Basque immigrant sheepherder.
In recent years, the event has emerged as a key stop on the Republican presidential circuit, drawing rising stars who hoped to boost their White House ambitions and endear themselves to voters through sampling the local fare. Unlike the pork chops and butter sculptures of the Iowa State Fair, the cuisine at the Basque Fry includes beans, chorizo and — for those daring enough — the event's signature fried lamb testicles.
DeSantis spent much of the afternoon in a large barn with VIPs and event sponsors before taking the stage. His wife, Casey, chatted with attendees outside the barn after her children played on the inflatable bull.
Carlene Rader, a retiree from Carson City, said she's leaning toward DeSantis over Trump. She said she's particularly upset about the allegations against Trump outlined by federal prosecutors last week. The indictment charged the former president with 37 felony counts — many under the Espionage Act — that accuse him of illegally storing classified documents at his Mar-a-Lago resort in Florida, and trying to hide them from investigators who demanded them back.
"He's done a lot of things that he shouldn't have done," Rader said of Trump. "Trump's had his time. I like DeSantis a little better."
Add TheJapanNews to your Google News feed.