Zelenskyy Urges African Leaders to Press Putin on Release of Political Prisoners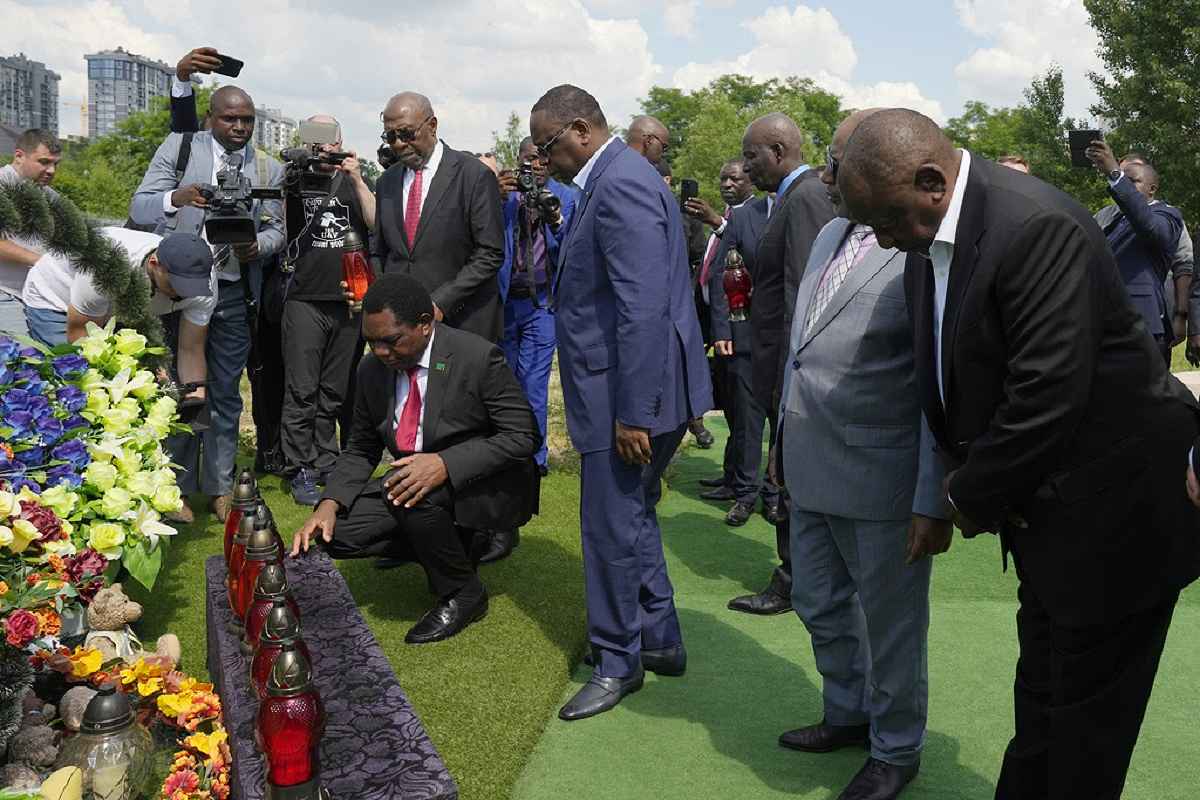 14:15 JST, June 17, 2023
KYIV, Ukraine (AP) — Ukrainian President Volodymyr Zelenskyy appealed to a group of African leaders to ask his Russian counterpart, Vladimir Putin, to free political prisoners from Crimea and beyond — saying it could be an important part of their trip to Russia on Saturday.
Seven African leaders — presidents of Comoros, Senegal, South Africa and Zambia, as well as Egypt's prime minister and top envoys from the Republic of Congo and Uganda — visited Ukraine on Friday as part of a self-styled "peace mission" to both Ukraine and Russia to try to help end their nearly 16-month-old war.
The African leaders were traveling to meet with Putin on Saturday in the Russian city of St. Petersburg.
The mission to Ukraine, the first of its kind by African leaders, comes in the wake of other peace initiatives such as one by China, and it carried extra importance for the African countries: They rely on food and fertilizer deliveries from Russia and Ukraine, whose war has impeded exports from one of the world's most important breadbaskets.
"This conflict is affecting Africa negatively," South African President Cyril Ramaphosa said at a news conference alongside Zelenskyy and the four other African heads of state or government, after the leaders met for closed-door talks Friday afternoon.
Ramaphosa and others acknowledged the intensity of the fight and the animosity between Russia and Ukraine, but insisted all wars must come to an end — and that the delegation wants to help expedite that.
"I do believe that Ukrainians feel that they must fight and not give up. The road to peace is very hard," he said, adding that "there is a need to bring this conflict to an end sooner rather than later."
The delegation, including Senegal's President Macky Sall and Presidents Hakainde Hichilema of Zambia, represents a cross-section of African views about the war.
South Africa, Senegal and Uganda have avoided censuring Moscow for the conflict, while Egypt, Zambia and Comoros voted against Russia last year in a U.N. General Assembly resolution condemning Moscow's invasion. Many African nations have long had close ties with Moscow, dating back to the Cold War when the Soviet Union supported their anti-colonial struggles.
The tenor of the press conference soured when Comoros President Azali Assoumani floated the idea of a "road map" to peace, prompting questions from Zelenskyy who sought a clarification and insisted he didn't want "any surprises" from their visit with Putin.
Zelenskyy then urged them to help free political prisoners from Crimea, which Russia illegally annexed in 2014.
"Would you please ask Russia to liberate the political prisoners?" Zelenskyy said. "Maybe this will be an important result of your mission, of your 'road map'."
Zelenskyy expressed thinly veiled frustration about their trip, saying they would have "conversations with the terrorists" on Saturday.
International human rights organizations claim Russia has targeted the Crimean Tatar ethnic group with arbitrary detentions and unjustified prosecutions since Russia annexed Crimea in 2014. Many have been sentenced to lengthy prison terms.
"The Russian Federation misuses its legislation for political purposes, in particular to suppress the nonviolent struggle of the Crimean Tatars and their protest against the occupation of Crimea," the Crimean Tatar Resource Center said in a statement last year.
Ramaphosa, who laid out 10 priorities to help pave the way to ending the war, said he planned to have a bilateral meeting with Putin in part to discuss the Russian leader's possible attendance at a planned August summit, hosted by South Africa, of the so-called "BRICS" countries, which also include Brazil, China and India.
The International Criminal Court in March issued an international arrest warrant against Putin over Russian abductions of Ukrainian children, which could complicate any trip by Putin to South Africa. Ramaphosa said he alone would decide whether to invite the Russian leader, saying it was still "under consideration."
Before meeting with Zelenskyy, the African leaders went to Bucha, a Kyiv suburb where bodies of civilians lay scattered in the streets last year after Russian troops abandoned a campaign to seize the capital and withdrew from the area.
The delegation's stop in Bucha was symbolically significant, because the town has come to stand for the brutality of Moscow's February 2022 invasion of Ukraine. The Russian occupation of Bucha left hundreds of civilians dead, with some showing signs of torture.
While in Bucha, the visitors placed commemorative candles at a small memorial outside a church near where a mass grave was unearthed.
On their way back to the capital, air raid sirens went off in Kyiv — prompting them to briefly return to their hotel as a "precautionary measure," Ramaphosa spokesman Vincent Magwenya said.
Ukrainian Foreign Minister Dmytro Kuleba tweeted: "Russian missiles are a message to Africa: Russia wants more war, not peace."
The Ukrainian air force said it shot down six Russian Kalibr cruise missiles, six Kinzhal hypersonic ballistic missiles and two reconnaissance drones. It gave no details on where they were shot down.
Germany will deliver another 64 Patriot missiles to Ukraine, German Defense Minister Boris Pistorius said Friday, to help shield it against Russia's relentless aerial attacks.
Officials who helped organize the delegation's talks said the African leaders not only aimed to initiate a peace process but also to assess how Russia, which is under heavy international sanctions, can be paid for fertilizer exports that Africa desperately needs.
They are also set to discuss the related issue of ensuring more grain shipments out of Ukraine, and the possibility of more prisoner swaps.
"Life is universal, and we must protect lives – Ukrainian lives, Russian lives, global lives," Zambian President Hakainde Hichilema told The Associated Press. "Instability anywhere is instability everywhere."
The African peace overture comes as Ukraine launches a counteroffensive to dislodge the Kremlin's forces from occupied areas, using Western-supplied advanced weapons in attacks along the 1,000-kilometer (600-mile) front line. Western analysts and military officials have cautioned that the campaign could last a long time.
China presented its own peace proposal at the end of February. Ukraine and its allies largely dismissed the plan, and the warring sides look no closer to a cease-fire.
Ukrainian troops have recorded successes along three stretches of the front line in the south and east, Andriy Kovalev, a spokesman for the General Staff of Ukraine's armed forces said in a statement Friday.
According to Kovalev, Ukrainian forces moved forward south of the town of Orikhiv in Zaporizhzhia province, in the direction of the village of Robotyne, as well as around Levadne and Staromaiorske, on the boundary between Zaporizhzhia and Donetsk province further east.
Kovalev said Ukraine's troops also advanced in some areas around Vuhledar, a mining town in Donetsk that was the site of a key tank battle.
It wasn't possible to independently verify the claims.
Russian shelling on Thursday and overnight killed two civilians and wounded two others in southern Ukraine's flood-hit Kherson region, where a major dam was destroyed last week, according to the region's governor, Oleksandr Prokudin.
Russian forces over the previous day launched 54 strikes across the province, using mortars, artillery, multiple rocket launchers, drones, missiles and aircraft, Prokudin said.
Floodwaters in the Kherson region have continued to recede, with the average level in flood-hit areas standing at 1.67 meters (about 5 feet) — down from 5 meters (16 feet) last Tuesday, the Ukrainian presidential office said.
Add TheJapanNews to your Google News feed.