Pro-Government Rally Held in Serbia Amid Growing Discontent after Mass Shootings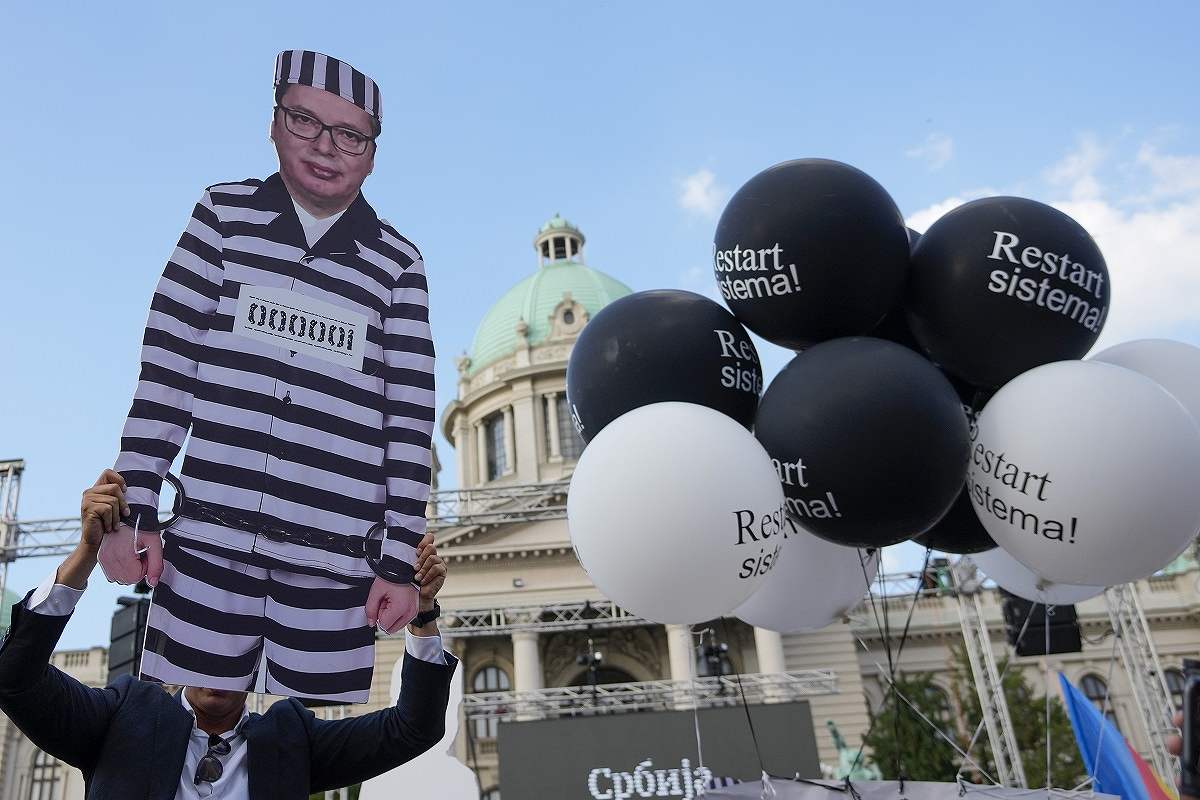 13:59 JST, June 16, 2023
BELGRADE, Serbia (AP) — Tens of thousands of people converged on the Serbian capital on Friday for a major rally in support of President Aleksandar Vucic, who is facing an unprecedented revolt against his autocratic rule amid the crisis triggered by two mass shootings that stunned the nation.
Addressing the rain-drenched crowd, Vucic blasted the opposition for seeking his resignation for mishandling the crisis and creating divisions within the country. The two shootings early May left 18 people dead.
Referring to large anti government protests held in the past weeks, Vucic accused opposition politicians of "trying to abuse the tragedy."
"The politicians will go down in history of dishonor because they abused the biggest tragedy in the history of our nation," he said. "Those politicians deserve only contempt."
But Vucic still invited the opposition to dialogue about their demands.
"All along they had just one desire, to topple me and topple the government of Serbia," he said. "Those politicians weren't even interested in children."
Vucic reiterated he will step down as his Serbian Progressive Party's leader on Saturday and announced plans to form a new, nation-wide movement that is to include politicians, prominent intellectuals, artists and others.
"I am not going anywhere," he said. "We will defend Serbia together."
The rally Friday was somewhat overshadowed by a new crisis in Serbia's former province of Kosovo, where ethnic Serbs clashed with Kosovo police on Friday and Vucic ordered Serbian troops to be put on a "higher state of alert." Vucic also said that he ordered an "urgent" movement of Serbian troops to the border with Kosovo, which declared independence in 2008.
Answering Vucic's call for what he called "the largest rally in the history of Serbia," his supporters, many wearing identical T-shirts with his portrait, were bused to Belgrade from all over the Balkan country as well as neighboring Kosovo and Bosnia.
The organizers said that "hundreds of thousands" of participants attended the gathering in front of Serbia's National Assembly amid rain and a thunderstorm that drove many to find a shelter.
Those working in state firms and institutions were told to take a day off from work to attend the rally in front of the parliament building. Some said that they were warned that they could lose their jobs if they don't show up on the buses which started arriving hours before the gathering was to start.
Serbian officials said the rally promotes "unity and hope" for Serbia.
At three large anti-government protests held earlier this month in the capital, demonstrators demanded Vucic's ouster as well as the resignation of two senior security officials. They also demanded the withdrawal of broadcasting licenses for two pro-Vucic television stations that promote violence and often host convicted war criminals and other crime figures.
Opposition protesters blame Vucic for creating an atmosphere of hopelessness and division in the country that they say indirectly led to the May 3 and May 4 mass shootings that left 18 people dead and 20 wounded, many of them schoolchildren who were gunned down by a 13-year-old schoolmate.
Vucic has vehemently denied any responsibility for the shootings, calling organizers of the opposition protests "vultures" and "hyenas" who want to use the tragedies to try to come to power by force and without an election.
Analysts believe that by staging the mass rally, Vucic who has ruled the country for more than a decade with a firm grip on power, is trying to overshadow the opposition protests with the sheer number of participants.
"For the first time, Vucic has a problem," said political analyst Zoran Gavrilovic. "His problem is not so much the opposition, but Serbian society that has woken up."
Vucic, a former pro-Russia ultranationalist who now says that he wants to take the country into the European Union, has alleged that "foreign intelligence services" are behind the opposition protests. He said that he received the tip from "sisterly" spy agencies "from the east" — thought to mean Russia.
Similar big rallies were held in Serbia in the early 1990s when strongman Slobodan Milosevic delivered fiery speeches that heralded the violent breakup of Yugoslavia and rallied the masses for the wars that followed.
Add TheJapanNews to your Google News feed.