Fox News Says It 'Addressed' Onscreen Message That Called Biden a 'Wannabe Dictator'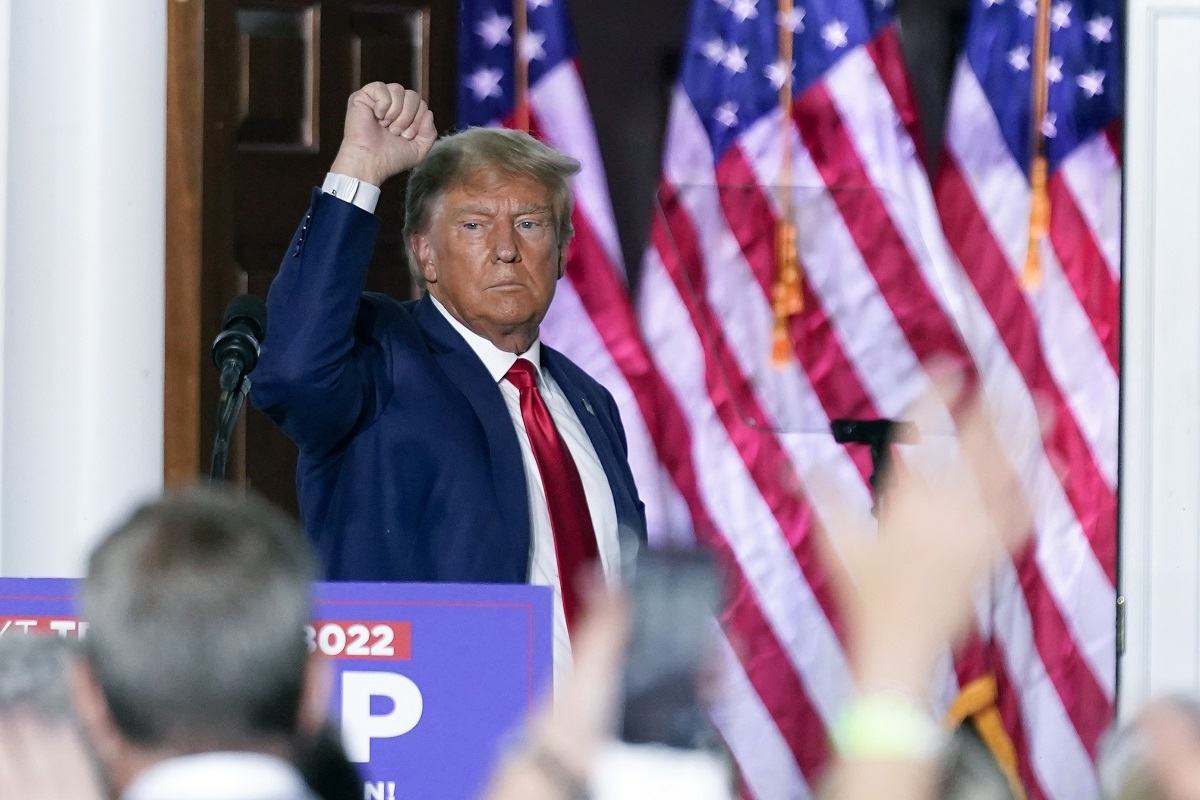 10:44 JST, June 15, 2023
NEW YORK (AP) — Fox News appeared to express regret Wednesday for showing an onscreen message that called President Joe Biden a "wannabe dictator" who had his political rival arrested.
On the day he was arraigned on federal charges for hoarding classified documents, former President Donald Trump illustrated his continued role as a lightning rod for the media. PBS second-guessed one of its own messages about Trump, and his primetime speech showed a policy change at CNN following the ouster of its former leader.
The Fox News Channel chyron appeared beneath split-screen video boxes that showed Trump addressing supporters live in New Jersey, and Biden speaking at the White House earlier in the day.
The message read, "Wannabe dictator speaks at the White House after having his political rival arrested."
Fox said in a statement Wednesday that "the chyron was taken down immediately and was addressed." The website Mediaite reported that the message was onscreen for 27 seconds. It was also not removed when the telecast was rerun late at night.
Fox did not explain how the message made it onto the screen and how the matter was addressed.
The White House has said Biden has had no contact with Attorney General Merrick Garland about the indictment by special counsel Jack Smith, which accuses Trump of illegally hoarding classified documents. Biden has not commented on the case.
Two months ago, Fox News agreed to pay Dominion Voting Systems $787 million to settle a lawsuit accusing the news organization of telling lies about the 2020 presidential election.
"There are probably about 787 million things that I can say about this," White House press secretary Karine Jean-Pierre said when asked Wednesday about the chyron. "That was wrong — about what we saw last night — but I don't think I'm going to get into it."
It's not hard to find Republican politicians or commentators on Fox to suggest the indictment was politically motivated — Trump attorney Joe Tacopina made the same charges on Sean Hannity's show within a half-hour after Trump's speech.
Yet some on Fox have spoken to the seriousness of the case against Trump, most notably his former attorney general, William Barr, during an appearance over the weekend, and legal analyst Jonathan Turley.
Fox has seen its primetime ratings tumble sharply since it fired Tucker Carlson shortly after the Dominion case was settled. Carlson posted another video commentary on Twitter Tuesday night, despite Fox's lawyers demanding that he stop doing that because it violated the terms of a contract that runs until early 2025.
Meanwhile, PBS used the lower third of its screen to post fact-checks when it streamed Trump's New Jersey speech on its YouTube channel Tuesday night.
The final one was eye-catching: "Experts warn that inflammatory rhetoric from elected officials or people in power can prompt individual actors to commit acts of violence."
While the statement is true, PBS officials are questioning whether or not that was the right forum, said Sara Just, senior executive producer at "NewsHour." Other messages PBS used onscreen mentioned how federal officials have attested to the security of the 2020 presidential election, and how prosecutors say that some documents discovered at Trump's home pertained to U.S. nuclear programs and defense capabilities.
"We are discussing whether or not we might phrase that better," Just said.
While Fox News aired Trump's speech live, MSNBC did not. Neither did CNN. That's in contrast to when Trump was indicted on separate charges in New York in April, when CNN aired most of a similar Trump address the night of his arraignment. That was before former CNN chief executive Chris Licht, who had been making efforts to appeal to GOP viewers, was ousted.
"We're not carrying his remarks live because, frankly, he says a lot of things that are untrue and, frankly, potentially dangerous," CNN's Jake Tapper said.
After the speech was over, CNN aired a nearly two-minute clip of Trump that Tapper followed with several fact-checks.
"In terms of trying to destroy American democracy, we all know who tried to actually undo an election," he said. "It's not Joe Biden. It's Mr. Trump."
MSNBC's Rachel Maddow made a similar pronouncement before that network chose not to air Trump's speech live. Clips from the remarks were shown later.
"There is a cost to us as a news organization to knowingly broadcast untrue things," Maddow said.
Add TheJapanNews to your Google News feed.