UN Aid Chief Says Ukraine Faces `Hugely Worse' Humanitarian Situation after the Dam Rupture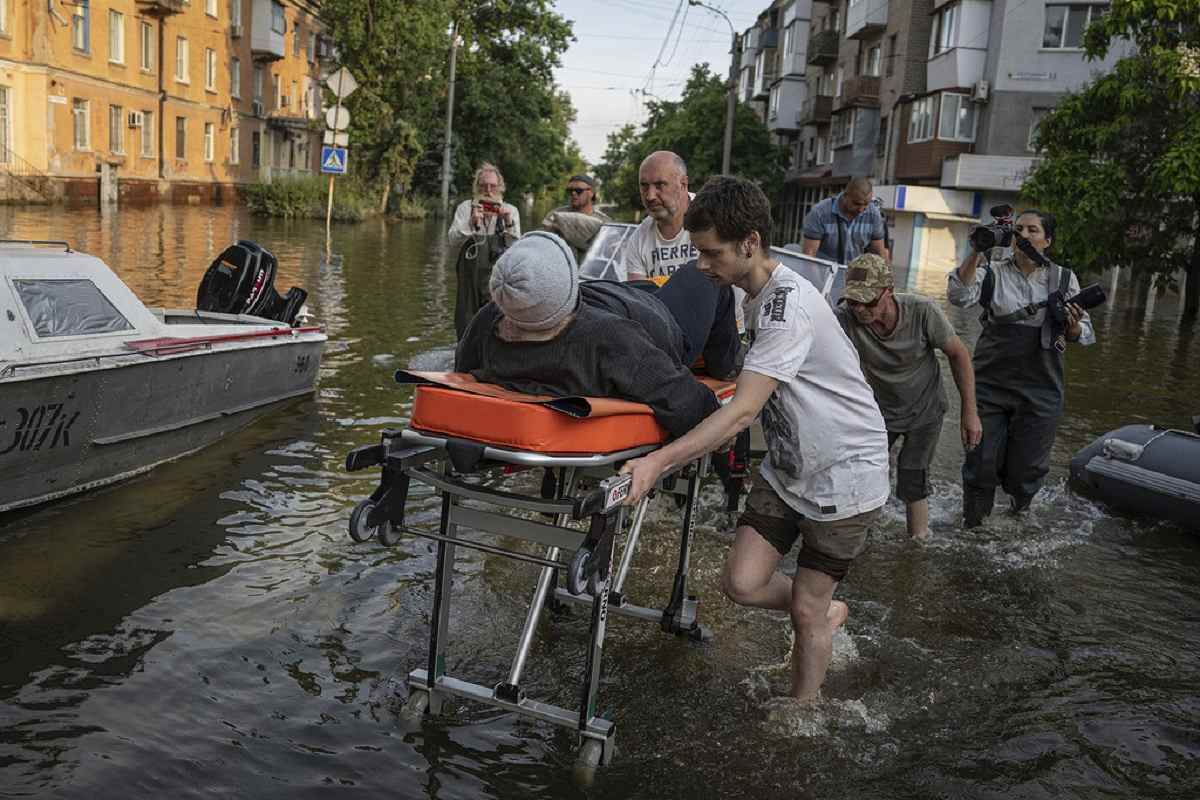 13:54 JST, June 10, 2023
UNITED NATIONS (AP) — The humanitarian situation in Ukraine is "hugely worse" than before the Kakhovka dam collapsed, the U.N.'s top aid official warned Friday.
Undersecretary-General Martin Griffiths said an "extraordinary" 700,000 people are in need of drinking water and warned that the ravages of flooding in one of the world's most important breadbaskets will almost inevitably lead to lower grain exports, higher food prices around the world, and less to eat for millions in need
"This is a viral problem," he said in an interview with The Associated Press. "But the truth is this is only the beginning of seeing the consequences of this act."
The rupture of the Kakhovka hydroelectric dam and emptying of its reservoir on the Dnieper River on Wednesday added to the misery in a region that has suffered for more than a year from artillery and missile attacks.
Ukraine holds the Dnieper's western bank, while Russian troops control the low-lying eastern side, which is more vulnerable to flooding. The dam and reservoir, essential for fresh water and irrigation in southern Ukraine, lies in the Kherson region that Moscow illegally annexed in September and has occupied for the past year.
Griffiths said the United Nations, working mainly through Ukrainian aid groups, has reached 30,000 people in flooded areas under Ukrainian control. He said that so far Russia has not given access to areas it controls for the U.N. to help flood victims.
Griffiths said he met with Russia's U.N. ambassador, Vassily Nebenzia, on Wednesday to ask Russian authorities "for access for our teams in Ukraine to go across the front lines to give aid, to provide support for … Ukrainians in those areas."
"We're providing them with details as we speak, to enable Moscow to meet what we hope will be a positive decision on this," he said. "I hope that will come through."
The emergency response is essential to save lives, he said, "but behind that you've got a huge, looming problem of a lack of proper drinking water for those 700,000 people" on both the Ukrainian-controlled and Russian-controlled sides of the river.
There is also the flooding of important agricultural land and a looming problem of providing cooling water for the Zaporizhzhia nuclear power plant, Europe's largest, which had been supplied from the dam, he added.
In addition, Griffiths noted that waters also have rushed over areas with land mines from the war "and what we are bound to be seeing are those mines floating in places where people don't expect them," threatening adults and especially children.
"So it's a cascade of problems, starting with allowing people to survive today, and then giving them some kind of prospects for tomorrow," he said.
Griffiths said that because of the wide-ranging consequences "it's almost inevitable" that the United Nations will launch a special appeal for more aid funds for Ukraine to deal with "a whole new order of magnitude" from the dam's rupture. But he said he wants to wait a few weeks to see the economic, health and environmental consequences before announcing the appeal.
Griffiths said he and U.N. trade chief Rebeca Grynspan are also working to ensure the extension of the Black Sea Grain Initiative, which Turkey and the U.N. brokered with Ukraine and Russia last July to open three Black Sea ports in Ukraine for its grain exports.
More than 30,000 metric tons of wheat and other foodstuff has been shipped under the deal, leading to a decline in global food prices that skyrocketed after Russia's Feb. 24, 2022, invasion of Ukraine. It has been extended three times and is due to expire July 17.
Part of the deal was a memorandum signed by Russia and the U.N. aimed at overcoming obstacles to Russian food and fertilizer shipments that Moscow has repeatedly complained are not being fulfilled.
A key Russian demand has been the reopening of a pipeline between the Russian port of Togliatti on the Volga River and the Black Sea port of Odesa that has been shut down since Russia's attack on Ukraine. It carried ammonia, a key ingredient of fertilizer.
"Opening that pipeline and delivering ammonia across the Black Sea to the global south is a priority for all of us," Griffiths said. "Ammonia is an essential ingredient for global food security."
A rupture in the pipeline was reported from shelling late Tuesday, but Griffiths said the U.N. couldn't confirm it because the pipeline is in the middle of a war zone.
"We, of course, are very, very strongly of the view that we need that repaired as quickly as possible," he said. "So let's hope it's not too badly damaged." He said the Ukrainians have told the U.N. they will get to the pipeline, which is on their territory, "as soon as they can."
Griffiths said the Ukrainians see opening the pipeline as part of a package that would also include Russian agreement to open a fourth Black Sea port at Mykolaiv to export more grain.
Negotiations have been taking place in recent weeks, including at a meeting Friday in Geneva between U.N. trade chief Grynspan and Russia's deputy foreign minister Sergey Vershinin.
"We're not there yet," Griffiths said. "I hope that we'll make it."
Add TheJapanNews to your Google News feed.