Boris Johnson Quits as UK Lawmaker after being Told He will be Sanctioned for Misleading Parliament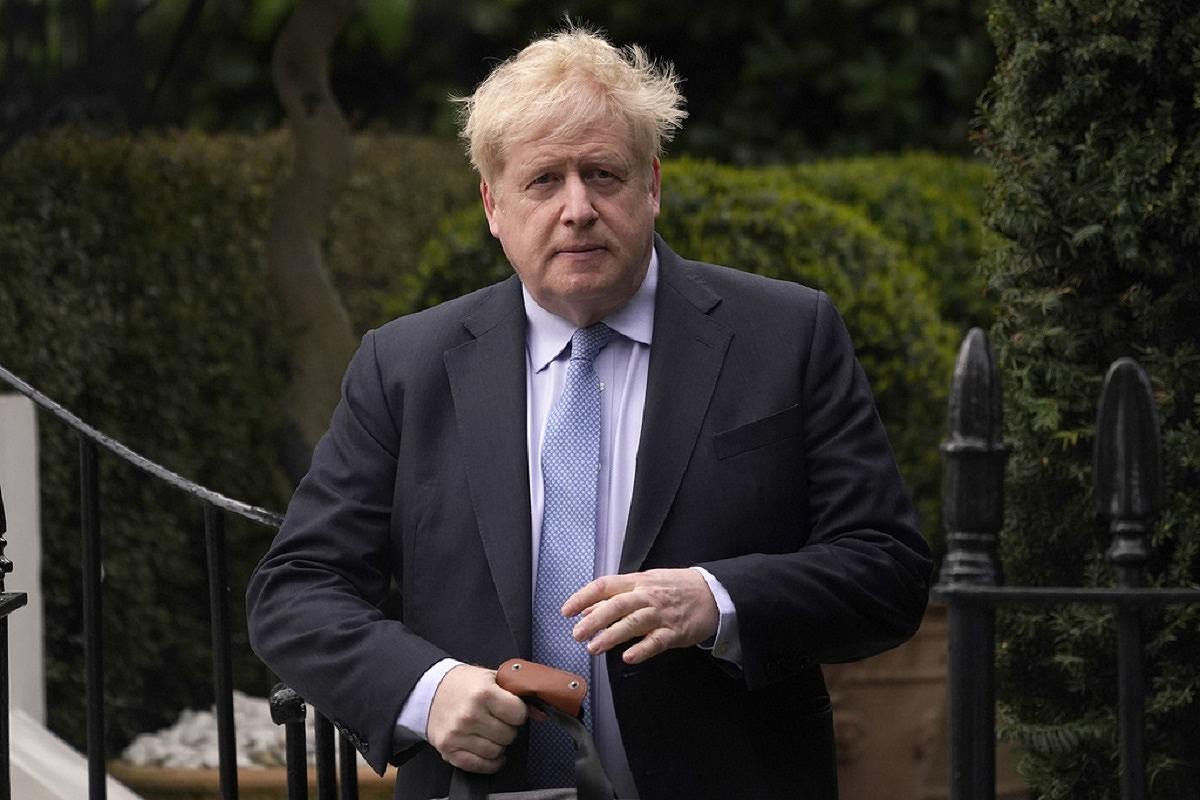 10:45 JST, June 10, 2023
LONDON (AP) — Former U.K. Prime Minister Boris Johnson shocked Britain on Friday by quitting as a lawmaker after being told he will be sanctioned for misleading Parliament. He departed with a ferocious tirade at his political opponents — and at his successor, Rishi Sunak — that could blast open tensions within the governing Conservative Party.
Johnson resigned after receiving the results of an investigation by lawmakers into misleading statements he made to Parliament about "partygate," a series of rule-breaking government parties during the COVID-19 pandemic.
In a lengthy resignation statement, Johnson accused opponents of trying to drive him out — and hinted that his rollercoaster political career might not be over yet.
"It is very sad to be leaving Parliament — at least for now," he said.
Johnson, 58, said he had "received a letter from the Privileges Committee making it clear — much to my amazement — that they are determined to use the proceedings against me to drive me out of Parliament."
He called the committee investigating him — which has members from both government and opposition parties — a "kangaroo court."
"Their purpose from the beginning has been to find me guilty, regardless of the facts," Johnson said.
The resignation will trigger a special election to replace Johnson as a lawmaker for a suburban London seat in the House of Commons.
Johnson, whose career has seen a series of scandals and comebacks, led the Conservatives to a landslide victory in 2019 but was forced out by his own party less than three years later.
He had been awaiting the outcome of an investigation by a House of Commons standards committee over misleading statements he made to Parliament about a slew of gatherings in government buildings in 2020 and 2021 that breached pandemic lockdown rules.
Police eventually issued 126 fines over the late-night soirees, boozy parties and "wine time Fridays," including one to Johnson, and the scandal helped hasten the end of his premiership.
Johnson has acknowledged misleading Parliament when he assured lawmakers that no rules had been broken, but he said he didn't do so deliberately.
He told the committee he "honestly believed" the five events he attended, including a send-off for a staffer and his own surprise birthday party, were "lawful work gatherings" intended to boost morale among overworked staff members coping with a deadly pandemic.
The committee had been expected to publish its report in the next few weeks, and Johnson could have faced suspension from the House of Commons if he was found to have lied deliberately.
By quitting, he avoids a suspension that could have seen him ousted from his Commons seat by his constituents, leaving him free to run for Parliament again in future. His resignation statement suggested he was mulling that option. It was highly critical of Sunak, who served as Treasury chief in Johnson's government before jumping ship with many other colleagues in July 2022 — resignations that forced Johnson out.
Johnson took aim at Sunak, who was chosen by the Conservatives in October to steady the government after the terms of Johnson and his briefly serving successor Liz Truss, who stepped down after six weeks when her tax-slashing policies caused financial turmoil.
Johnson claimed that "when I left office last year the government was only a handful of points behind in the polls. That gap has now massively widened."
Conservative poll ratings went into decline during the turbulent final months of Johnson's term and have not recovered. Opinion polls regularly put the opposition Labour Party 20 points or more ahead. A national election must be held by the end of 2024.
"Just a few years after winning the biggest majority in almost half a century, that majority is now clearly at risk," Johnson said. "Our party needs urgently to recapture its sense of momentum and its belief in what this country can do."
Johnson resigned hours after King Charles III rewarded dozens of his loyal aides and allies with knighthoods and other honors, a political tradition for former prime ministers that drew cries of cronyism from opponents of the ousted leader.
Johnson's dramatic exit is the latest — but maybe not the last — chapter in a career of extremes. The rumpled, Latin-spouting populist with a mop of blond hair had held major offices, including London mayor, but also spent periods on the political sidelines before Britain's exit from the European Union propelled him to the top.
Johnson's bullish boosterism helped persuade 52% of Britons to vote to leave the EU, and he was elected prime minister in 2019 on a vow to "get Brexit done."
He was less suited to the hard work of governing, and the pandemic — which landed Johnson in intensive care with COVID-19 — was a major challenge. Johnson's government won plaudits for its rapid vaccine rollout, but the U.K. also had one of the highest coronavirus death tolls in Europe, and some of the longest lockdowns.
The final straw came when details emerged of parties held in Johnson's Downing Street office and home while the country was in lockdown. "Partygate" caused outrage and finally pushed the Conservative Party to oust its election-winning but erratic leader.
Angela Rayner, deputy leader of the opposition Labour Party, responded to Johnson's resignation with: "enough is enough."
"The British public are sick to the back teeth of this never ending Tory soap opera played out at their expense," she said.
Add TheJapanNews to your Google News feed.