Russia Says It Thwarted Attack in Donetsk; Unclear If This Was Start of Ukrainian Counteroffensive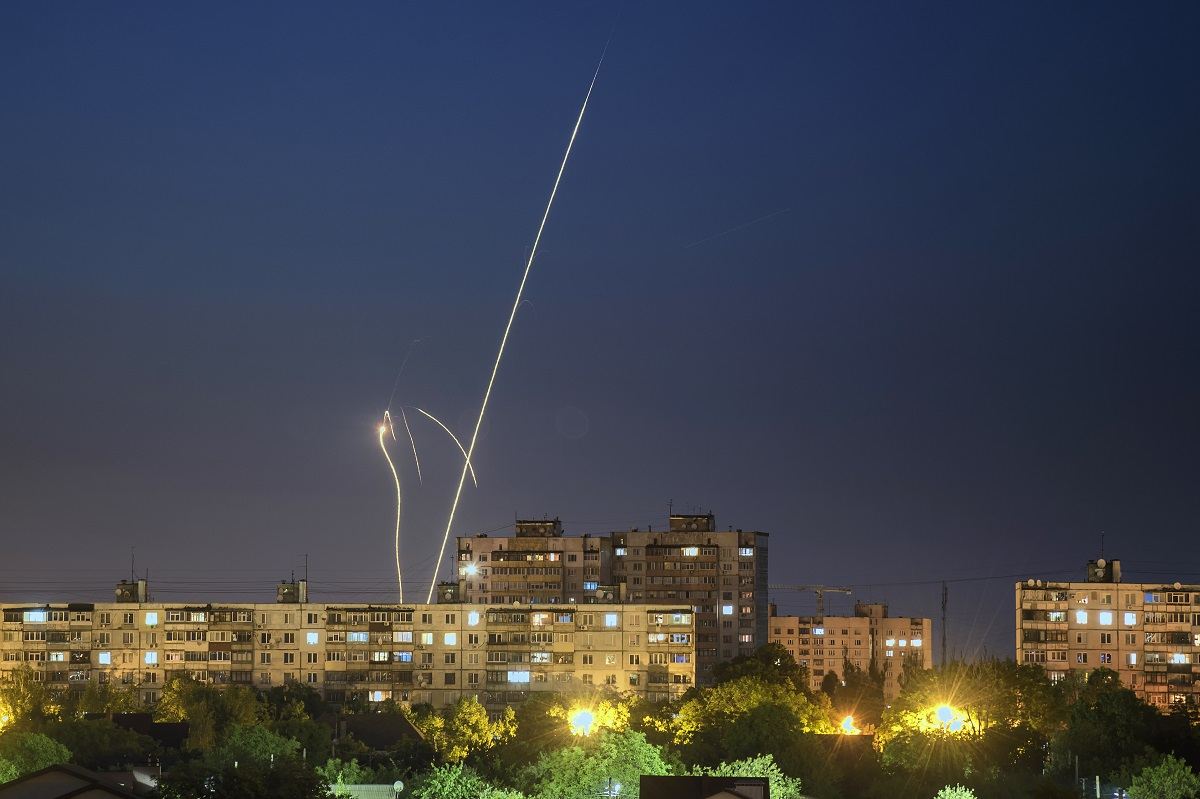 12:17 JST, June 5, 2023
KYIV, Ukraine (AP) — Russia's Defense Ministry announced early Monday its forces had thwarted a large Ukrainian attack in the eastern province of Donetsk, though it's unclear if this was the start of a Ukrainian counteroffensive.
The ministry, in a rare early morning video, said its forces pushed back a "large scale" Ukrainian assault on Sunday at five points in southern Donetsk, one of four Ukrainian regions Russia illegally annexed last fall.
"The enemy's goal was to break through our defenses in the most vulnerable, in its opinion, sector of the front," said the ministry's spokesman, Igor Konashenkov. "The enemy did not achieve its tasks. It had no success."
Konashenkov said 250 Ukrainian personnel were killed, and 16 Ukrainian tanks, three infantry fighting vehicles and 21 armored combat vehicles were destroyed.
Ukraine didn't comment, and often waits until the completion of its military operations to confirm its actions, imposing news blackouts in the interim. It was unclear why the Russian Defense Ministry waited until Monday morning to announce the attack, which it said started Sunday morning.
For months, Ukrainian officials have spoken of plans to launch a spring counteroffensive to reclaim territory Russia has occupied since invading Feb. 24, 2022, as well as the Crimean Peninsula it seized in 2014. But they've given confusing signals about what would constitute a counteroffensive — preliminary, limited attacks to weaken Russian forces and military facilities or a full-fledged simultaneous assault across the entire 1,100-kilometer (684-mile) front line. At least two factors have been at play in timing the counteroffensive: awaiting improvement of ground conditions for troop and equipment movement after the winter, and deployment of more advanced Western weapons and training of Ukrainian troops to use them.
The Russian Defense Ministry spokesman said Ukraine used six mechanized and two tank battalions in the attack, and it released a video claiming to show destruction of some of the equipment in a field.
In a rare specific mention of the presence of Russia's top military leaders in battlefield operations, the spokesman said the chief of the General Staff of the Russian Armed Forces, Gen. Valery Gerasimov, "was at one of the forward command posts."
Announcing Gerasimov's direct involvement could be a response to criticism by some Russian military bloggers and mercenary group head Yevgeny Prigozhin that Russia's military brass hasn't been visible enough at the front or taken sufficient control or responsibility for their country's military operations in Ukraine.
Elsewhere on the battlefield, Ukrainian authorities said Sunday a Ukrainian man rushed to his home outside the central city of Dnipro in hopes of rescuing his family, only to find his 2-year-old daughter dead and wife seriously wounded as he helped pull them from the rubble of their apartment destroyed in one of Russia's latest airstrikes of the war.
Writing on Telegram after the body of the girl, Liza, was recovered, Ukrainian President Volodymyr Zelenskyy said that at least 500 Ukrainian children have been killed in the war. The United Nations says that around 1,000 other Ukrainian children have been wounded, and thousands of others have been forcibly deported to Russia.
Zelenskyy said: "Russian weapons and hatred continue to take and destroy the lives of Ukrainian children every day," adding that "many of them could have become famous scholars, artists, sports champions, contributing to Ukraine's history."
"We must hold out and win this war!" he said. "All of Ukraine, all our people, all our children, must be free from the Russian terror!"
Liza was killed when a Russian missile landed Saturday night in a yard next to her apartment building while she was home with her mother, said Serhiy Lysak, the regional governor of Dnipropetrovsk. The girl's father rushed home from work.
"The father was on duty, and as I was told, he personally cleared the rubble and pulled out his wife and his daughter. Just imagine the scale of this tragedy," Ukrainian Deputy Prime Minister Iryna Vereshchuk said, reporting on the rescue that lasted until early Sunday. The girl's mother was hospitalized under intensive care.
Zelenskyy said five children were among 25 people wounded in Saturday's attack, which damaged two residential buildings.
The mother of one of the children sat amid broken concrete, twisted metal, children's toys and clothes near her apartment building and described what happened.
"I was running from the electrical station across the traffic," Alyona Serednyak recalled. "I was running home. My child was alone at home. We tried to pull my child from under the cage on the window."
She said they managed to free him and he was hospitalized.
Russian drone and cruise missile strikes on Sunday targeted multiple areas of the country, including the capital, Kyiv.
The Ukrainian air force updated earlier figures and said air defenses downed six of eight Shahed self-exploding drones and four of six cruise missiles fired.
Ukrainian air force spokesman Yurii Ihnat said two missiles struck a military air base in Kropyvnytskyi in central Ukraine's Kyrovohrad province. He didn't report damage.
Russia's Defense Ministry said the military destroyed Ukrainian warplanes and ammunition depots in strikes on Ukrainian airfields, but didn't give further specifics.
The Russian military has reported attacks in recent days on Ukrainian air defense batteries, air bases, troop and ammunition depots, military production factories and battlefield positions. While Ukrainian officials refrain from announcing the launch of their much-anticipated counteroffensive to reclaim more Russian-occupied territory, the pace of military activity suggests the operation may be underway.
Ukrainian forces maintained pressure on Russian forces in the eastern city of Bakhmut, which Moscow claimed control of last month after the war's longest and bloodiest battle.
Elsewhere, Russians fighting alongside Ukrainian forces declared they had launched new attacks on Russia's Belgorod region, which borders Ukraine. One of the groups, the Russian Volunteer Corps, released videos Sunday showing a purported raid and offering to exchange prisoners with Russian authorities. The Associated Press couldn't independently verify the videos' authenticity.
Belgorod Gov. Vyacheslav Gladkov responded to the prisoner exchange offer in a video of his own, saying he was skeptical that the captives are still alive, but that he was open to a meeting to discuss a swap. The Russian Volunteer Corps said in a video posted later that no meeting had occurred, and that the Russian prisoners would be turned over to Ukrainian forces, which have periodically swapped prisoners with Russia in one of the few areas of cooperation.
Gladkov also reported more Ukrainian shelling Sunday of the border district of Shebekino and neighboring areas. He said at least two people were killed and multiple people wounded on Saturday. Russia's Defense Ministry said the country's forces repelled an attempted incursion in the town of Novaya Tavolzhanka.
Some observers see attacks in Belgorod, which prompted Russian authorities to evacuate thousands of residents, as part of Ukraine's efforts to distract Moscow and stretch its forces to help the counteroffensive succeed.
In Crimea, regional leader Sergei Aksenov reported a Ukrainian drone attack on the city of Dzhankoi early Sunday. He claimed that five of the attacking drones were shot down and four others jammed and forced to land, adding that there were no casualties.
Add TheJapanNews to your Google News feed.