Russia Launches Pre-Dawn Air Raid on Kyiv, Killing at Least 1; Moscow Attacked by Drones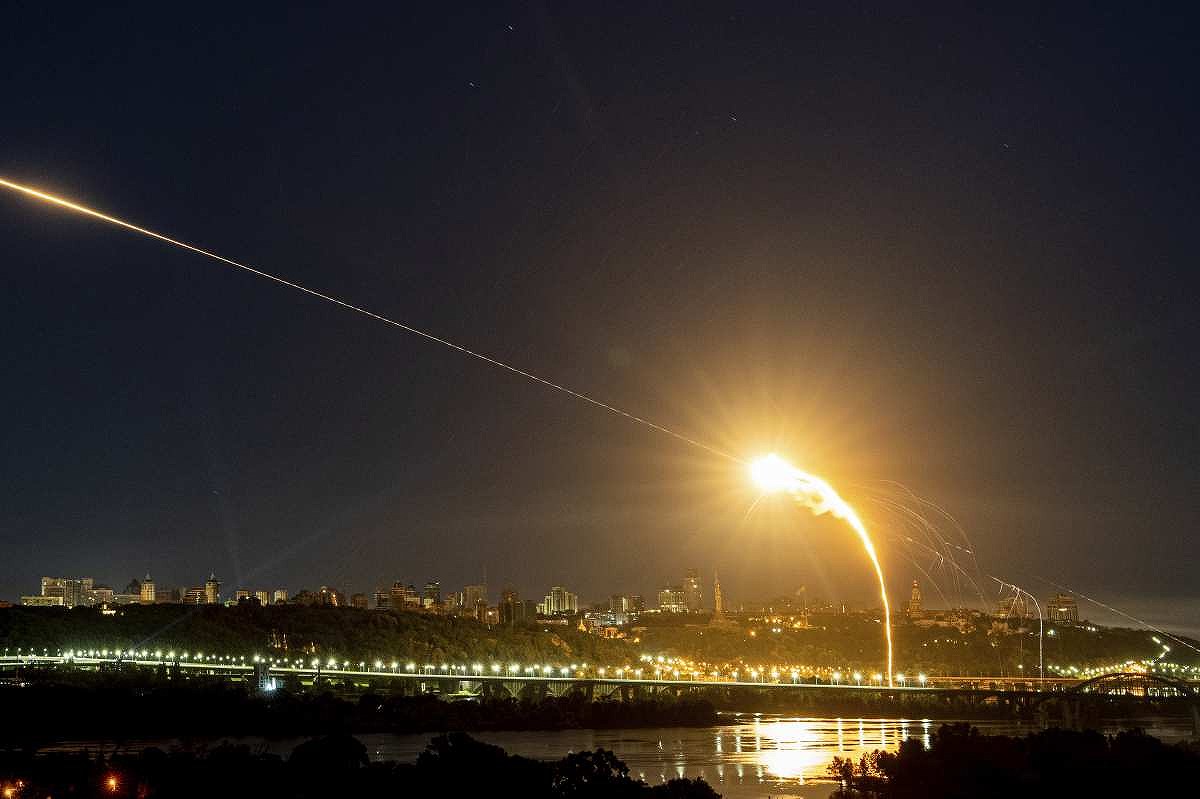 15:36 JST, May 30, 2023
KYIV (AP) — Russia launched a pre-dawn air raid on Ukraine's capital Tuesday, killing at least one person and sending Kyiv's residents again scrambling into shelters to escape a relentless wave of daylight and nighttime bombardments, while Moscow authorities said the Russian capital was attacked by drones.
At least 20 Shahed explosive drones were destroyed by air defense forces in Kyiv's airspace in Russia's third attack on the capital in the past 24 hours, according to early information from the Kyiv Military Administration. Overall, Ukraine shot down 29 of 31 drones fired into the country, most in the Kyiv area, the air force later added.
Before daylight, the buzzing of drones could be heard over the city, followed by loud explosions as they were taken down by air defense systems.
In Moscow, residents reported hearing explosions and Mayor Sergei Sobyanin later confirmed there had been a drone attack.
Sobyanin said in a Telegram post that the attack caused "insignificant damage" to several buildings. Two people received medical attention for unspecified injuries but did not need hospitalization, he said.
Residents of two buildings damaged in the attack were evacuated, Sobyanin said.
Andrei Vorobyov, governor of the wider Moscow region, later said several drones were "shot down on the approach to Moscow."
There was no immediate comment on the attacks from Ukrainian officials.
It was the second reported an attack on Moscow, after authorities said two drones targeted the Kremlin earlier this month in what was labeled an attempt on President Vladimir Putin's life.
In the attacks overnight on Kyiv, one person died and three were injured when a high-rise building in the Holosiiv district caught fire. It was not immediately clear what caused the blaze but frequently the falling debris from drones being hit and the interceptor missiles have caused damage on the ground.
The building's upper two floors were destroyed, and there may be people under the rubble, the Kyiv Military Administration said. More than 20 people were evacuated.
Resident Valeriya Oreshko told The Associated Press in the aftermath that even though the immediate threat was over, the attacks had everyone on edge.
You are happy that you are alive, but think about what will happen next, the 39-year-old said.
Oksana, who only gave her first name, said the whole building shook when it was hit.
Go to shelters, because you really do not know where it (the drone) will fly, she advised others. "We hold on."
Elsewhere in the capital, falling debris caused a fire in a private house in the Darnytskyi district and three cars were set alight in the Pechersky district, according to the military administration.
The series of attacks that began Sunday included a rare daylight attack Monday that left puffs of white smoke in the blue skies.
On that day, Russian forces fired 11 ballistic and cruise missiles at Kyiv at about 11:30 a.m., according to Ukraine's chief of staff, Valerii Zaluzhnyi. All of them were shot down, he said.
Debris from the intercepted missiles fell in Kyiv's central and northern districts during the morning, landing in the middle of traffic on a city road and also starting a fire on the roof of a building, the Kyiv military administration said. At least one civilian was reported hurt.
The Russian Defense Ministry said it launched a series of strikes early Monday targeting Ukrainian air bases with precision long-range air-launched missiles. The strikes destroyed command posts, radars, aircraft and ammunition stockpiles, it claimed. It didn't say anything about hitting cities or other civilian areas.
Add TheJapanNews to your Google News feed.