Who Is Tim Scott? Here's What to Know about the Newest 2024 GOP Presidential Candidate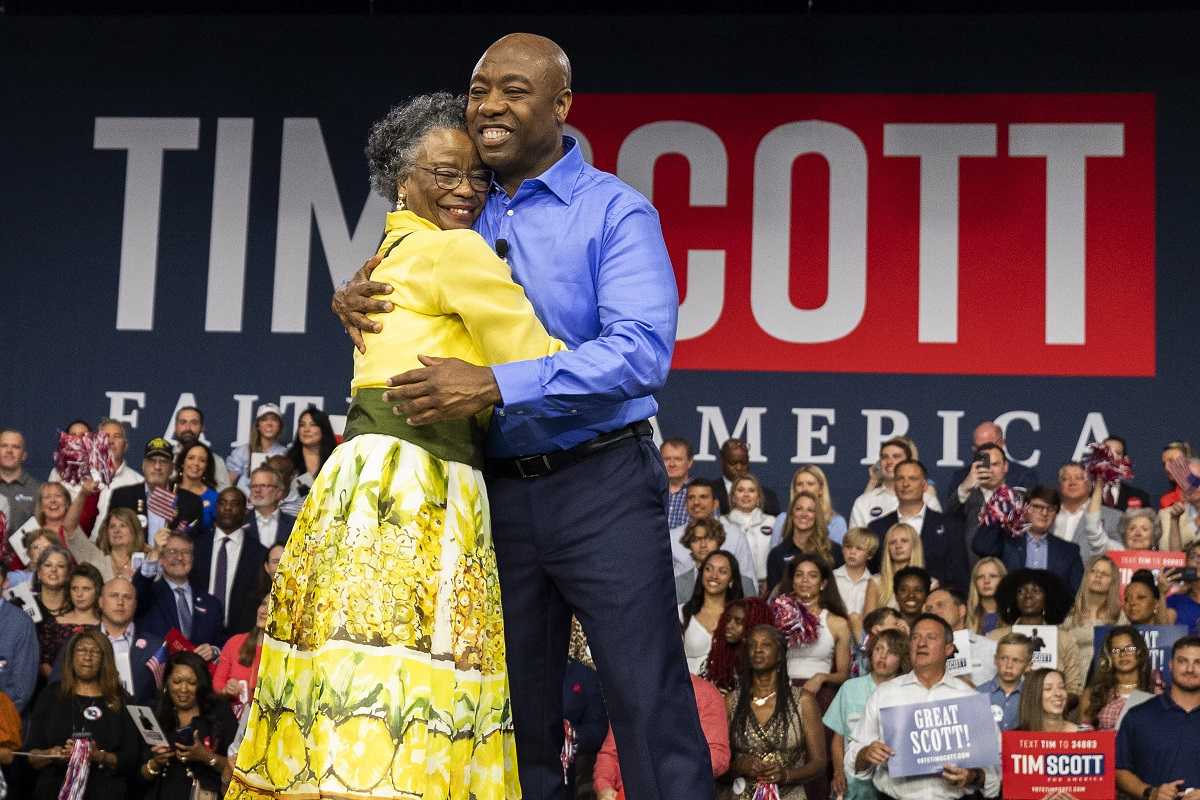 10:56 JST, May 23, 2023
NORTH CHARLESTON, S.C. (AP) — As Sen. Tim Scott enters the 2024 GOP presidential field, he will be eager to introduce himself to voters who might not know much about him.
Here is what you should know about the South Carolina Republican:
FOREMOST: FAITH
Raised by a single mother, Scott, 57, talks often of how Frances Scott worked long hours as a nurse's assistant to provide for her two sons. It was a meager existence, the senator said, but it was centered around their strong Christian faith.
At age 18, Scott became what he terms a "born-again believer."
His faith is an integral part of his political and personal narrative, as well as his belief in being a positive catalyst for change. He often quotes Scripture at campaign events, weaving his reliance on spiritual guidance into his stump speech and using "Faith in America" to describe his series of appearances before joining the race.
Last year in a speech at the Reagan Presidential Library, Scott said he saw America "at a crossroads — with the potential for a great resetting, a renewal, even a rebirth." His autobiography, released last year, is titled "America: A Redemption Story."
When his now-rival Nikki Haley appointed him to the U.S. Senate in 2012, Scott became the first Black senator from the South since just after the Civil War. In a 2014 special election to serve out the remainder of his term, Scott became the first Black candidate to win a statewide race in South Carolina since the Reconstruction era.
Before that, Scott had just been elected to his second term representing South Carolina's 1st Congressional District. He served a single term in the state House, as well as, beginning in 1995, nearly 14 years on the Charleston County Council, while also operating an insurance business. He also briefly ran for lieutenant governor, ultimately abandoning that pursuit to seek the congressional seat vacated by retiring Rep. Henry Brown.
At that time, South Carolina's governor and lieutenant governor were elected separately; had Scott stayed in that race and won it, he and Haley would have served together as South Carolina's top officeholders.
'I DISRUPT THEIR NARRATIVE'
The Senate's sole Black Republican, Scott doesn't shy away from pointing out that his is often the only face of color in many rooms of conservatives.
"When I fought back against their liberal agenda, they called me a prop. A token. Because I disrupt their narrative," he said in an April video announcing his presidential exploratory committee, shot on the site of Fort Sumter in Charleston, South Carolina, where the Civil War's first shots were fired.
In his Reagan Library speech last year, Scott said that belief in conservative values had changed his life, arguing that his ability to succeed in politics had disproven critiques from liberals he said "you can call me a prop, you can call me a token. … Just understand what you call me is no match for the proof of my life."
Rejecting the notion that the country is inherently racist, Scott has repudiated the teaching of critical race theory, an academic framework that presents the idea that the nation's institutions maintain the dominance of white people.
He has also spoken on the Senate floor about his personal experiences as a Black man in America.
"I have felt the anger, the frustration, the sadness and the humiliation that comes with feeling like you're being targeted for nothing more than just being yourself," Scott said in 2016, recounting how he was pulled over seven times in a year.
But Scott argues that liberals have tried to weaponize race by portraying nonwhite citizens as politically oppressed.
"Hear me clearly: America is not a racist country," he said in a nationally televised response to President Joe Biden's 2021 address to Congress. "It's backwards to fight discrimination with different types of discrimination. And it's wrong to try to use our painful past to dishonestly shut down debates in the present."
MONEY TALKS
Scott is coming into the campaign with more cash on hand than any other presidential candidate in U.S. history. At the end of his 2022 campaign, he had $22 million left over, which he plans to immediately transfer to his presidential coffers.
There are millions more in other organizations created to support Scott and his efforts. Opportunity Matters Fund, a pro-Scott super political action committee, spent more than $20 million to help Republicans in 2022, reporting $13 million-plus on hand to start 2023. Tech billionaire Larry Ellison has donated at least $30 million to the organization since 2021, according to federal filings.
Another super PAC, Opportunity Matters Fund Action, had around $3 million at the end of last year.
HISTORY WITH TRUMP
Scott has maintained a generally cordial relationship with Trump, despite initially endorsing Florida Sen. Marco Rubio in the 2016 GOP presidential primary.
But he also spoke out against Trump after the then-president said there were "very fine people on both sides" of a deadly clash between white supremacists and anti-racist demonstrators in Charlottesville, Virginia, in 2017. Scott said that Trump's principles had been compromised and that without some introspection, "it will be hard for him to regain … moral authority."
Scott also called it "indefensible" after Trump retweeted a post in June 2020 containing a racist slogan associated with white supremacists. Trump later deleted it.
In his 2022 book, Scott said that Trump "listened intently" to his viewpoints on race-related issues. And on the campaign trail, Scott has railed against political correctness in much the same fashion as Trump.
"If you wanted a blueprint to ruin America, you'd keep doing exactly what Joe Biden has let the far left do to our country for the past two years," Scott said this year in Iowa. "Tell every white kid they're oppressors. Tell Black and brown kids their destiny is grievance, not greatness."
Add TheJapanNews to your Google News feed.