Stepping into Spielberg's Shoes, James Mangold Takes Indiana Jones on One Last Adventure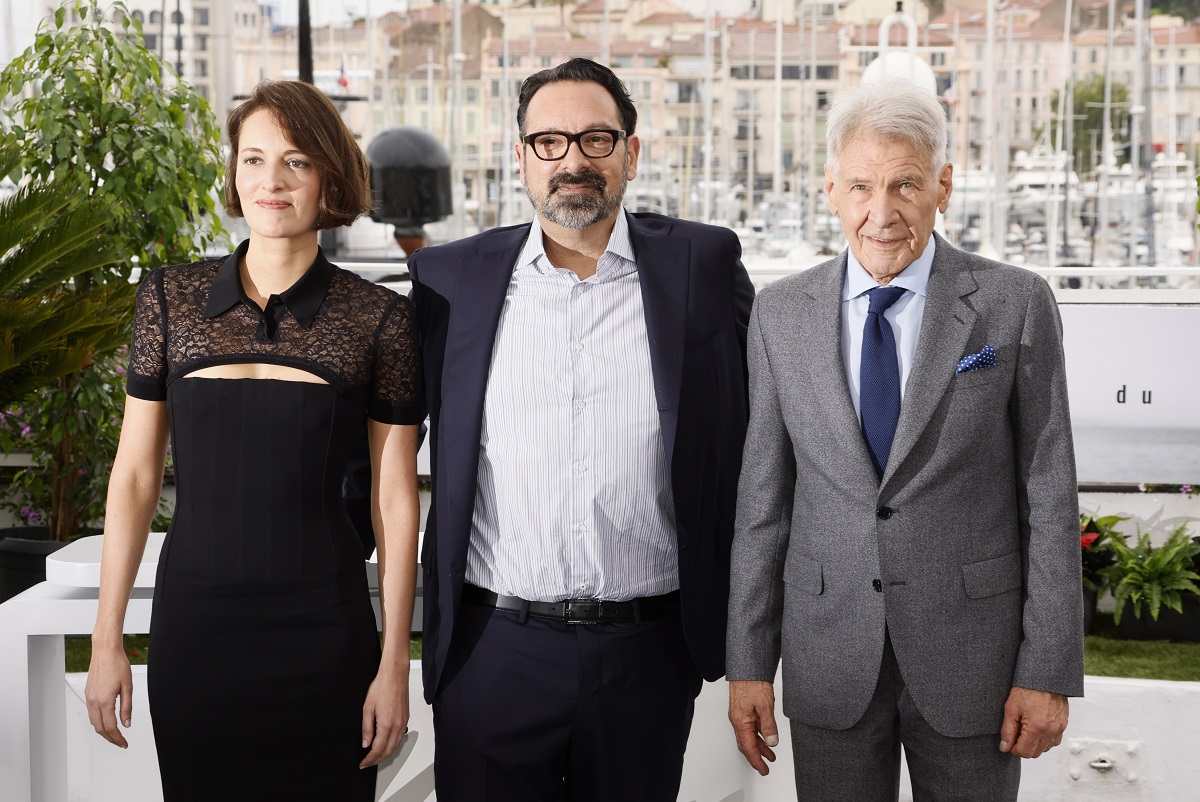 10:31 JST, May 22, 2023
CANNES, France (AP) — When the lights came up after a screening on the Walt Disney lot of "Indiana Jones and the Dial of Destiny," Steven Spielberg was incredulous.
"Damn!" he said. "I thought I was the only one who knew how to make one of these!"
"Dial of Destiny," which premiered Thursday at the Cannes Film Festival, is the first Indiana Jones film without Spielberg behind the camera. After years of development, Spielberg and Lucasfilm decided to pass the reigns to James Mangold, the "Ford vs. Ferrari" filmmaker, who was 18 years old when he saw "Raiders of the Lost Ark" in a Hudson Valley theater on opening day in 1981.
"When I got over my initial hesitation of just: holy s—- this is a big challenge to step into these very big shoes that Steven Spielberg is leaving, the opportunity, on a very selfish level, to collaborate and learn and have the tools and the resources to play on this level was hard to resist," Mangold said.
Mangold was being tasked with not only restoring the luster of one of the most beloved film series after a disappointing fourth film in 2008's "Indiana Jones and the Crystal Skull," but giving Harrison Ford a poignant send-off in his last performance as the character.
While no one is saying "Dial of Destiny" matches "Raiders of the Lost Ark," the consensus in Cannes was that it betters "Crystal Skull" by a wide margin. Mangold certainly has Ford's endorsement.
"He more than filled the shoes," Ford told reporters. "He made, for me, a beautiful movie."
Before "Dial of Destiny" opens in theaters June 30, Mangold spoke about the challenges of capturing "Indiana Jones" tradition and carrying it forward. After a 1940s-set opening with a de-aged Ford, "Dial of Destiny" moves to the '60s and finds an aged Jones weary and on the cusp of retirement. The space race has made him a relic of a bygone era.
And the notion of who Indiana — an Errol Flynn-like hero forged in the moral clarity of WWII — would be in a more complicated time, without the spryness of youth, factored heavily into Mangold's thinking on "Dial of Destiny." Remarks have been lightly edited for clarity and brevity.
AP: How did you respond when this opportunity arose?
Mangold: When Harrison and Kathy (Kennedy) and Steven came to me about this — you're talking about just heroes of my life. George Lucas. John Williams, too. The idea of being invited to not only play in an all-star game with that kind of team, but also take the mound and be the pitcher, is beyond. So you flash forward to this moment where I'm kind of stepping in to the director's chair, and it's a chance for me to both try and carry forward what I feel like I've been learning all my life from Steven's work. And at the same time carrying my own voice, but wanting very much to work within the same kind of golden-age vernacular that he's operating in. It's pressure because you can't be playing at a higher level with a headier crowd of luminaries around you. You either have to rise to the occasion or not.
AP: Were you surprised the job was even open? During the film's long development, it was long assumed that Spielberg would direct.
Mangold: I don't think directing an Indiana Jones film is a job. It is a lifetime commitment. There's too many luminaries and too much involved. When they came to me they were very laser focused on me stepping in. The idea for me was that I wanted to write a script that I could get behind. I wanted to really retool the existing script pretty aggressively, almost entirely. But when they first came to me? It was a complete shock. I was numb. But I'm also not new at this. There's a kid in me that's tickled and flattered — the romantic in me. And then there's the rational person who's survived these movies up to this and knows how to make a picture like this.
AP: And so much of the what defines "Indiana Jones" is the ingenuity of the filmmaking: the clever reveals, the ingenious blocking.
Mangold: These are love letters to Golden Age cinema. You're making a narrative and you're making a movie about characters who have to feel real, but you're also making a movie that in and of itself is about enjoying the sheer beautiful spectacle of movie making. The way shots move together, the way sequences are constructed, the way you kind of unwind the onion of a revelation in the movie. These are all things where you're taking your guidance from the classics.
AP: You've described wanting to make "Dial of Destiny" about "a hero at sunset." How did age relate to your intentions for the film?
Mangold: When they approached me, I immediately found myself faced with making an Indiana Jones with a hero in his late 70s. There's no way around the fact that the audience is going to be confronted with Harrison's age. They're going to see a man they've grown up with in his late 70s. To me, it's not about what I'm doing, it's about what I'm not doing. I'm not going to allow myself to be in denial that this is going to be a huge factor in the audience's mind.
AP: So even though you begin with a de-aged Indiana, you wanted to embrace who Ford, 80, is today.
Mangold: The movie becomes about the very thing that is undeniable. What is it like to be a hero, to be a kind of swashbuckling, mischievous, demanding, fearless, but also fearful? What I thought about, even in relation to some of the struggles they had with "Crystal Skull," was that it's very challenging to carry a kind of golden-age character forward past the dividing line after modernism arrived. The optimism and clarity of purpose with which characters operated in the '30s or '40s is not the same environment that they're operating in in the '50s, '60s and '70s. The arrival of modernism has brought realpolitik and a kind of lack of clarity about who are enemies and who our heroes are. It's brought a kind of cynicism into the world about easy heroes. Science has replace mysticism, and we're landing on the moon where nuclear weapons are all around us.
AP: Was it moving to shoot Ford's last scene as Indiana?
Mangold: We shot his last shot and everyone applauded and we all drank champagne. And it is very moving. But you've been through almost a year of making this movie together. To do a good job making a movie like this, you can never sink completely into that way of thinking. Because if you did, you'd be lost in kind of the symbolism of each moment. Indiana Jones is a part of Harrison, so in a way, I don't think he's ever saying goodbye to the character because he carries this character. It's very close to who he is.
Add TheJapanNews to your Google News feed.