Salman Rushdie Attends PEN America Gala, First In-Person Appearance Since Stabbing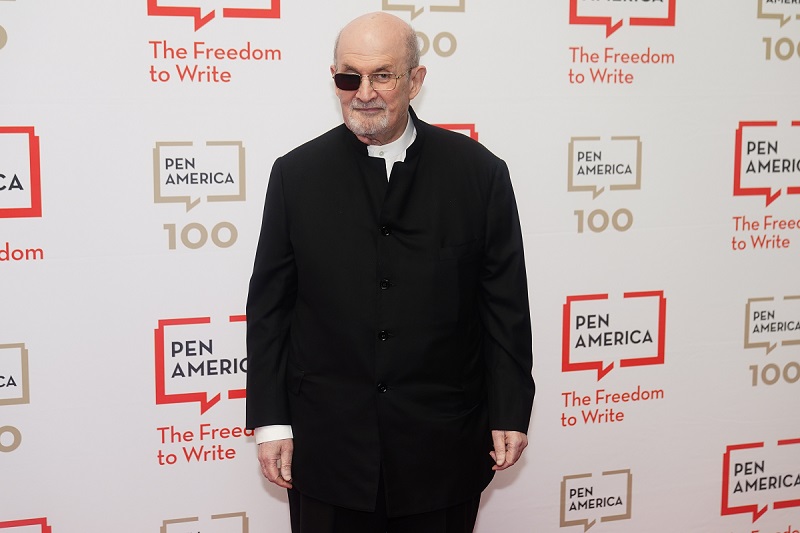 11:58 JST, May 19, 2023
NEW YORK (AP) — Salman Rushdie has made his first in-person public appearance since being stabbed repeatedly and hospitalized nine months ago. The author was in attendance Thursday night for the annual gala of PEN America, the literary and free expression organization for which he once served as president.
"I feel great," said Rushdie, wearing a dark collarless jacket and matching pants. "I have a long association with PEN America and I'm just happy to be amongst writers and book people."
Rushdie, 75, attended the gala, where hundreds of writers and other PEN members gathered for the dinner benefit.
"Saturday Night Live" founder Lorne Michaels and Iranian dissident Narges Mohammadi were among those scheduled to be honored.
Last August, Rushdie was appearing at the Chautauqua Institution, a nonprofit education and retreat center in western New York, when he was assaulted by a young man dressed in black and carrying a knife. Rushdie sustained multiple wounds, leaving him blind in his right eye and struggling to write.
The alleged assailant, Hadi Matar, has pleaded not guilty to charges of assault and attempted murder.
Rushdie was in hiding for years after Iran's Grand Ayatollah Ruhollah Khomeini issued a fatwa in 1989 calling for his death because of the alleged blasphemy of the novel "The Satanic Verses," but he had long moved about freely before the attack in August.
He has since granted few interviews and otherwise communicated through his Twitter account and prepared remarks. Earlier this week, he delivered a video message to the British Book Awards, where he was given a Freedom to Publish prize. ___ This story has been corrected to show that Rushdie's novel is "The Satanic Verses," not "The Satanic Verse."
Add TheJapanNews to your Google News feed.