Biden Consults with Japan's Kishida ahead of Group of Seven Summit in Hiroshima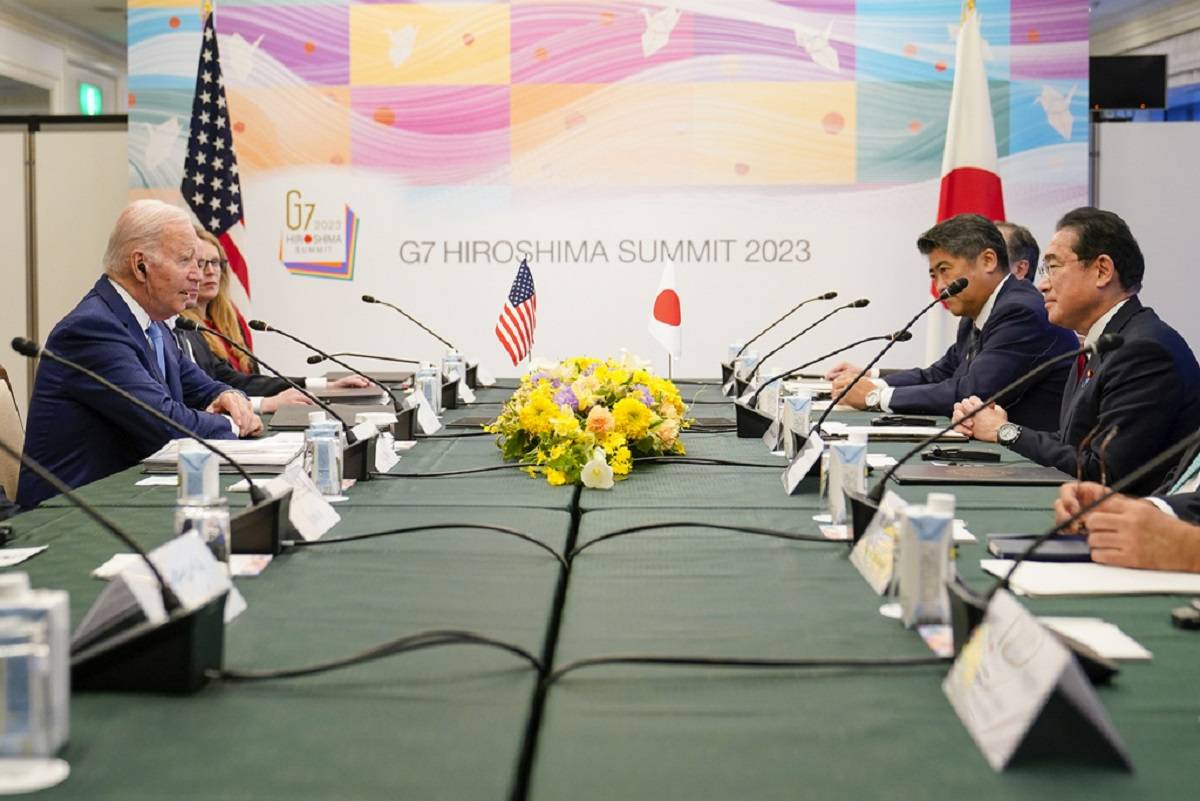 20:57 JST, May 18, 2023
HIROSHIMA (AP) — President Joe Biden arrived in Japan on Thursday and greeted Japanese Prime Minister Fumio Kishida by saying, "When our countries stand together, we stand stronger" — a sign of how the economic and national security alliance between the two countries has grown.
The U.S. president began his remarks by noting that Kishida said during a January Washington visit that the world faced one of the "most complex" security environments in recent history. "I couldn't agree with you more," Biden said.
"We very much welcome that the cooperation has evolved in leaps and bounds," Kishida told Biden about Japan's relationship with the U.S. in their meeting ahead of the Group of Seven summit that begins Friday.
The Kishida family's home city of Hiroshima will host the gathering of major industrialized nations known at the G-7. The setting of Hiroshima, where the U.S. dropped the first nuclear bomb in 1945 during World War II, carries newfound resonance. The U.S., Japan and their allies are strategizing on how to deal with Russia's ongoing war in Ukraine as well as concerns about the increased cadence of North Korea's ballistic missile tests and Iran's nuclear program.
Biden is appearing on the world stage while trying to manage a divide back in the U.S. on how to raise the debt limit. He opted to cut short what was supposed to be an eight-day trip to Asia, so he can return to Washington to try to avoid a potentially catastrophic default in June that could ripple across the global economy. It's a drama that reveals how internal U.S. politics can spillover into global forums.
While aboard Air Force One, Jake Sullivan, the White House national security adviser, told reporters that the Russian invasion looms large as a G-7 topic. He added leaders would discuss the state of play on the battlefield and sealing loopholes to strengthen sanctions that have been levied against Moscow.
Sullivan said Biden and Kishida, are aiming to further advance a relationship that's progressed over the course of the last two years with the two sides tightening coordination on military, economic and climate matters.
Last year, Biden came to Tokyo to discuss Indo-Pacific strategy and launch a new trade framework for the region, with the U.S. president and Kishida engaging in an 85-minute tea ceremony and seafood dinner. The president's first stop in Japan on Thursday was to greet U.S. troops at the Marine Corps Air Station Iwakuni, before he headed to Hiroshima for talks with the Japanese prime minister.
Kishida was quick to call out the risks of nuclear-power Russia invading Ukraine in 2022, saying then, "Ukraine today could be East Asia tomorrow."
China has declared a limitless friendship with Russia, increasing trade in ways that blunted the ability of financial sanctions to constrain the war. But the U.S. and its allies say China has yet to ship military equipment to Russia, a sign that the friendship might have some boundaries.
Biden and Kishida also have economic matters to consider. The U.S. and Japan have begun to redefine global trade with an eye toward supply chain resilience and national security. They recently signed an agreement on critical mineral supply chains. They're also cooperating on the development of renewable energy sources and partnering on efforts to limit China's access to advanced computer chips.
Kishida hopes to discuss further strengthening of deterrence and response capability with Biden in the face of China's assertiveness in the Indo-Pacific region, as well as confirming the importance of the Taiwan Strait for global peace and stability. China has asserted that self-governing Taiwan should come under its rule. U.S. officials have been briefed on the possible economic damage caused by a war over Taiwan, which would disrupt the supply of advanced computer chips.
Japan is also keen to discuss ways to reinforce its three-way partnership with the U.S. and Seoul following an April agreement between the United States and South Korea to strengthen their tools to deter the risk of a nuclear attack by North Korea.
Kishida and Biden will hold a trilateral summit with South Korea's Yoon Suk Yeol on the sidelines of the G-7 summit. But Kishida is in a complicated position by discussing efforts to respond to nuclear threats by North Korea with Japan's history of also calling for a world free from nuclear arms, said Kan Kimura, a Kobe University professor and an expert on South Korea.
In the wake of World War II, Japan embraced pacifism. The atomic bomb scorched Hiroshima, killing 140,000 people and destroying most of the river delta city's buildings. But current conditions are testing Japan's pacifism and anti-nuclear weapon tradition.
"Of course, Kishida is walking a fine line," said Christopher Johnstone, a senior adviser at the Center for Strategic and International Studies, a Washington think tank. "He recognizes the need for the nuclear umbrella, Japan's dependence on U.S. extended deterrence — that that's more vital than ever, frankly, in the current security environment."
There are outstanding issues between the U.S. and Japan. During his January meeting with Kishida, Biden brought up the case of Lt. Ridge Alkonis, a U.S. Navy officer deployed to Japan who last year was sentenced to three years in prison after pleading guilty to the negligent driving deaths of two Japanese citizens in May 2021, according to a senior administration official. Alkonis also agreed to pay the victims $1.65 million in restitution. His family is seeking his release, saying he was detained until he confessed.
The early return to Washington to deal with the debt limit means Biden will skip planned stops in Papua New Guinea and Australia, where he was to take part in a meeting of the so-called Quad partnership with leaders of Australia, India and Japan. The Papua New Guinea visit would have been the first to the Pacific Island country by a sitting U.S. president.
The White House said that Biden phoned the prime minister of Papua New Guinea, James Marape, while traveling on Air Force One to "personally" convey the need to return to Washington. Biden invited Marape and other Pacific leaders to Washington later this year.
Add TheJapanNews to your Google News feed.