Trump-Backed Daniel Cameron to Face Democratic Kentucky Gov. Andy Beshear in November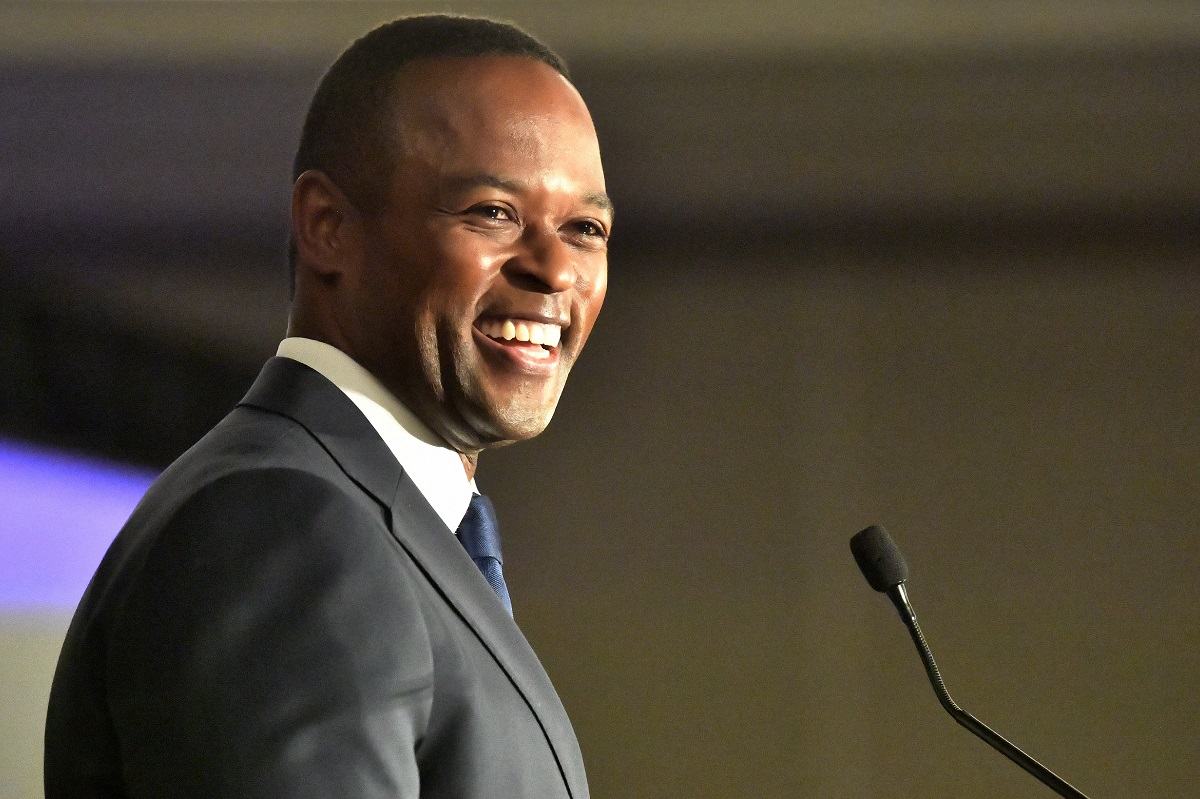 15:56 JST, May 17, 2023
LOUISVILLE, Ky. (AP) — Daniel Cameron won the Republican primary for Kentucky governor on Tuesday, becoming the first major-party Black nominee for governor in the state's history and setting up a November showdown with Democratic incumbent Andy Beshear.
Cameron, the state's attorney general who was endorsed by former President Donald Trump, claimed a convincing victory over a 12-candidate field that included Kelly Craft, who served as United Nations ambassador in the Trump administration, and state Agriculture Commissioner Ryan Quarles. Beshear easily dispatched two under-the-radar Democratic challengers in his own primary.
Cameron, the state's first Black attorney general, would be the state's first Black governor if elected. He played up the historic nature of his nomination in his victory speech Tuesday, saying his campaign aims to "embody the promise of America, that if you work hard and if you stand on principle, anything is possible."
"To anyone who looks like me, know that you can achieve anything," Cameron told his supporters. "Know that in this country and in Kentucky, all that matters are your values."
The race now shifts to the general election, which will be one of November's most closely watched contests and could provide clues heading into next year's presidential race. Beshear, a popular Democratic governor, will face a tough reelection bid in a Republican-dominated state after a first term marked by a series of tragedies — the COVID-19 pandemic, natural disasters and a mass shooting that killed one of his closest friends.
Beshear on Tuesday touted his stewardship of Kentucky's economy — pointing to record economic development successes — in setting the stage for his fall reelection campaign. And he blasted the tone of the GOP gubernatorial primary after taking hits for months from the Republican candidates.
"Right now somewhere in America, there is a CEO deciding where to move their business and they're considering Kentucky," Beshear told a gathering of supporters. "Let me ask you: Is seeing people talk down our state and our economy, insult our people and stoke divisions going to help that next company choose Kentucky? Of course not."
The fall matchup between Beshear and Cameron conjures parallels from the state's last governor's race but with a reversal of roles for the governor. In 2019, Beshear used the attorney general's office as a springboard to the governorship. During his single term as attorney general, Beshear challenged a series of executive actions by then-governor, Republican Matt Bevin. Beshear narrowly defeated Bevin in a race that revolved around Bevin's combative personality.
Turnout was light in many locations as rain fell across much of the state during part of the day, the secretary of state's office said. Storm warnings were issued in some areas but there were no reports of voting disruptions. Election officials hoped for an upswing in turnout after the storms passed.
Cameron succeeded Beshear in the attorney general's office, and the Republican turned the tables on Beshear, mounting numerous legal challenges against state and national Democratic policies that endeared him to conservatives. Cameron led the successful challenge that essentially halted the governor's COVID-era restrictions, which Cameron said amounted to executive overreach. Beshear says that his actions saved lives and that he leaned heavily on guidance from Trump's coronavirus task force.
A former aide to Republican Senate leader Mitch McConnell, Cameron has risen through the political ranks to become one of the most prominent Black Republicans in the country. His victory Tuesday will play into Trump's efforts to solidify his status as the leader of the Republican Party heading into the 2024 presidential primary.
If Beshear follows his campaign formula from 2019, he will avoid talking about Trump or dwelling on polarizing national issues that could risk further energizing his opponent's conservative base.
He is also expected to draw on his family's strong political brand — his father, Steve Beshear, is a former two-term Kentucky governor who spoke at his son's primary victory celebration Tuesday — and lean into his role of leading through adversity after a multitude of crises during his first term.
Through it all, Beshear emerged as the front man, holding daily pandemic briefings for months and then leading relief efforts to help those left devastated by tornadoes and floods.
Last month, Beshear publicly and emotionally grieved the loss of a close friend who died when a Louisville bank employee opened fire with an assault-style rifle, killing five coworkers. He has frequently invoked his Christian faith as a cornerstone of his efforts to lead the state through tough times.
In addition to Craft and Quarles, Cameron also defeated state Auditor Mike Harmon and Somerset Mayor Alan Keck, among others.
But it was the combative rivalry between Cameron and Craft that dominated the primary campaign. Cameron endured an advertising blitz by Craft's campaign — backed by her family's fortune — and an outside group supporting her campaign. The pro-Craft group portrayed Cameron as an "establishment teddy bear" in claiming he wasn't tough enough as attorney general. A pro-Cameron group swung back with attacks against Craft, who nabbed a last-minute endorsement from Florida Gov. Ron DeSantis.
Cameron's handling of an investigation into the fatal shooting of Breonna Taylor by Louisville police in 2020 could come under renewed scrutiny as he campaigns as the GOP nominee. Taylor's death and the police-related killing of George Floyd in Minneapolis sparked nationwide protests.
In announcing a grand jury's findings in Taylor's death, Cameron said jurors "agreed" that homicide charges were not warranted against the officers, because they were fired upon. Three of the jurors disputed Cameron's account, arguing that Cameron's staff limited their scope and did not give them an opportunity to consider homicide charges against the police in Taylor's death.
Cameron's immediate attention will turn toward building party unity for the fall campaign slog, a task for which he has demonstrated skills in the past. He bridged the gulf between Trump and McConnell despite a growing rift between the two GOP heavyweights. Cameron worked as the senator's legal counsel and made a high-profile pitch for Trump's unsuccessful reelection campaign at the 2020 Republican National Convention.
The gubernatorial campaign topped primary races for other constitutional offices in Kentucky.
Republican Secretary of State Michael Adams, who pushed successfully for expanded voter access, won his primary against two candidates, including one who cast doubt on the integrity of elections. He faces Democrat Charles "Buddy" Wheatley in November in his reelection bid.
Other primary winners included Republican Allison Ball, who is running for state auditor after two terms as state treasurer, and now will face Democrat Kimberley Reeder, who ran unopposed. Garrard County Attorney Mark Metcalf won the GOP primary for state treasurer and faces Democrat Michael Bowman in November. The general election race for agriculture commissioner pits Republican Jonathan Shell against Democrat Sierra Enlow, who won their respective primaries. The fall campaign for attorney general will feature Republican Russell Coleman against Democrat Pam Stevenson. Both were unopposed in the primary.
Add TheJapanNews to your Google News feed.