US-Mexico Border Sees Orderly Crossings as New Migration Rules Take Effect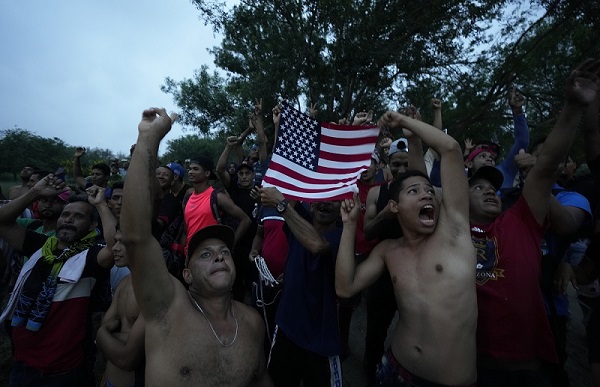 11:17 JST, May 14, 2023
EL PASO, Texas (AP) — The U.S.-Mexico border was relatively calm as the U.S. ended its pandemic-era immigration restrictions and migrants adapted to new asylum rules and legal pathways meant to discourage illegal crossings.
A full day after the rules known as Title 42 were lifted, migrants and government officials on Friday were still assessing the effects of new regulations adopted by President Joe Biden's administration in hope of stabilizing the Southwest border region and undercutting smugglers who charge migrants to get there.
Migrants are now essentially barred from seeking asylum in the U.S. if they did not first apply online or seek protection in the countries they traveled through. Families allowed in as their immigration cases progress will face curfews and GPS monitoring. Those expelled can now be barred from reentry for five years and face possible criminal prosecution.
Across the river from El Paso, Texas, in Ciudad Juárez, Mexico, many migrants watched their cellphones in hopes of getting a coveted appointment to seek entry. The official app to register to enter the United States underwent changes this week, as it offers appointments for migrants to enter through land crossings.
Many migrants in northern Mexico resigned themselves to waiting for an appointment rather than approaching the border without authorization.
"I hope it's a little better and that the appointments are streamlined a little more," said Yeremy Depablos, 21, a Venezuelan traveling with seven cousins who has been waiting in Ciudad Juárez for a month. Fearing deportation, Depablos did not want to cross illegally. "We have to do it the legal way."
The U.S. Homeland Security Department said it has not witnessed any substantial increase in immigration.
But in southern Mexico, migrants including children still flocked to railways at Huehuetoca on Friday, desperate to clamor aboard freight trains heading north toward the U.S.
The legal pathways touted by the Biden administration consist of a program that permits up to 30,000 people a month from Haiti, Cuba, Nicaragua and Venezuela to enter if they apply online with a financial sponsor and enter through an airport.
About 100 processing centers are opening in Guatemala, Colombia and elsewhere for migrants to apply to go to the U.S., Spain or Canada. Up to 1,000 can enter daily through land crossings with Mexico if they secure an appointment on the app.
If it works, the system could fundamentally alter how migrants come to the southern border. But Biden, who is running for reelection, faces withering criticism from migrant advocates, who say he's abandoning more humanitarian methods, and from Republicans, who claim he's soft on border security. Two legal challenges already loom over the new asylum restrictions.
Title 42 was initiated in March 2020 and allowed border officials to quickly deport asylum seekers on grounds of preventing the spread of COVID-19. But with the national emergency officially over, the restrictions have ended.
While Title 42 prevented many from seeking asylum, it carried no legal consequences for expulsion like those under the new rules.
In El Paso on Friday, a few dozen migrants lingered outside Sacred Heart Catholic Church and shelter, on streets where nearly 2,000 migrants were camped as recently as Tuesday.
The Rev. Daniel Mora said most of the migrants took heed of flyers distributed by U.S. immigration authorities offering a "last chance" to submit to processing and left. El Paso Mayor Oscar Leeser said that 1,800 migrants turned themselves over to Customs and Border Protection on Thursday.
Melissa López, executive director for Diocesan Migrant and Refugee Services at El Paso, said many migrants have been willing to follow the legal pathway created by the federal government, but there are fears about deportation and possible criminal penalties for crossing the border illegally.
Border holding facilities in the U.S. were already far beyond capacity in the run-up to Title 42's expiration.
In Florida, a federal judge appointed by former President Donald Trump has temporarily halted the administration's plans to release people into the U.S.
Customs and Border Protection said it would comply, but called it a "harmful ruling that will result in unsafe overcrowding" at migrant processing and detention facilities.
A court date has been scheduled on whether to extend the ruling.
Migrant-rights groups also sued the Biden administration on allegations that its new policy is no different than one adopted by Trump — and rejected by the same court.
The Biden administration says its policy is different, arguing that it's not an outright ban but imposes a higher burden of proof to get asylum and that it pairs restrictions with newly opened legal pathways.
At the Chaparral port of entry in Tijuana on Friday, a few migrants approached U.S. authorities after not being able to access the appointment app. One of them, a Salvadoran man named Jairo, said he was fleeing death threats back home.
"We are truly afraid," said Jairo who was traveling with his partner and their 3-year-old son and declined to share his last name. "We can't remain any longer in Mexico and we can't go back to Guatemala or El Salvador. If the U.S. can't take us, we hope they can direct us to another country that can."
Add TheJapanNews to your Google News feed.