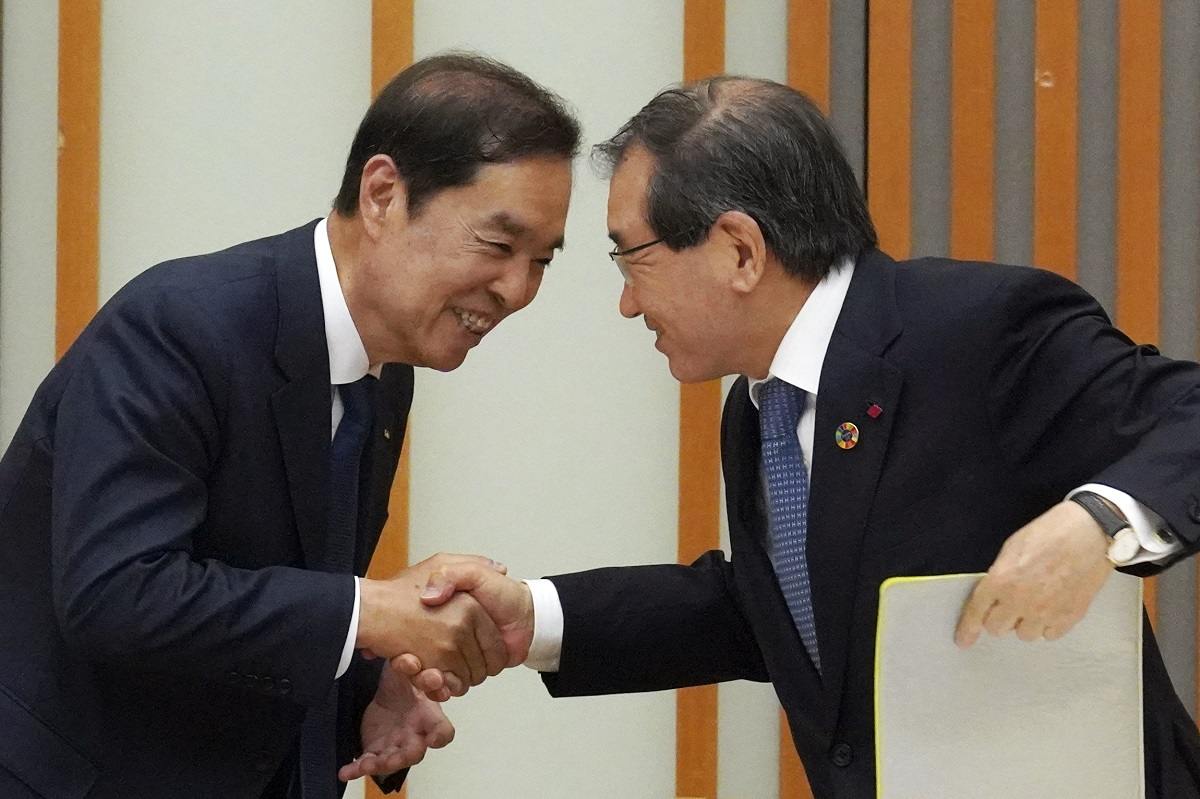 9:58 JST, May 11, 2023
TOKYO (AP) — Top business leaders from Japan and South Korea announced Wednesday they will use a fund meant to underscore the two countries' burgeoning ties to strengthen their cooperation in energy, industry and other sectors.
Japan Business Federation, known as Keidanren, and its South Korean counterpart, the Federation of Korean Industry, announced a fund of 200 million yen ($1.5 million) in March. The money comes from an initial installment of 100 million yen ($750,000) from each side to complement efforts initiated by South Korean President Yoon Suk Yeol's government to resolve a historical dispute over Japanese brutality during its 1910-1945 colonial rule of the Korean Peninsula.
The two groups selected specific areas of joint projects for the Future Partnership funds, focusing on youth exchanges and industrial cooperation, said Kendanren chair Masakazu Tokura and Federation of Korean Industry acting chair Kim Byong-joon Wednesday at a joint news conference in Tokyo. Areas of focus include semiconductor supply chain resiliency, energy security, maintaining the free and open international order, and climate change, among others.
"I'm extremely encouraged that the improvement of Japan-South Korea relations are now getting on the right track," Tokura said.
In March, Yoon announced a local fund to compensate South Koreans who were forced to work for Japanese companies during World War II. Though Yoon faces criticisms at home that he compromised too much, the fund effectively ended a bitter dispute triggered by the 2018 South Korean court rulings ordering two Japanese companies — Mitsubishi Heavy Industries and Nippon Steel Corp. — to compensate the victims. Japan, however, had insisted all compensation issues were settled by a 1965 treaty that normalized relations.
Yoon followed his announcement with a trip to Japan, after which ties have been rapidly improving. Less than two months later, Prime Minister Fumio Kishida responded in kind with a trip to Seoul for a summit with Yoon. The quick thaw underscores their shared sense of urgency over growing military threats from China, North Korea and Russia and the need to strengthen their three-way united front with the United States.
A series of talks in defense, finance and trade have resumed since then and, Tokura said, the momentum is rising. He said that a free and open global order increasingly important, and economic security and semiconductor supply chain resilience are key.
South Korea's "excellent companies" like Samsung and SK Hynix and renowned materials and equipment from Japan would go very well together, he said, adding that he hoped Japan and South Korea's cooperation would take root in East Asia as an example to follow.
Kim said a paradigm shift and creative solutions are needed "to overcome unprecedented global crisis" and that the two business groups will "overcome our common problems and walk toward the future."
Tokura and Kim will each head an organizing committee for the fund. They said they will set up a panel of academic experts to work with the fund and will have their first meeting in early July in Seoul.
Add TheJapanNews to your Google News feed.