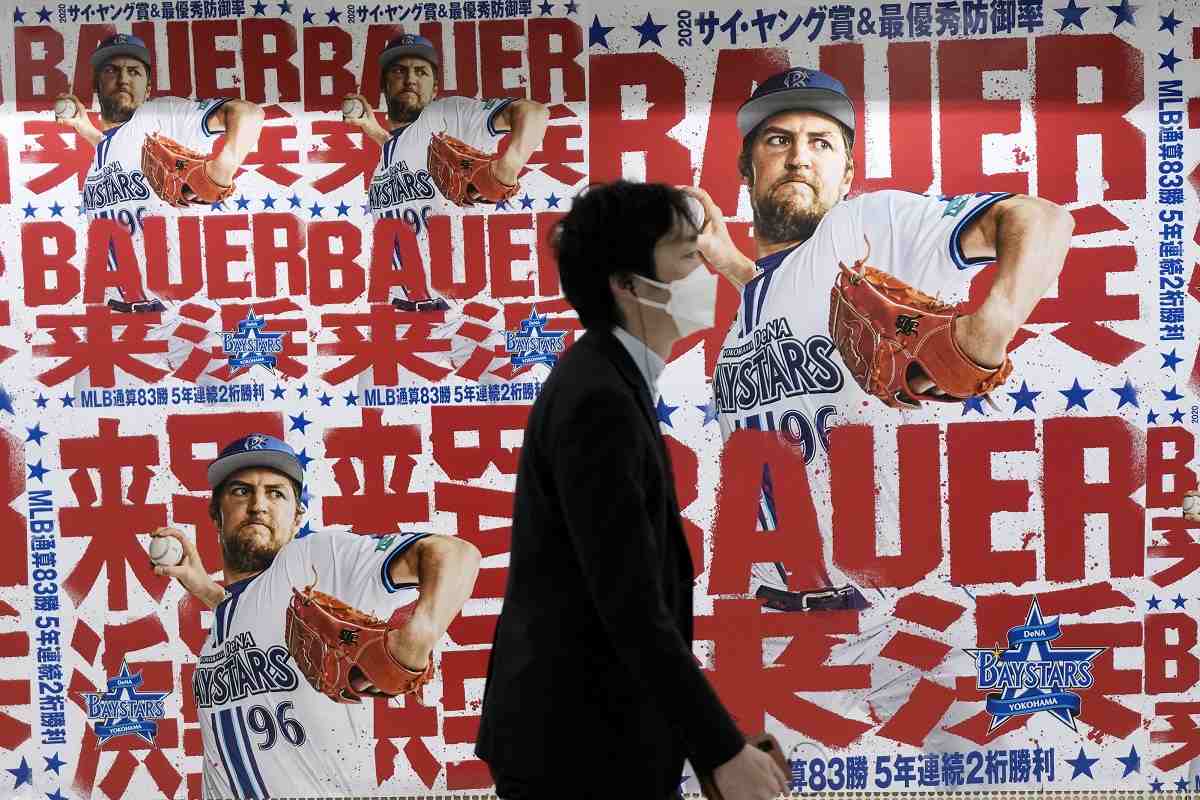 10:04 JST, May 3, 2023
YOKOHAMA, Japan (AP) — Trevor Bauer will pitch his first official game for the Yokohama DeNA BayStars on Wednesday and, to promote the start, a local department store is to unveil a seven-story poster of the former Cy Young Award winner on its facade.
Bauer was unwanted this season by Major League Baseball teams — at least no club signed him though he was eligible to play — after claims of domestic violence and sexual assault.
However, he's a baseball celebrity in this famous port city in Japan, with few questions asked about his past — and his answers readily accepted.
Small replica posters of the department store version dot train stations around town spelling out "Bauer" in English with the message in Japanese — "He's here."
"My face is too big," Bauer said recently, breaking into a seldom-seen laugh with reporters. "It's very cool. It's very cool. Growing up as a kid you see professional athletes and movie stars on billboards like that; kind of cool for me to be there myself."
Bauer was released by the Los Angeles Dodgers this year after an arbitrator reduced his unprecedented 324-game suspension to 194 games for violating the domestic violence and sexual assault policy of MLB and the players' association.
MLB Commissioner Rob Manfred suspended Bauer in April of last year after a San Diego woman said he beat and sexually abused her in 2021. Bauer disputed her claims and said that everything that happened between them was consensual.
He was never charged with a crime and a California judge found the woman's claims "materially misleading."
His past has not followed him to Japan. Many Japanese know the basics but don't seem to care. Others argue he wasn't convicted in a court. Some know little at all. And for most fans, it's strictly about baseball.
"The Japanese people know that Trevor Bauer had a domestic violence problem in the United States," said Fumihiro Fujisawa, the president of Japan's Association of American Baseball Research. He said signing Bauer came down to a business deal with both sides seeing a "win-win."
There's been no sign of women's right groups targeting him in Japan, where issues of gender inequality often get limited attention. The mainstream Japanese media has also reported little about Bauer's troubles back home.
"We need Bauer power," said Kazuo Maeda, adding that Bauer could be his last chance to see Yokohama win its first league title in 25 years.
"I'm 75 and I want to see a championship. There's not much time left for me. We know about the domestic violence (allegations), but no one has proved it," Maeda added. "A little fake news."
Bauer has pitched three minor league games and got his pitch count up to 93. His biggest challenge might be batting, since Japan's Central League does not use the DH.
Bauer still gets termination pay from the Dodgers for this season and is savvy at marketing. He's all over social media, and a recent posting on his YouTube channel racked up 1.1 million views.
He came close to apologizing in one YouTube segment but never mentioned specifics.
"Look, I recognize that I've made mistakes," he said. "I have to live with those. I've made plenty of errors of judgement and stupid choices that someone in my position never should have made. And I reacted the wrong way to things said about me in the press and on social media."
Bauer and the team have established the "Trevor Bauer Official Fanclub." Joining is pricey. A "VIP" membership is 2,200,000 yen, or about $16,200 for the season. A "deluxe" membership is 330,000 yen, or about $2,500.
The perks include everything from a "special observation seat" to limousine service to the game. At the lower end are an "autographed actual-wear uniform," an autographed ball, and other "original goods."
"Life is about experiences, and so I want to offer an experience — not just things but an experience they'll remember and they'll cherish and that it brings positivity in their life," Bauer said at a recent post-game interview.
Bauer, who is reported to be paid $4 million for the one-year deal, is also promoting his own merchandise and club offerings. Hundreds of fans have been seen at his minor league preparation games wearing his No. 96 jersey.
A new glove has "sword" written on the side, a reference to the Samurai sword imitation he often goes through after striking out a batter. With both hands, he pretends to thrust the imaginary sword into an imaginary sheath on his left hip.
BayStars reliever Yasuaki Yamasaki was critical of a video in which Bauer asked fans to copy his routine after a strikeout. Yamasaki called it "disrespectful." However, he later said on social media — in a photo with Bauer — that his message was misunderstood. But he said he had talked Bauer and made his feelings known.
Fans have lined up outside the stadiums for three minor league games — mostly men but plenty of women — to catch a glimpse or an autograph. Sayaka Chiba and Saya Ikeya — 20-year-old women — jumped and screamed when Bauer walked across a stadium parking lot.
"Bauer is cool," Sayaka said, immediately imitating Bauer's sword routine. Asked about the domestic violence charges in the United States, she added, "I see him as a baseball player. But, yes, what happened does matters a little bit to me."
Sean Atkinson, retired from the United States Navy and a fan who attended about 50 Yokohama games last season, summed up Bauer's appeal.
"The Japanese are going crazy for Bauer," Atkinson said. "All you have to say is: Cy Young winner."
Brian Rioux, a retired United States Marine, said he has a 20-year-old daughter and, though he's a Yokohama fan who went to more than 70 games last year, he's torn.
"I have mixed feelings," he said at a recent minor league game near Yokosuka, the home of the United States Seventh Fleet. "Of course with something like this, I would take my daughter's side. I don't know how I'd react."
"But of course," he added, "we are all on the outside of this story."
Add TheJapanNews to your Google News feed.