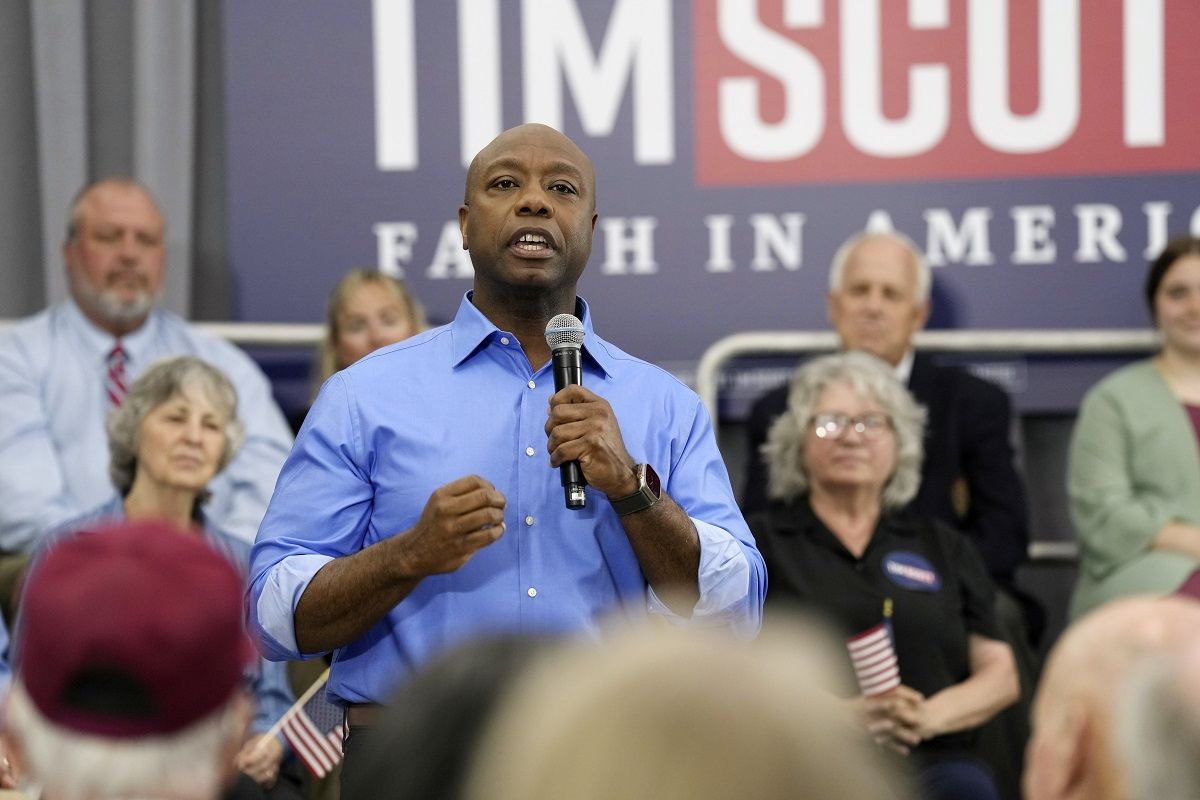 11:00 JST, May 1, 2023
CHARLESTON, S.C. (AP) — Sen. Tim Scott of South Carolina is nearly ready to reveal his decision on entering the race for the 2024 Republican presidential nomination, saying Sunday that he would make an announcement on May 22.
Scott didn't definitively say that he'll be announcing his official campaign, but he told those gathered at a downtown Charleston school during a town hall that he would be coming out with his decision at an event in about three weeks in North Charleston, which he calls home.
"It is time to make the final step," Scott said to a room packed with cheering supporters, as well as a film crew, which a longtime Scott adviser said was gathering "content" for future use, a flick at a potential launch or campaign ad video.
"We will have a major announcement," Scott added.
Scott, 57, has been inching ever closer to formally entering the GOP nomination race, where he would join other announced candidates, including former President Donald Trump, former Arkansas Gov. Asa Hutchinson and "anti-woke" biotech entrepreneur Vivek Ramaswamy.
Another of those is Nikki Haley, the former U.N. ambassador and former South Carolina governor who appointed Scott in 2012 to the Senate, where he is the sole Black Republican. Haley hasn't commented on Scott's potential entry into the race, while Scott has dismissed suggestions of any awkwardness in running against the former governor who appointed him to his Senate seat.
Florida Gov. Ron DeSantis and former Vice President Mike Pence are among those considering launching their own presidential campaigns in the coming months.
Last month, Scott created an exploratory committee, a mechanism that allowed him to raise money for polling and travel related to making a determination on the race. In a video announcing that effort, Scott positioned himself as the antidote to the "radical left," with a self-made success story as the son of a single mother who overcame poverty, and bemoaned Democratic leaders as needlessly dividing the country by fostering a "culture of grievance."
"When I fought back against their liberal agenda, they called me a prop. A token. Because I disrupt their narrative," he said in the video, which was shot on the site of Fort Sumter in his hometown of Charleston, where the Civil War's first shots were fired. "I threaten their control."
In February — a day after Haley's official campaign launch — Scott kicked off a listening tour that has taken him to other early voting states, including Iowa and New Hampshire, where he's held events ranging from political meetings with evangelical pastors to town halls and speeches. In his time on the trail, Scott has tried to present a more positive vision for the future than many of his potential rivals for the 2024 GOP presidential nomination.
Scott told The Associated Press in Iowa that voters he has spoken with respond favorably to his optimistic outlook for the country and his conservative ideals.
"I think my candidacy is really designed around what the American people want to talk about, what their priorities are and what their issues are," Scott told AP.
If Scott enters the race, he would have just over one month to raise money before the end of the second quarter, with more candidates in the GOP field intensifying the competition for donor dollars.
But Scott has already proven that he can attract significant money. A pro-Scott super PAC, Opportunity Matters Fund, spent more than $20 million to help Republicans in 2022 and reported $13 million-plus on hand to start 2023. Tech billionaire Larry Ellison has donated at least $30 million to the organization since 2021, according to federal filings.
Sunday's town hall took place at Meeting Street Academy, part of a charter school network founded by one of Scott's top donors, Charleston philanthropist Ben Navarro. Scott was introduced by South Carolina businessman and longtime supporter Mike Johnson, who is serving as a national finance co-chair for Scott and a day after the planned May 22 announcement is hosting a day-long "call day and retreat" with Scott supporters.
Add TheJapanNews to your Google News feed.