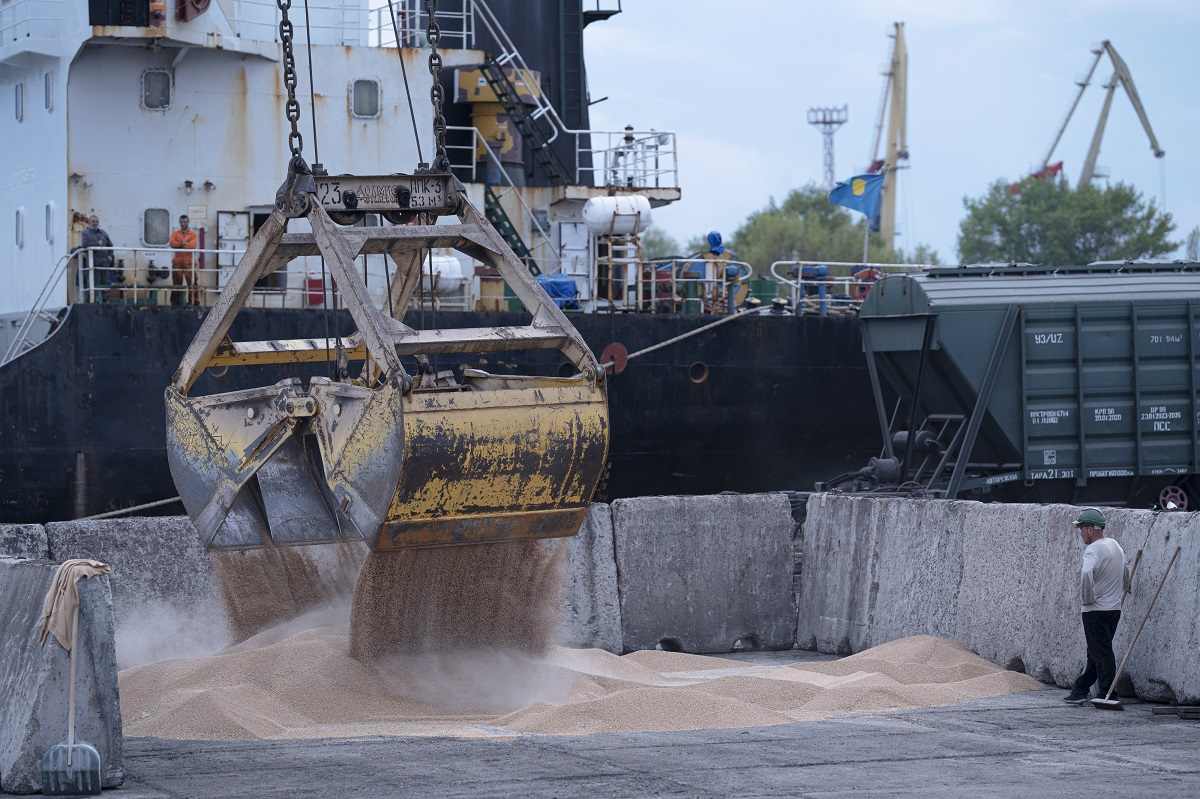 11:39 JST, April 27, 2023
IZMAIL, Ukraine (AP) — U.S. and European officials on Wednesday toured Ukraine's southern port of Izmail that's important in bringing Ukrainian grain to the world — and could become critical if a deal with Russia to allow grain exports from Ukrainian Black Sea ports expires.
From Izmail, which has been upgraded since the start of the war with the help of U.S. and other funding, grain is taken by barge down a branch of the Danube through Romania to its Black Sea port of Constanta for shipment onward.
U.S. Ambassador Bridget Brink told The Associated Press after looking over the port facilities with Ukrainian and EU officials, as well as Ukrainian grain companies, that they were exploring ways to increase the exports from Danube ports.
Ukrainian grain supplies are critical to millions of people around the world, and Wednesday's visit comes after Russian Foreign Minister Sergey Lavrov again this week threatened to abandon the Black Sea Grain Initiative, a deal brokered by the United Nations and Turkey last July.
The grain deal has helped ease concerns about the global food supply, especially to countries in Africa, the Middle East and parts of Asia where many are already struggling with hunger, but is set to expire May 18 unless renewed.
"There is no time to lose," Brink said.
"Russia has put tremendous pressure on the Black Sea Grain Initiative by deliberately and very cynically controlling and limiting the amount of ships that can go in and out, which means that people who need the food aren't able to get it."
She added that grain exports are also critical to the Ukrainian economy.
Ukrainian President Volodymyr Zelenskyy brought up the issue of the grain initiative Wednesday in a call with Chinese leader Xi Jinping, the first known direct contact between the two leaders since the war began.
China has offered to act as a mediator between Kyiv and Moscow, and in a statement on his website Zelenskyy's office said he and Xi had "expressed joint support for the need for proper implementation and continuation" of the deal.
Ukraine's Deputy Prime Minister Oleksandr Kubrakov, who hosted Brink along with representatives from the European Union's executive Commission and the Danube Commission — an international organization on navigation on the river — said newly constructed terminals in the region are already processing thousands of tons of agricultural products daily.
"This region and its ports have become crucial for us," he said.
The increased exports down the Danube — Europe's second longest river — have also increased pressure on Romanian facilities, and Alain Baron, from the European Commission's Directorate-General for Mobility and Transport, said he would be traveling there next for talks.
"We will be visiting our friends in Romania to continue our common work, our common goals, to increase capacity for Ukraine and to fully use the infrastructure that exists," he said.
Add TheJapanNews to your Google News feed.