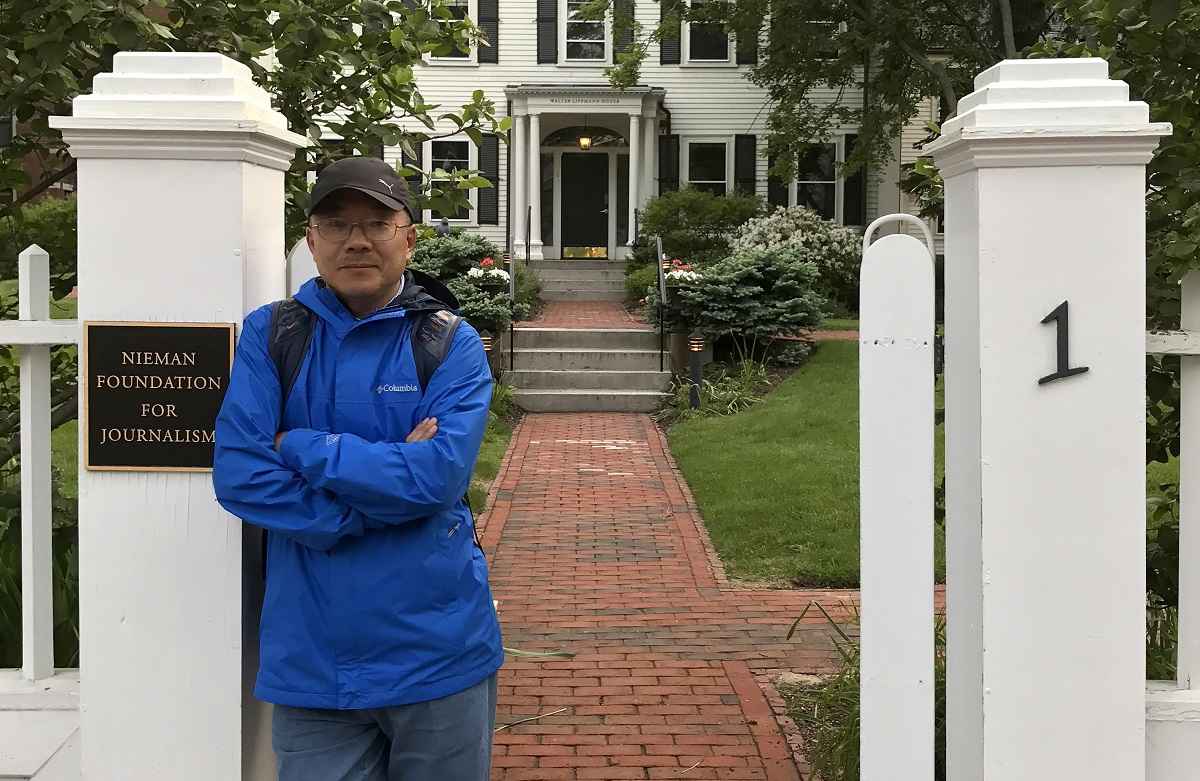 11:09 JST, April 26, 2023
BEIJING (AP) — A veteran Chinese journalist who worked at a ruling Communist Party-affiliated newspaper and was a Harvard University fellow faces espionage charges after being detained while meeting with a Japanese diplomat in a restaurant, his family said Monday.
Dong Yuyu, deputy head of the editorial department at Guangming Daily, regularly met with foreign journalists and diplomats to help understand global trends. But Chinese authorities regarded his contacts with foreign diplomats as evidence of spying, according to a family statement.
Dong is the latest in a series of liberal Chinese voices to be accused by the government of being linked to what it terms foreign interference.
As a non-Communist Party member, he was one of the most pro-reform voices at Guangming Daily and wrote articles in favor of an independent legal system, his family said. He was awarded a Nieman fellowship at Harvard University in 2006-07 and became a visiting fellow at Keio University in Japan in 2010. Four years later, he served as a visiting professor at Hokkaido University in Japan.
But his writings caused him problems in China. In 2017, an investigation by party authorities found that some of his articles were "anti-socialist" and Dong was threatened with demotion, his family said.
He was detained in February 2022 while eating lunch with a Japanese diplomat at a restaurant in a Beijing hotel where he often met with foreign friends, the statement said. The diplomat was also detained, triggering a strong protest from Japan's Foreign Ministry. The diplomat was released after several hours, but Dong has remained in detention.
Last month, his family was told that Dong will be tried but the date is still unclear, the statement said. In China, espionage can be penalized with a jail term of more than 10 years.
On Tuesday, Chinese Foreign Ministry spokesperson Mao Ning said she did not know the specifics of Dong's case when she was asked about it. The ministry did not immediately respond to a request for further comment.
Japanese Foreign Minister Yoshimasa Hayashi declined to comment when he was asked about the case, citing the sensitivity of the issue.
Dong's case has drawn international attention, with the National Press Club in Washington, D.C., issuing a statement on Monday calling for his release.
More than 60 people, including prominent foreign journalists and academics, also signed a petition urging the Chinese government to reconsider the charges against Dong, saying meetings with foreign diplomats and journalists should not be regarded as evidence of espionage.
"Who would want to come to China to meet Chinese journalists, academics or diplomats if these meetings could be used as evidence that the Chinese side is committing espionage?" they wrote in the petition.
Separately, a group of writers and scholars issued a statement on Saturday calling for the release of Taiwan-based publisher Li Yanhe, who was reportedly detained in Shanghai. They said his lawyer and family members have not been allowed to see him. Radio Free Asia reported last week that Li was detained during a trip to visit relatives in China.
Last year, an Australian journalist, Cheng Lei, was tried in China on national security charges but has not yet learned of the verdict, Australian Foreign Minister Penny Wong said last month. Cheng was born in China and was a journalist for CGTN, the English-language channel of China Central Television. She was detained in August 2019 and accused by China of sharing state secrets.
Add TheJapanNews to your Google News feed.