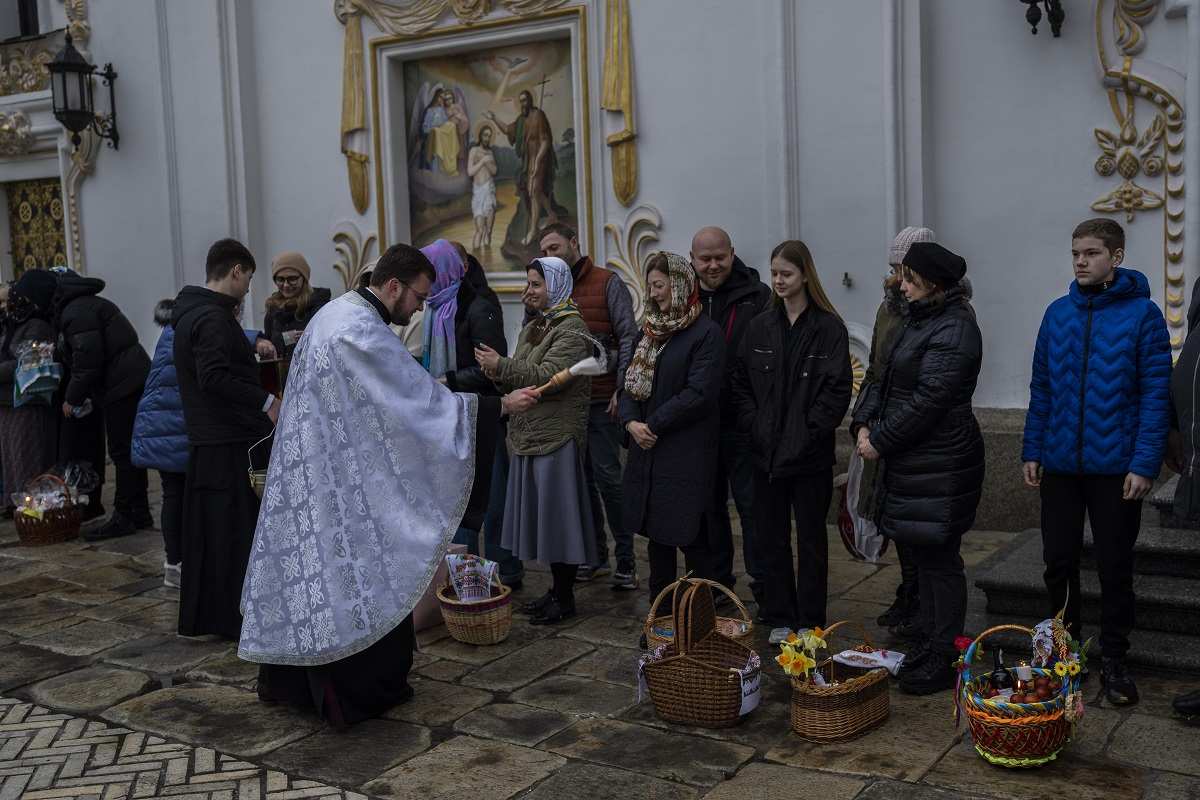 11:48 JST, April 17, 2023
KYIV, Ukraine (AP) — More than 100 Ukrainian prisoners of war have been released as part of a major Easter exchange with Russia, a top official said Sunday, as Orthodox Ukrainians marked the holiday for a second time since Moscow unleashed its full-scale war more than a year ago.
While celebrations were subdued because of security risks, with a curfew barring the faithful from customary all-night services, Ukrainian authorities and ordinary people shared messages of hope, linking the story of Jesus' resurrection to their longing for peace and a Ukrainian victory.
Dozens of families had special reasons to rejoice, as presidential adviser Andriy Yermak announced that 130 soldiers, sailors, border guards and others captured by Moscow were on their way back home following a "big Easter prisoner exchange."
Yermak said in a Telegram post on Sunday that those released included troops who fought near Bakhmut, the eastern mining city which has for months been the focus of Russia's grinding offensive.
"The lives of our people are the highest value for us," Yermak said, adding that Kyiv's goal was to bring back all remaining POWs.
There was no immediate information on how many Russian prisoners were released, but the press service of the founder of the Wagner Group, the Kremlin-affiliated paramilitary force whose fighters are prominent in eastern Ukraine, also released a video Sunday showing Ukrainian prisoners of war being readied for an exchange.
In his Easter address released on Sunday morning, Ukrainian President Volodymyr Zelenskyy described the holiday as marking "the victory of good, the victory of truth, the victory of life," and he stressed what he said was Ukrainian unity in the face of Russian aggression.
"Belief in victory unites all of us always, and especially today. At Easter, which from time immemorial has been a family holiday for Ukrainians, a day of warmth, hope and great unity. We are one big family — Ukrainians. We have one big home — Ukraine. We have one big goal — victory for all," Zelenskyy said.
In central Kyiv, people gathered in the courtyard of the landmark St. Michael's Golden-Domed Monastery on Sunday morning to have their Easter eggs and baskets of food blessed by a priest. A curfew had prevented most from attending the traditional all-night service there hours earlier, with many tuning into a live stream instead.
Ukrainian churches are usually crowded on Orthodox Easter Sunday. But this year, the wide courtyard was barely half full, and the line of people waiting for the priest to sprinkle holy water on their adorned baskets was moving briskly.
For a second year in a row, the war interrupted holiday routines. Ukraine's main security service this week issued a statement urging residents not to linger in churches on Sunday, in order to avoid crowding and minimize security risks.
Alla Voronina, one of the people who came to St. Michael's with baskets containing Easter cakes and multi-colored eggs, said that the restrictions were "very hard" on residents' morale.
"You constantly recall how it used to be before the war," she told The Associated Press. She said that she and her family would nevertheless follow the security recommendations and go straight home after receiving the blessing.
Another worshipper, Tetiana Voloshyna, said she was praying for Ukrainian troops "who defend us and make it possible for us to have this holiday." She added she had come to the monastery with her "personal pain and personal requests to God for victory, peace and life."
Russians also observed Easter, including President Vladimir Putin. He attended midnight services in Moscow's Christ the Savior Cathedral that were led by Russian Orthodox Church head Patriarch Kirill, who has firmly supported the war.
In a statement, Putin commended Kirill for "tireless, selfless work aimed at preserving enduring historical, spiritual, moral and family values, the upbringing and education of the youth."
Kirill has repeatedly spoken out in support of Russia's invasion of Ukraine. In a video message broadcast on Russian state television late Saturday, before the start of the Easter service in Moscow, Kirill lamented "grave events taking place on our Russian historical land" in reference to the war, echoing the Kremlin's claim that an independent Ukraine is essentially a fiction.
Despite the shared Orthodox holiday, Russian shelling and missile attacks continued to sow destruction in Ukraine, according to Ukrainian regional officials. Officials in the country's south and east said that churches had not been spared. The governor of the eastern Dnipropetrovsk region, Serhii Lysak, said Russian forces stationed at Ukraine's Zaporizhzhia nuclear power plant shelled a church in a nearby town, wounding two civilians.
"The Russians have once again confirmed that they hold nothing sacred," Lysak said in his post.
Earlier on Sunday, the governor of the Zaporizhzhia province reported that Russian shelling overnight hit an Orthodox church in the town of Komyshuvakha. Photos showed local residents rescuing icons from the church, its gutted frame visible in the background.
At least four civilians were killed and eight others were wounded on Saturday and overnight, Ukrainian officials reported on Sunday morning. The national emergencies service said the death toll in a Friday attack on the city of Sloviansk rose to 13 as more bodies were found in the rubble of an apartment building.
Across the front line, in Russian-occupied territory in Ukraine's industrial east, the Kremlin-appointed head of the Donetsk region claimed that a Ukrainian strike killed one civilian and wounded six others in the province's namesake capital. Denis Pushilin wrote in a Telegram post that shelling hit the center of the city, near its Holy Transfiguration cathedral.
The Russian defense ministry on Sunday announced that assault units from the Wagner group have captured two neighborhoods in the embattled city of Bakhmut. Bakhmut, a former mining hub now largely reduced to ruins, has been a key target of Russia's monthslong grinding campaign in eastern Ukraine.
Add TheJapanNews to your Google News feed.