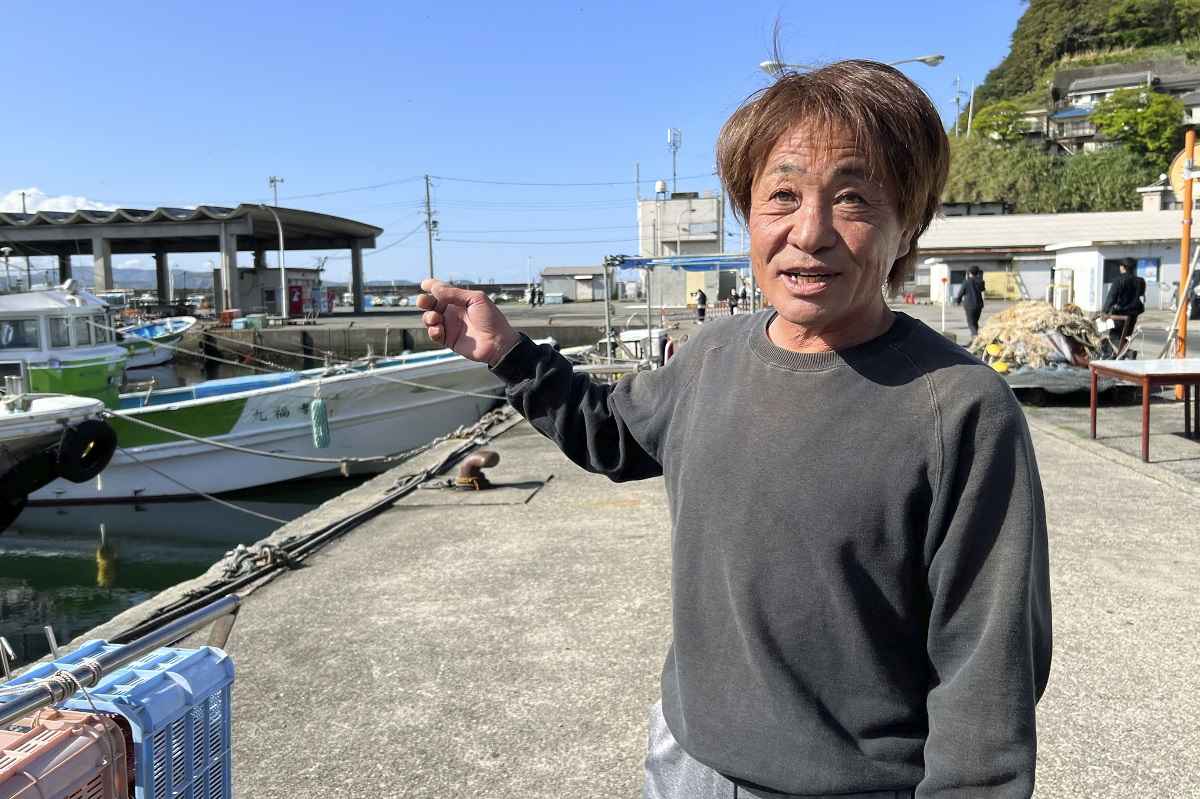 10:52 JST, April 17, 2023
WAKAYAMA, Japan (AP) — The fishermen who tackled the man suspected of the second attack on a Japanese political leader in less than a year were surprised by the lack of security for Prime Minister Fumio Kishida.
Fisherman Tsutomu Konishi was watching Kishida at a campaign event at this fishing port when an object flew overhead and landed near the prime minister, Konishi said. A security officer covered the object with a bulletproof briefcase, Konishi said. The fishermen swarmed the attacker.
"I never thought a crime like this would happen in my hometown, which is a rather small fishing area," Konishi, 41, said Sunday as he sipped a can of coffee at the port of Saikazaki. "I'm still shocked and stunned."
The prime minister was unhurt but like many others in Japan, Konishi was mulling Sunday what the country should do to better protect public figures.
"At a time when Japan's serving prime minister was visiting, perhaps we may have needed a metal detector," Konishi said.
Masaki Nishide, a 55-year-old fisherman from Saikazaki, said most of the people at Saturday's event were residents and supporters of the local candidate. He said the young man carrying the silver-gray backpack stood out.
"People here all dress like me, and nobody carries a backpack; it was only him," Nishide said, wearing a sweatsuit and red rubber boots. "If I were in charge of security, I would have asked for a bag check."
After the failed attack on the prime minister, one of the fishermen grabbed the suspect's neck from behind, another pushed his head down, and Konishi latched onto his leg. They were holding the man as police officers pulled him to the ground.
The chaotic scene was reminiscent of the assassination nine months ago of former Prime Minister Shinzo Abe, which prompted police to tighten their protective measures after an investigation found holes in Abe's security. Abe, one of Japan's most influential and divisive politicians, was killed with a homemade gun during a campaign speech.
Suspect Tetsuya Yamagami has been charged with murder and several other crimes, including violating gun-control laws.
Authorities have said Yamagami told investigators he killed Abe because of the former prime minister's apparent links to a religious group that Yamagami hated. In statements and in social media postings attributed to him, Yamagami said his mother's donations to the Unification Church bankrupted his family and ruined his life.
Violent crimes are rare in Japan, and with its strict gun control laws, the country has only a handful of gun-related crimes annually. Most of the cases are gang-related, though in recent years there has been growing concern about homemade guns and explosives. There also have been some high-profile cases of random knifing on subways and arson attacks.
Groups of several officers have guarded serving prime ministers. Fewer officers have been watching Cabinet ministers and former leaders.
Compared with the U.S. elections, audience at political campaigns in Japan are often allowed to be quite close to dignitaries. At the campaign event for Kishida the front-row audience was within touching distance.
Only one person, a police official, was hurt, his arm cut by fragments of the device, which didn't fully explode. Police arrested 24-year-old Ryuji Nakamura on suspicion of throwing an explosive in a metal tube at Kishida.
Police sent a special counter-explosives team to the suspect's home in Hyogo prefecture to search for evidence of bomb-making. There are nationwide local elections this month. and Japan is hosting a series of Group of Seven meetings leading up to the May 19-21 leaders' summit in Hiroshima. Diplomats arrived Sunday for the G-7 foreign ministers' meeting in Karuizawa.
Isao Itabashi, a public safety expert, said on NHK TV that the attack raised questions about how election campaigns are being handled. Guarding top politicians in campaigns is logistically hard, and balancing tight security with a free election is also difficult, he said.
Kiyotaka Hamada, 70, a senior member of the local fishing association, said he felt something hit his shoulder just as he heard the bang and was running from the scene. Police took his jacket to see if he'd been hit by a fragment of the explosive.
"I just want to ask the suspect why he had to come here to make trouble," he said.
For Hamada and other fishermen, there's worry also about the expected loss of income from the days they cannot work while the port facilities are closed for the investigation.
"We put so much effort throughout the village to welcome the prime minister here on his first ever visit," Hamada said. "Now we cannot even go out to sea."
Add TheJapanNews to your Google News feed.