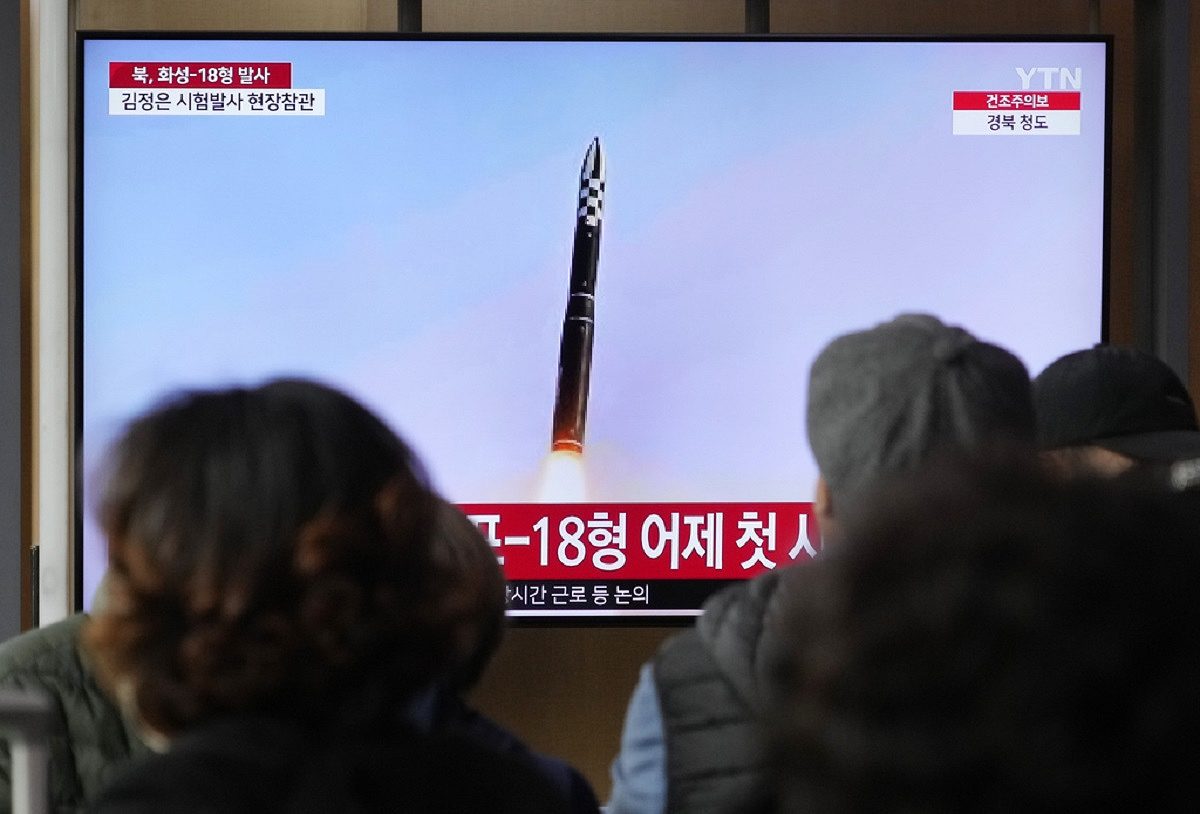 13:56 JST, April 15, 2023
SEOUL, South Korea (AP) — North Korea said Friday it flight-tested a solid-fuel intercontinental ballistic missile for the first time, a possible breakthrough in its efforts to acquire a more powerful, harder-to-detect weapon targeting the continental United States.
North Korea's official Korean Central News Agency issued the report a day after the country's neighbors detected a launch of a long-range missile from near Pyongyang, which extended a run of weapons displays involving more than 100 missiles fired into the sea since the start of 2022.
Thursday's test did not appear to demonstrate the weapon's full capacity, and it remains unclear how far North Korea has come in mastering technologies to ensure the warhead would withstand atmospheric reentry and accurately strike targets. Still, analysts said the test was likely a meaningful advance in North Korea's goal to build a nuclear arsenal that could directly threaten the United States.
Later Friday, the U.S. flew nuclear-capable B-52 bombers to the Korean Peninsula for joint aerial training with South Korean warplanes in their latest show of force against North Korea. The exercise was aimed at sharpening combined operational abilities and demonstrating the credibility of U.S. commitment to leverage its full military capabilities, including nuclear, to defend South Korea, according to Seoul's Defense Ministry.
KCNA said the launch was supervised on site by North Korean leader Kim Jong Un, who described the missile — named Hwasong-18 — as the most powerful weapon of his nuclear forces that would enhance counterattack abilities in the face of external threats created by the military activities of the United States and its regional allies.
Kim pledged to further expand his nuclear arsenal to "constantly strike extreme uneasiness and horror" in his rivals and make them feel regret for their wrong choices.
North Korea has justified its weapons demonstrations as a response to the expanding military exercises between the United States and South Korea, which the North condemns as invasion rehearsals while using them as a pretext to push further its own weapons development.
Kim added that the Hwasong-18 would rapidly advance North Korea's nuclear response posture and further support an aggressive military strategy of maintaining "frontal confrontation" against its rivals.
North Korea has tested various ICBMs since 2017 that demonstrated the potential range to reach the U.S. mainland, but its three previous systems use liquid fuel that must be added relatively close to the launch and they cannot remain fueled for prolonged periods.
An ICBM with built-in solid propellants would be easier to move and hide and fired quickly, reducing the opportunities for opponents to detect and counter the launch.
South Korea's Defense Ministry in a statement described the Hwasong-18's flight as a "mid-phase test" and said North Korea would need more time and effort to complete the system. It has maintained that the North hasn't yet acquired the technology to ensure the survival of ICBM warheads.
Last month, South Korean Defense Minister Lee Jong-Sup also told lawmakers that North Korea likely hasn't yet acquired the technology to place nuclear warheads on its newer short-range missiles targeting South Korea, though he acknowledged the country was making considerable progress on it.
Still, Thursday's test marked a "significant breakthrough for the North Koreans, but not an unexpected one," said Ankit Panda, an expert with the Carnegie Endowment for International Peace.
"The primary significance of solid-fuel ICBMs is in terms of what they'll do for the survivability of North Korea's overall ICBM force," he said.
"Because these missiles are fueled at the time of manufacture and are thus ready to use as needed, they will be much more rapidly useable in a crisis or conflict, depriving South Korea and the United States of valuable time that could be useful to preemptively hunt and destroy such missiles."
Leif-Eric Easley, a professor at Ewha University in Seoul, said advancing solid-fuel technology could also be useful for North Korean efforts to expand its tactical nuclear arsenal and pursue submarine-based deterrents.
North Korean state media published photos and videos of the missile blasting off from a launch vehicle at a test site inside a forest and the separation of the missile's first and second stages following liftoff. Kim watched from an observation post along with military officials and his wife, sister and daughter.
KCNA described the Hwasong-18 as a three-stage missile with the first stage tested at a standard ballistic trajectory and the others programmed to fly at higher angles after separation to avoid North Korea's neighbors. It wasn't immediately clear how the third stage, which would be the part where the warhead would be placed, was tested.
The agency said the first and second stages fell into waters off the country's eastern coast. Kim Dong-yub, a professor at the University of North Korean Studies in Seoul, noted that North Korea didn't release details about how high the missile went, which suggests the weapon wasn't tested at its full capacity and range, and said the North likely will test the system several more times.
Soo Kim, an expert with Virginia-based consultancy LMI and a former CIA analyst, said each successive test by North Korea "seems to demonstrate greater options for the regime to provoke and threaten the region."
"With the Day of the Sun festivities coming up, and a U.S.-South Korean summit around the corner, the timing is also ripe for a North Korean provocation for (Kim Jong Un) to yet again remind us that his weapons are getting bigger, better, and all the more challenging for the U.S., South Korea, and the international community to deal with," she said.
She was referring to the birth anniversary of Kim's state-founding grandfather, Kim Il Sung, which falls on Saturday, and a planned summit in Washington this month between President Joe Biden and South Korean President Yoon Suk Yeol.
Solid-fuel ICBMs highlighted an extensive wish list Kim announced under a five-year arms development plan in 2021, which also included tactical nuclear weapons, hypersonic missiles, nuclear-powered submarines and spy satellites.
The North has fired around 30 missiles this year alone over 12 different launch events as both the pace of its weapons development and the U.S.-South Korean military exercises increase in a cycle of tit-for-tat. The U.S. and South Korean militaries conducted their biggest field exercises in years last month and separately held joint naval and air force drills involving a U.S. aircraft carrier strike group and nuclear-capable U.S. bombers.
North Korea claimed the drills simulated an all-out war against North Korea and communicated threats against it. The United States and South Korea have said their exercises are defensive in nature and expanding them was necessary to cope with the North's evolving threats.
Add TheJapanNews to your Google News feed.