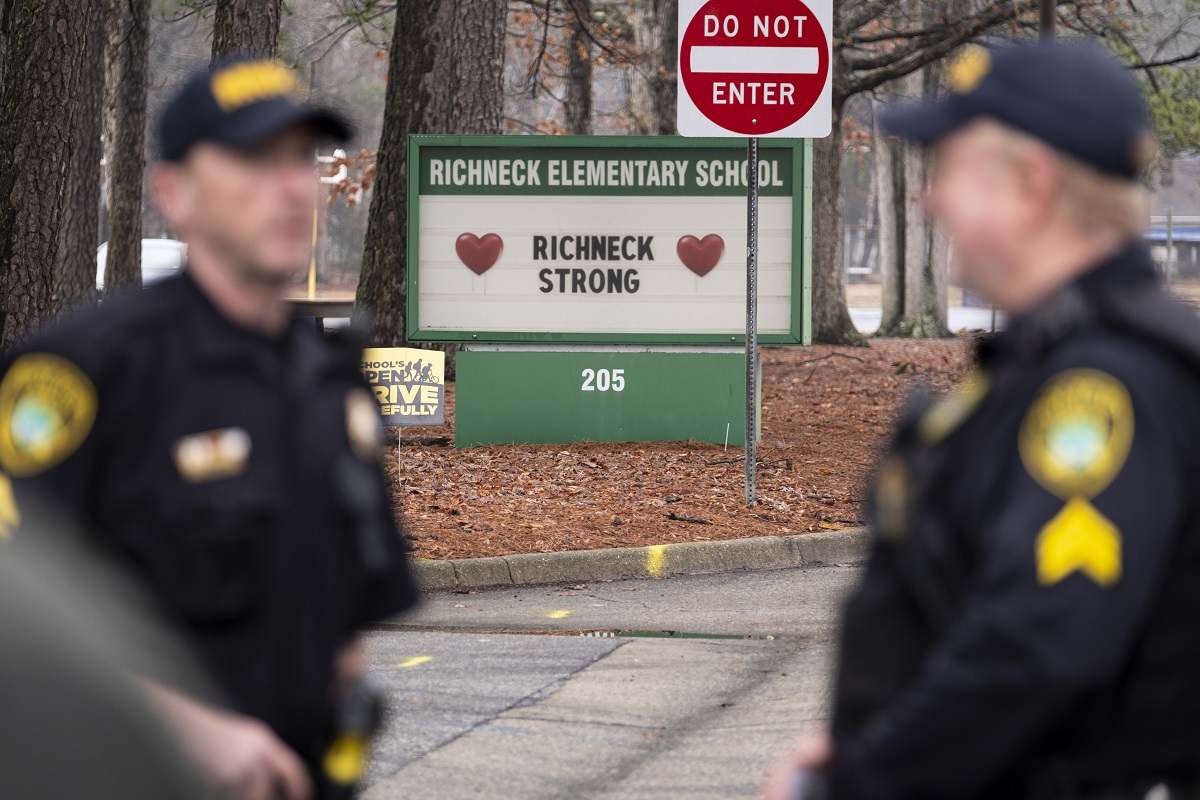 12:45 JST, April 12, 2023
NEWPORT NEWS, Va. (AP) — Prosecutors in the Virginia city where a 6-year-old shot his teacher in an elementary school classroom are investigating whether the "actions or omissions" of any school employees could lead to criminal charges, according to court documents released Tuesday.
Howard Gwynn, the commonwealth's attorney in Newport News, filed a petition for a special grand jury to probe if any "security failures" contributed to the shooting at Richneck Elementary in January that seriously wounded teacher Abby Zwerner.
Gwynn wrote that an investigation could also lead to recommendations "in the hopes that such a situation never occurs again."
Gwynn's petition was released a day after his office charged the boy's mother with felony child neglect and a misdemeanor count of endangering a child by reckless storage of a firearm. The child used his mother's 9mm handgun to shoot Zwerner. Police say the weapon was legally purchased.
Last week, Zwerner filed a $40 million lawsuit against the school system, accusing school officials of gross negligence and of ignoring multiple warnings from teachers and other school employees that the boy had taken a gun to school on the day of the shooting.
Zwerner also alleges that school officials knew the boy "had a history of random violence" at school and at home, including that he "strangled and choked" his kindergarten teacher.
"Our lawsuit makes clear that we believe the school division violated state law, and we are pursuing this in civil court," Diane Toscano, an attorney for Zwerner, said Monday.
The prosecutor's decision to investigate school employees for any criminal activity is the latest fallout from the shooting, which sent shockwaves through Newport News, a shipbuilding city of about 185,000 people near the Chesapeake Bay.
Days after the shooting, school officials revealed that Richneck administrators suspected the child may have had a weapon, but they didn't find it despite searching his backpack.
Parents and teachers lambasted administrators, saying students who assault classmates and staff rarely face consequences, and that Zwerner's shooting could have been prevented if not for a toxic environment in which teachers' concerns are ignored.
It is not the first school shooting to spark a criminal investigation into school officials, although they are quite rare, experts said. Civil suits are far more common, but have varying degrees of success.
For instance, authorities in Florida accused a former school resource officer of hiding during the Parkland school massacre in 2018. Scot Peterson was charged with negligence for not entering the building during the rampage that left 17 people dead. Peterson has said he did the best he could; his trial is scheduled to start next month.
In 2021, the families of the people killed in Parkland, most of the wounded and others reached a $25 million settlement with the Broward County school district in a negligence lawsuit.
A prosecutor in Michigan criticized Oxford High's decision in 2021 to keep a teenager in school before he killed four students, stating that an investigation would determine if any school officials should be charged. No school employees have been charged.
A civil suit was filed over the Oxford shooting. But a judge ruled that school staff and administrators cannot be sued and dismissed Oxford Community Schools from lawsuits, citing governmental immunity.
After the massacre at Columbine High School in 1999, a federal judge threw out all but one of the lawsuits against the school district and sheriff's office, ruling that the gunmen were responsible. The daughter of a teacher who bled to death reached a $1.5 million settlement in her lawsuit against the Jefferson County Sheriff's Office.
In Uvalde, Texas, where a gunman killed 19 students and two teachers at Robb Elementary School last May, some parents filed a federal lawsuit against the school district, the school principal, the fired school police chief and others.
The police response to the shooting was sharply criticized as nearly 400 officers responded, but waited more than an hour before confronting and killing the gunman. Litigation is ongoing.
Chuck Vergon, a professor of educational law and policy at the University of Michigan-Flint, said it is rare for a teacher or school official to be charged in a school shooting because allegations of criminal negligence can be difficult to prove. More often, he said, those impacted by school shootings seek to hold school officials liable in civil court.
Vergon, who has been studying school shootings and liability for about seven years, said he thinks the increase in the number of school shootings combined with hundreds of new school safety laws passed after Parkland could lead to more civil actions to hold school officials accountable.
"Those laws begin to make more explicit the duties of schools and school districts in terms of preparing for and hopefully preventing or minimizing school shootings," Vergon said.
In the wake of the Newport News shooting, the school board fired the district's superintendent, and Richneck's assistant principal resigned. The elementary school's principal is still employed by the district but no longer holds that position.
James Ellenson, the attorney for the 6-year-old's mother, said she has no criminal record and will turn herself in before the end of the week. Ellenson did not comment on the charges, but he has said her gun was secured on a top shelf in her closet and had a trigger lock.
The family has said the boy has an "acute disability" and was under a care plan that included his mother or father accompanying him to class every day. The week of the shooting was the first when a parent was not in class with him, the family said.
Michelle Price, a spokeswoman for Newport News Public Schools, declined to comment.
Add TheJapanNews to your Google News feed.