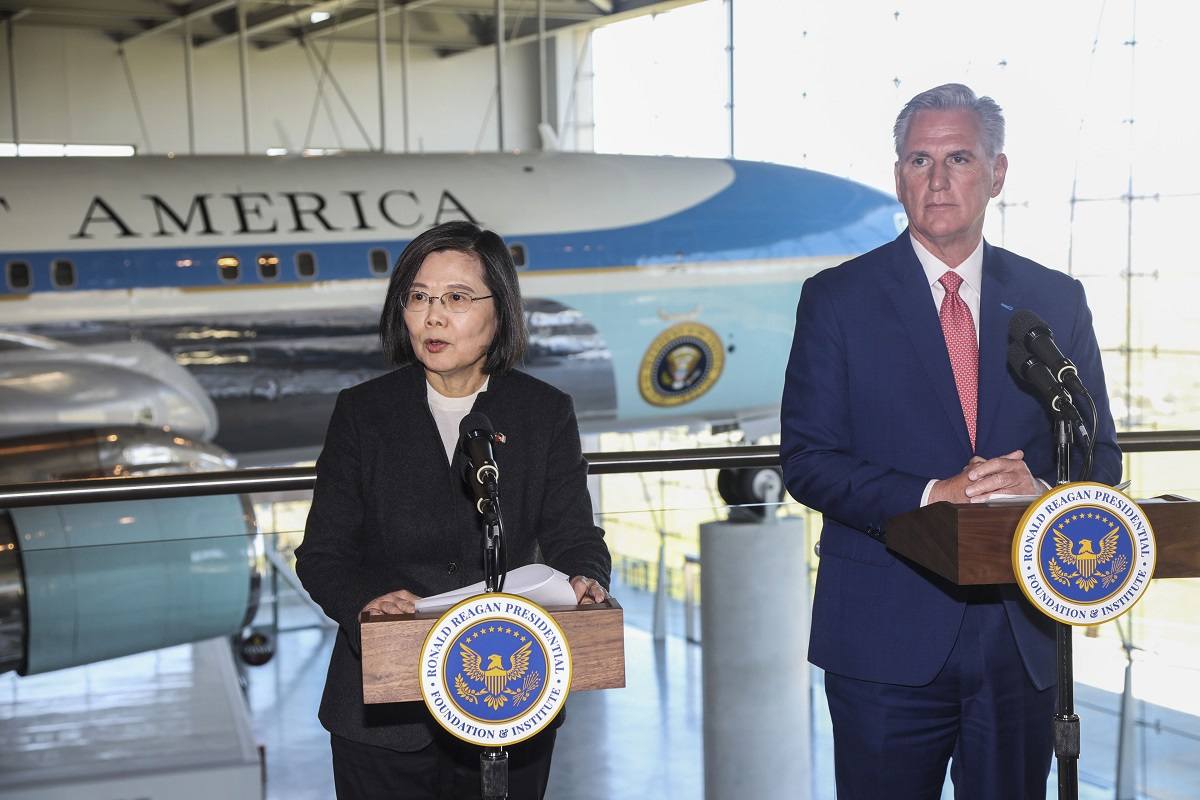 10:09 JST, April 6, 2023
SIMI VALLEY, Calif. (AP) — Risking China's anger, House Speaker Kevin McCarthy hosted Taiwan President Tsai Ing-wen on Wednesday as a "great friend of America" in a fraught show of U.S. support at a rare high-level, bipartisan meeting on U.S. soil.
Speaking carefully to avoid unnecessarily escalating tensions with Beijing, Tsai and McCarthy steered clear of calls from hard-liners in the U.S. for a more confrontational stance toward China in defense of self-ruled Taiwan.
Instead, the two leaders stood side by side in a show of unity at the Ronald Reagan Presidential Library in California, acknowledging China's threats against the island government but speaking only of maintaining longstanding U.S. policy.
America's support for the people of Taiwan will remain resolute, unwavering and bipartisan, McCarthy said at a press conference later.
McCarthy evoked Reagan's peace-through-strength approach to foreign relations and emphasized that "this is a bipartisan meeting of members of Congress," not any one political party. He said U.S.-Taiwan ties are stronger than at any other point in his life.
He and Tsai spoke to reporters with Reagan's Air Force One as a backdrop.
She said the "unwavering support reassures the people of Taiwan that we are not isolated."
Still, the formal trappings of the meeting, and the senior rank of some of the elected officials in the delegation from Congress, threatened to run afoul of China's position that any interaction between U.S. and Taiwanese officials is a challenge to China's claim of sovereignty over the island.
More than a dozen Democratic and Republican lawmakers, including the House's third-ranking Democrat, joined Republican McCarthy for the daylong talks.
During a private session they spoke of the importance of Taiwan's self-defense, of fostering robust trade and economic ties and supporting the island government's ability to participate in the international community, Tsai said.
They made no mention of calls from hard-liners in and out of Congress for a greater U.S. commitment to Taiwan's defense if China should attack.
Tsai said she stressed to lawmakers Taiwan's commitment "to defending the peaceful status quo where the people in Taiwan may continue to thrive in a free and open society."
But she also warned, "It is no secret that today the peace that we have maintained and the democracy which have worked hard to build are facing unprecedented challenges."
We once again find ourselves in a world where democracy is under threat and the urgency of keeping the beacon of freedom shining cannot be understated.-
The United States broke off official ties with Taiwan in 1979 while formally establishing diplomatic relations with the Beijing government. The U.S. acknowledges a "one-China" policy in which Beijing lays claim to Taiwan, but it does not endorse China's claim to the island and remains Taiwan's key provider of military and defense assistance.
For Tsai, this was the most sensitive stop on a weeklong journey meant to shore up alliances with the U.S. and Central America. The U.S. House speaker is second in line of succession to the president. No speaker is known to have met with a Taiwan president on U.S. soil since the U.S. broke off formal diplomatic relations.
China has reacted to past trips by Taiwanese presidents through the U.S., and to past trips to Taiwan by senior U.S. officials, with shows of military force. After then-House Speaker Nancy Pelosi to Taiwan last August, the China responded with its largest live-fire drills in decades, including firing a missile over the island.
Chinese officials have pledged a sharp but unspecified response to the meeting with McCarthy.
Later Wednesday, China said it "firmly opposes and strongly condemns" Tsai's visit, according to a release from China's national Xinhua News Agency under the name of Foreign Ministry's spokesperson.
China will take "resolute and forceful measures to defend national sovereignty and territorial integrity," the release said. It urged the U.S. "not to walk further down the wrong and dangerous road."
Chinese vessels have started a joint patrol and inspection operation in the central and northern waters of the Taiwan Strait, state media announced Wednesday morning. Taiwan's Ministry of National Defense said Wednesday evening it had also tracked the Chinese Army's Shandong aircraft carrier passing through the Bashi Strait, to Taiwan's southeast.
The Biden administration insists there is nothing provocative about this visit by Tsai, which is the latest of a half-dozen to the U.S.
Beijing should not use the transits as an excuse to take any actions, to ratchet up tensions, to further push at changing the status quo, Secretary of State Antony Blinken told reporters Wednesday during travel in Europe.
The Taiwan president's visit to America comes as China, the U.S. and its allies are strengthening their military positions and readiness for any confrontation between the two sides, with Taiwan and its claim to sovereignty a main flashpoint.
Confrontation between the U.S. and China, a rising power increasingly seeking to assert its influence abroad under President Xi Jinping, surged with Pelosi's visit and again this winter with the cross-U.S. journey of what the U.S. says was a Chinese spy balloon.
Democratic Rep. Pelosi said in a statement, "Today's meeting between President Tsai of Taiwan and Speaker McCarthy is to be commended for its leadership, its bipartisan participation and its distinguished and historic venue."
Taiwan and China split in 1949 after a civil war and have no official relations, although they are linked by billions of dollars in trade and investment.
For their part, Taiwanese officials in the United States – and Taiwanese presidents on a succession of visits – aim for a delicate balance of maintaining warm relations with their powerful American allies, without overstepping their in-between status in the U.S, or unnecessarily provoking China.
To that end, no Taiwanese flag flies over the former Taiwan Embassy in Washington. Taiwanese presidents call their stops in the U.S. "transits" rather than visits, and they steer clear of Washington.
McCarthy, the newly elected House speaker, is making an early foray into foreign policy.
Joining him for the meeting were the Republican chairman and ranking Democrat on a new House Select Committee on China, along with the chairman of the Ways and Means Committee that handles tax policy important to Taiwan, among others.
Seated to McCarthy's right was the third-ranking House Democrat, Rep. Pete Aguilar of California, who spoke of the long history of U.S.-Taiwan cooperation and an "overwhelming bipartisan commitment" in Congress, working with the Biden administration, to strengthen the relationship.
Add TheJapanNews to your Google News feed.