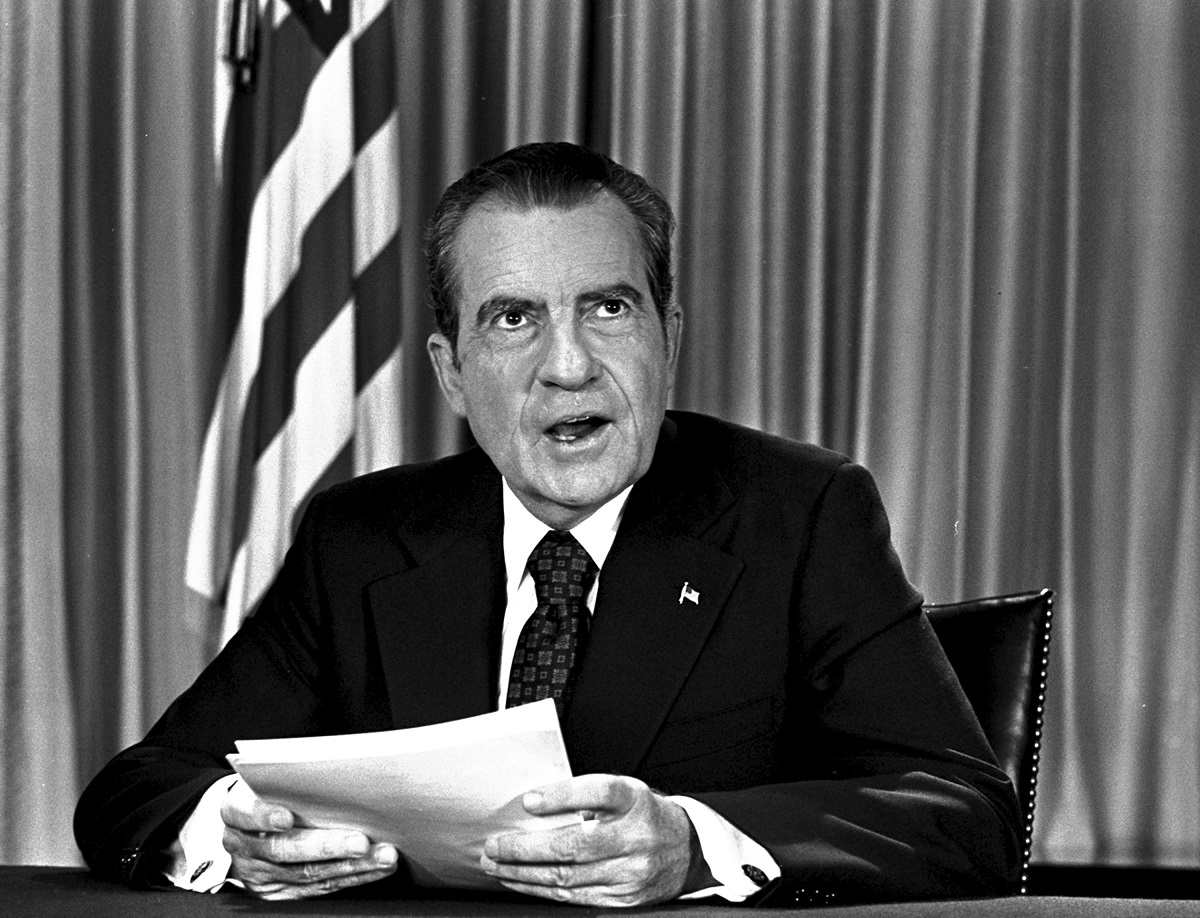 10:55 JST, April 3, 2023
NEW YORK (AP) — Donald Trump has made history so many times.
The first president without government or military experience. The first to be impeached twice. The first to aggressively challenge the certification of his successor.
Now, he adds another: Even as he hopes to return to the White House in 2025, he is the first former president to be indicted.
The latest line crossed by Trump challenges again the aura of the American presidency, nurtured in the infallibility of George Washington but made human over and over, through scandals born of greed and the abuse of power, corruption and naivete, sex and lies about sex.
Trump is hardly the first president, in or out of office, to face legal trouble.
In 1974, Richard Nixon may well have avoided criminal charges on obstruction of justice or bribery, related to the Watergate scandal, only because President Gerald Ford pardoned him just weeks after Nixon resigned the presidency. Bill Clinton's law license in his native Arkansas was suspended for five years after he reached a deal with prosecutors in 2001, at the end of his second term, over allegations that he lied under oath about his affair with White House intern Monica Lewinsky.
Some historians wonder about President Warren Harding's fate had he not died in office, in 1923. Numerous officials around him would be implicated in various crimes, including Interior Secretary Albert B. Fall, whose corrupt land dealings became known as the "Teapot Dome Scandal."
"The walls were closing in on him," presidential historian Douglas Brinkley said of Harding.
Trump's indictment in New York reportedly is linked to how business records were mischaracterized in connection with paying porn actor Stormy Daniels $130,000 in 2016, shortly before Trump defeated Democrat Hillary Clinton for the presidency, to keep Daniels from going public about a sexual encounter she said she had with him years earlier. Trump denies having sex with her.
Trump also is being investigated for allegedly attempting to change the 2020 vote results in Georgia, a state he narrowly lost to Democrat Joe Biden, and for his role in the riot at the U.S. Capitol on Jan. 6, 2021, when Trump supporters attempted to stop the congressional certification of Biden as president. Trump has denied any wrongdoing and called the New York investigation "a witch hunt."
While in office, Trump adopted the view of a Justice Department legal opinion that a president could not be indicted. Once a president leaves office, though, that protection falls away.
Most ex-presidents of the past half-century have led relatively uneventful public lives — creating foundations, delivering lucrative speeches, or in the case of Jimmy Carter, doing abundant charitable works. Nixon's disgrace scarred him for years, though he eventually reemerged to talk about global affairs and counsel aspiring politicians and potential presidents, including Trump.
The immediate cause of Nixon's resignation was the discovery of the "smoking gun" — Oval Office tape recordings, initiated by Nixon himself, that revealed he had ordered a cover-up of the 1972 break-in at Democratic National Committee headquarters at the Watergate complex in Washington. By 1974, the scandal had expanded well beyond the initial crime. Many of Nixon's top aides had stepped down and were eventually imprisoned. Nixon himself was a possible target of the Watergate special counsel.
"There were partisans in Congress and on the special counsel's staff who would have liked to see Nixon indicted after the resignation — or at least believed that the pardon was premature," says John A. Farrell, author of "Richard Nixon: The Life," a prize-winning biography published in 2017. "But the special prosecutor, Leon Jaworski, had consistently chosen to deal with Nixon via the constitutional, impeachment process."
Farrell notes that Ford's pardon happened so soon after Nixon stepped down that Jaworski's office didn't have time to fully consider charges against Nixon. Ford himself would say that an "indictment, a trial, a conviction, and anything else that transpired" would have distracted the country from more immediate problems.
"This much can be said: Nixon himself was very worried about the possibility (of prosecution), to the point of ruining his health," Farrell said, referring to Nixon's battles with phlebitis, the inflammation of veins in the leg. "He mused aloud about how some of the great political writing in history had been crafted in jail cells. His very worried family reached out to the White House, alerting Ford's aides of the ex-president's deteriorating condition."
The administrations of Nixon and Harding were among several defined by scandal, without the president being charged.
Ulysses Grant, the Union general and hero of the Civil War, was otherwise naive about those around him. Numerous members of his presidential administration were involved in financial wrongdoing, from extortion to market manipulation. Grant himself was caught for a more trivial offense. In 1872, during his first term, he was stopped twice for riding his carriage too fast.
"The second time Grant had to pay a $20 fine, but never spent a night in jail," says historian Ron Chernow, whose Grant biography was published in 2017.
Tragedy may have spared one future president.
In the fall of 1963, Vice President Lyndon Johnson was out of favor in the Kennedy administration and in possible legal danger because his top aide, Bobby Baker, was under investigation for financial dealings and influence peddling. Johnson, with his own history of questionable finances, was denying any close ties to a man he had once claimed to love as a son.
By the morning of Nov. 22, 1963, Life magazine was planning a investigation and congressional hearings were just getting started. But within hours, Kennedy had been assassinated, Johnson sworn in as his successor and interest in the affairs of Baker had essentially ended.
Add TheJapanNews to your Google News feed.