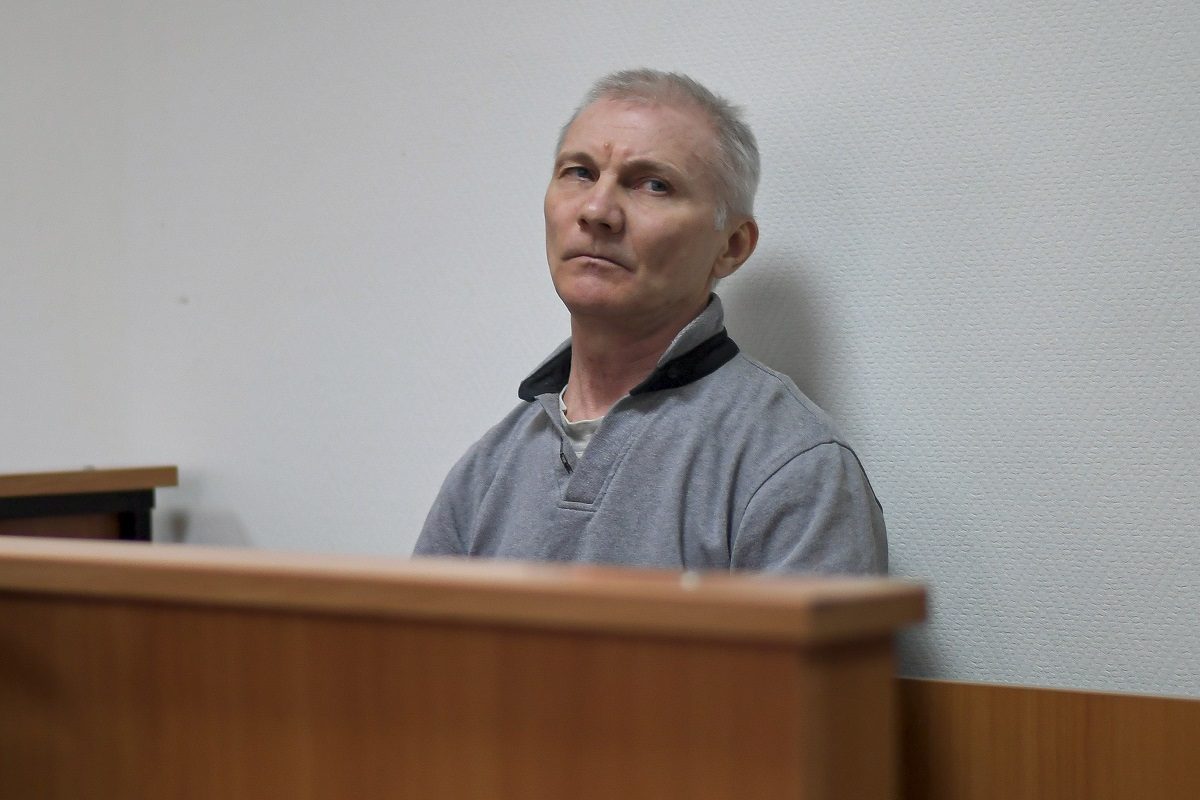 12:47 JST, March 30, 2023
TALLINN, Estonia (AP) — Russia's prosecution of a single father whose daughter drew an antiwar sketch at school elicited outrage from the European Union on Wednesday, even as the man, who fled house arrest before the verdict was announced, remained at large.
Alexei Moskalyov was convicted of discrediting the Russian army and sentenced to two years in prison in his hometown of Yefremov on Tuesday in a case that has grabbed international attention and underscored the intensity of the Kremlin's crackdown on dissent against the war in Ukraine.
European Commission spokesman Peter Stano tweeted that Moskalyov's sentence was "a total disgrace." Earlier this month, he said the prosecution of Moskalyov represented political repression reaching "new levels," akin to what happened in the Soviet Union under Josef Stalin.
Russia "should respect its own constitution" and international "obligations instead of punishing kids & parents for political reasons," Stano wrote.
Moskalyov, 54, was charged over social media posts criticizing the invasion under a law adopted shortly after the February 2022 invasion of Ukraine. During his one-day trial, which concluded Monday, he insisted he had nothing to do with the posts.
According to his lawyer and supporters, Moskalyov's troubles began after his daughter Maria, now 13, drew an antiwar picture at Yefremov School No. 9 that depicted missiles flying over a Russian flag at a woman and child and said "No to war" and "Glory to Ukraine," according to his lawyer and his supporters.
The school called police, the girl was questioned and Moskalyov was fined for critical comments on social media. His apartment was raided in December and a criminal case was opened against him. He was placed under house arrest and his daughter was placed into the orphanage.
Moskalyov had been under house arrest in his apartment in the town south of Moscow, but he escaped before the verdict was announced.
He has been declared a political prisoner by Memorial, one of Russia's oldest and most prominent rights groups that won the 2022 Nobel Peace Prize.
Another prominent rights group — OVD-Info — has provided Moskalyov with a lawyer and said it would continue to defend him and his daughter both on the charges of discrediting the army and on the issue of parental rights.
A court in Yefremov next week is expected to consider the authorities' petition to restrict Moskalyov's parental rights.
His supporters said father and daughter love each other, and Maria called him "my hero" in a letter she wrote for him in an orphanage, according to Moskalyov's lawyer who visited the facility on Tuesday. Moskalyov has been raising Maria alone for about 10 years.
Add TheJapanNews to your Google News feed.