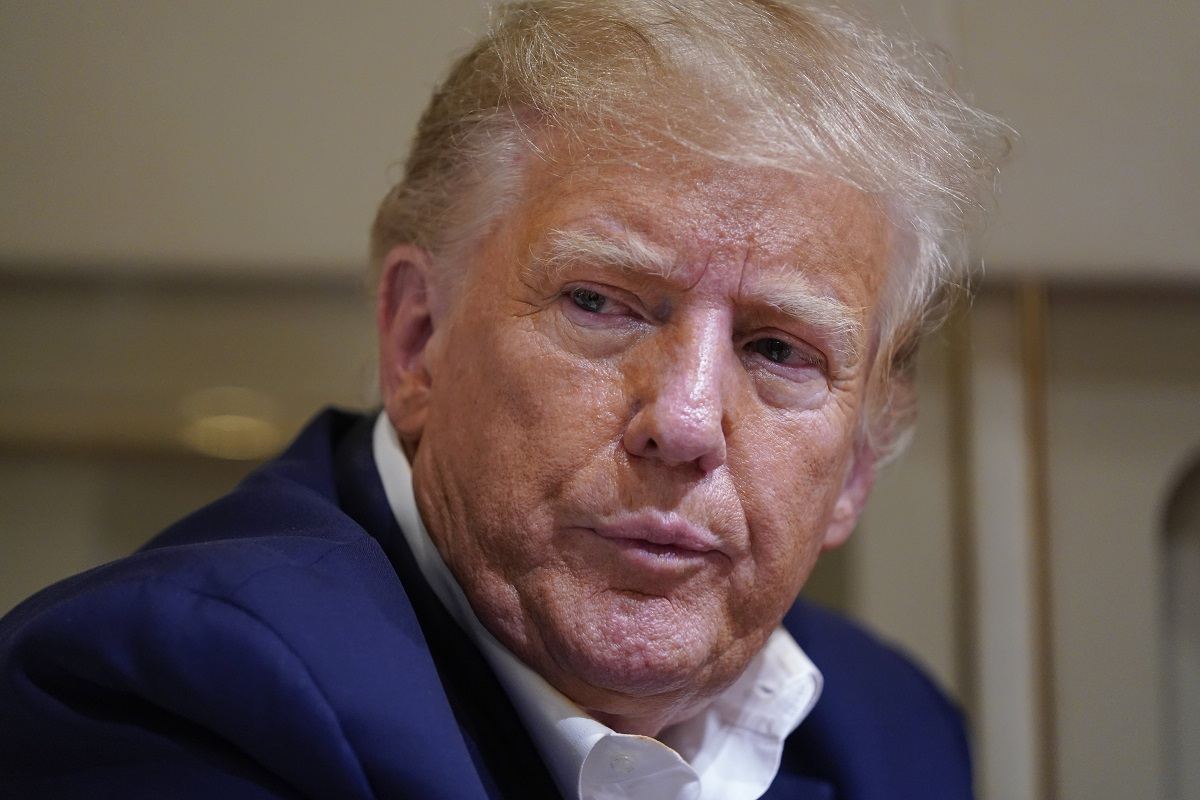 12:40 JST, March 30, 2023
NEW YORK (AP) — The Manhattan grand jury investigating hush money paid on Donald Trump's behalf is scheduled to consider other matters next week before taking a previously scheduled two-week hiatus, a person familiar with the matter said Wednesday. That means a vote on whether or not to indict the former president likely wouldn't come until late April at the earliest.
The break, which was scheduled in advance when the panel was convened in January, coincides with Passover, Easter and spring break for the New York City public school system.
The person who confirmed the grand jury's schedule was not authorized to speak publicly about secretive grand jury proceedings and did so on condition of anonymity. A message left with the district attorney's office was not immediately returned.
In a statement released through a lawyer, Trump said: "I HAVE GAINED SO MUCH RESPECT FOR THIS GRAND JURY."
The grand jury has been meeting regularly Monday and Wednesday afternoons, though its Wednesday sessions were called off this week and last. It met Monday, when a longtime Trump friend and potential key witness in the investigation was seen leaving the building where the grand jury has been meeting.
News earlier this month that Trump had been invited to appear before the grand jury fueled widespread speculation that a vote on an indictment would soon be forthcoming. Trump himself added to that anticipation with a post on his social media platform saying that he expected to be arrested soon, though his representatives later said that they had not received any such indication from prosecutors.
The district attorney's office is legally prohibited from publicly discussing the grand jury process, but witnesses and their attorneys aren't bound by the same secrecy rules, and some have spoken out. On March 20, the grand jury heard from a witness favorable to Trump.
People familiar with how grand jury processes typically unfold cautioned that the schedule could change and that prosecutors could still ask jurors to consider charges or vote on an indictment on one of the days they're expected to meet on other matters.
Few people — Manhattan District Attorney Alvin Bragg and the prosecutors in charge of the grand jury investigation — know precisely how the grand jury investigation is proceeding and at what pace. They control when witnesses are called to testify and decide whether, and when, to seek an indictment.
It's not uncommon for grand juries to take breaks for holidays. But it's unclear why the panel isn't hearing testimony on the Trump probe on some of its other customary days — and what the grand jurors will make of that, said Touro Law Center criminal law professor Richard Klein.
"Even in a situation where there's an investigative grand jury, usually the prosecutor doesn't start the process until they're ready to move forward with it," said Klein, a former public defender in Manhattan. In general, he said, prosecutors like to keep proceeding steadily so that grand jurors don't lose the thread of what they've heard, or speculate about why there are hiatuses.
Since Trump's March 18 post, authorities ratcheted up security, deploying additional police officers, lining the streets around the courthouse with barricades and dispatching bomb-sniffing dogs.
They've also had to respond to myriad threats, including bomb and death threats, a suspicious powder scare and a protester who was arrested Tuesday after witnesses say she pulling a knife on passersby outside the courthouse.
The grand jury is investigating money paid during Trump's 2016 presidential campaign to two women who alleged that they had extramarital sexual encounters with him. Trump has denied the allegations.
Trump's former lawyer and fixer Michael Cohen, who has testified as a key prosecution witness, paid porn actress Stormy Daniels $130,000 through a shell company he set up and was then reimbursed by Trump, whose company logged the reimbursements as legal expenses.
Earlier in 2016, Cohen also arranged for former Playboy model Karen McDougal to be paid $150,000 by the publisher of the supermarket tabloid the National Enquirer, which squelched her story in a journalistically dubious practice known as "catch-and-kill."
Meanwhile, other Trump investigations have been busily proceeding with crucial wins for prosecutors.
A Trump lawyer appeared last week before a federal grand jury in Washington investigating Trump's possible mishandling of classified documents after prosecutors were able to persuade a judge they had evidence that the former president was using his legal representation in furtherance of a crime.
And a judge has also ruled that former Vice President Mike Pence must provide some grand jury testimony in a separate investigation into efforts by Trump and his allies to undo the results of the 2020 presidential election.
If the Manhattan grand jury's schedule holds, that panel wouldn't return to the Trump matter until April 24. That's five days after Trump's longtime finance chief Allen Weisselberg is slated to be released from jail for his role in a unrelated tax fraud scheme involving fringe benefits from Trump's company.
Weisselberg made key decisions in how Trump and his Trump Organization kept their books, and Cohen alleges he was involved in the hush-money arrangements, but Weisselberg does not appear to be cooperating with the grand jury investigation.
Meanwhile, a former magazine columnist's rape lawsuit against Trump is set to go to trial April 25 at a federal courthouse steps away from where the hush-money grand jury has been meeting. Both Trump and rape accuser E. Jean Carroll are expected to testify in the civil trial.
She alleges he raped her in a luxury department store dressing room in the mid-1990s. He denies it and says he had no idea who she was before she went public with the allegation in 2019.
The AP does not identify people who say they have been sexually assaulted unless they come forward publicly.
Add TheJapanNews to your Google News feed.