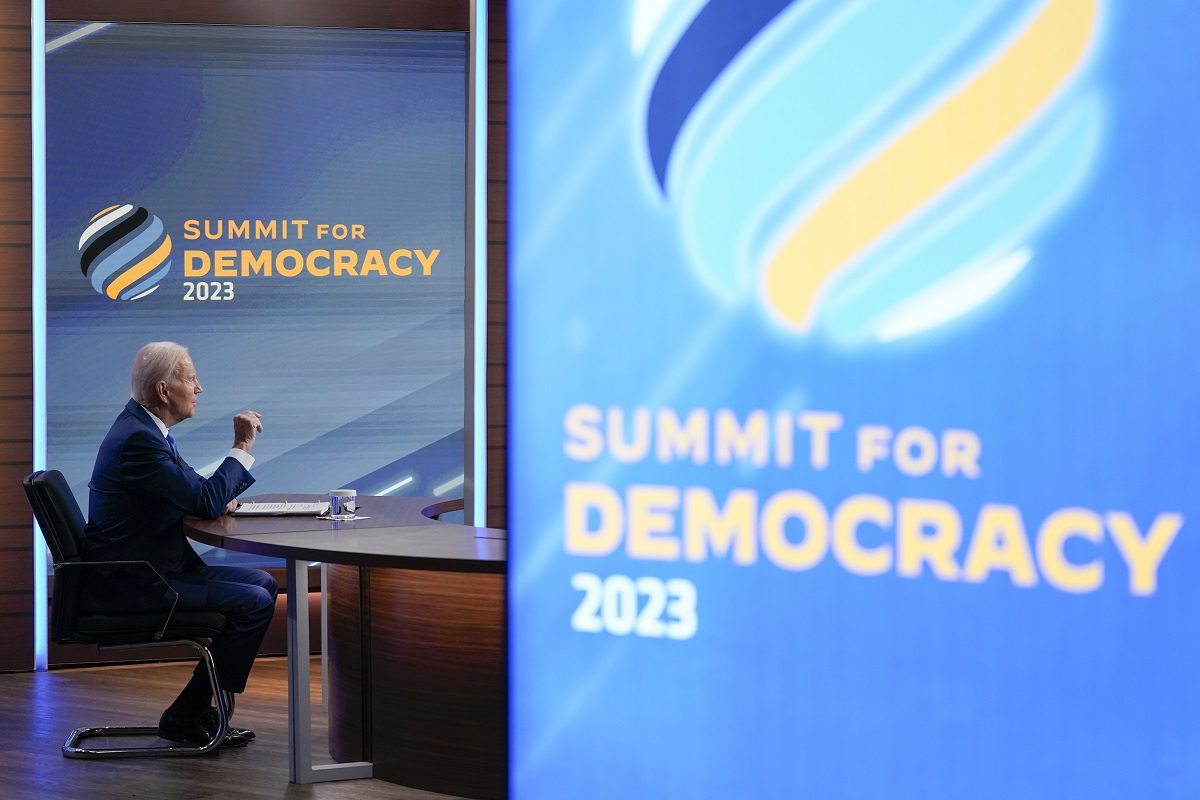 12:28 JST, March 30, 2023
WASHINGTON (AP) — President Joe Biden on Wednesday offered an optimistic outlook on the health of democracy worldwide, declaring that leaders are "turning the tide" in stemming a yearslong backslide of democratic institutions.
Opening his second democracy summit, Biden looked to spotlight hopeful advancements over the past year despite Russia's war in neighboring Ukraine and U.S. tensions with China over its military and economic influence in the Indo-Pacific and beyond.
The president cited signs of progress across the globe, from Angola's effort to create an independent judiciary, Croatia's move to boost government transparency and the Dominican Republic's anti-corruption steps. At home, Biden pointed to his stalled push for voting protections in Congress as evidence of his administration's commitment to support democracy.
"Today, we can say, with pride, democracies of the world are getting stronger, not weaker," Biden said. "Autocracies of the world are getting weaker, not stronger. That's a direct result of all of us."
The summits, which Biden promised as a candidate in 2020, have become an important piece of his administration's effort to try to build deeper alliances and nudge autocratic-leaning nations toward at least modest changes.
He said the U.S. will spend $690 million bolstering democracy programs — supporting everything from free and independent media to free and fair elections — around the world. He said he also wanted to use the summit to foster discussion about the use of technology to "advance democratic governance" and ensure such technology is "not used to undermine it."
The U.S. also signed a joint statement with nine other countries to deepen international cooperation on countering the proliferation and misuse of commercial spyware. Australia, Canada, Costa Rica, Denmark, France, New Zealand, Norway, Sweden, Switzerland, and the United Kingdom signed on the agreement.
About 40 participants had signed on, as of Wednesday, to a set of guiding principles for how the governments should use surveillance technology, according to a senior administration official who spoke on the condition of anonymity to preview the agreement before its formal announcement. The guidelines are to be published before the close of the summit on Thursday.
The White House announced plans for the U.S. Cybersecurity & Infrastructure Security Agency to partner with nine other countries to work on protecting human rights and other activist groups that are at risk of facing transnational cyber attacks. The UK is co-leading the effort and Australia, Canada, Denmark, Estonia, France, Japan, New Zealand and Norway have also signed on.
Earlier this week, Biden signed an executive order restricting the U.S. government's use of commercial spyware tools that have been used to surveil human rights activists, journalists and dissidents around the world.
Since Biden's first democracy summit in December 2021, countries have emerged from the coronavirus pandemic and Russia invaded Ukraine, the largest-scale war in Europe since World War II.
Ukraine's president, Volodymyr Zelenskyy, pushed back at those suggesting it was time for a negotiated settlement with Russian leader Vladimir Putin. "We should get rid of the illusion that compromising with evil can give something to freedom, and enemies of democracy must lose," Zelenskyy told the summit.
The Dutch prime minister, Mark Rutte, said the invasion was a jolting moment for the world's democracies.
"For decades, the idea of war in Europe seemed unthinkable. But we were wrong as Russia's brutalization of Ukraine has shown we cannot assume that democracy, freedom and security are givens, that they are eternal," Rutte said.
Kenya's president, William Ruto, said building democracy was was essential to the growth of developing nations. Ruto was the winner last year of Kenya's close presidential race in which opposition candidate Raila Odinga had alleged irregularities. Kenya's Supreme Court unanimously rejected the challenges.
"This is our path to sustainable development," Ruto said.
The U.S. hosted the last summit on its own. This time, it recruited four co-hosts — Costa Rica, the Netherlands, South Korea and Zambia — after ambassadors from China and Russia criticized the first summit and accused Biden of causing a global divide with a Cold War mentality.
Still, some countries would rather not get between Washington and Beijing, an increasingly important economic and military player.
Pakistan announced, as it did in 2021, that it received an invitation but would skip the summit, a move seen in part as an effort by the impoverished Islamic nation to assuage longtime ally China, which was not invited.
Xu Xueyuan, the charge d'affaires of China's embassy in Washington, on Wednesday called the summit "at odds with the spirit of democracy."
"The U.S. draws an ideological line between countries, and through its narrative of 'democracy versus authoritarianism,' it has formed factions and caused divisions in the international community," she said.
The Biden administration has also expanded its invitation list. Bosnia-Herzegovina, Gambia, Honduras, Ivory Coast, Lichtenstein, Mauritania, Mozambique and Tanzania were invited this year after being left off the list in 2021.
The first day of the summit was convened in a virtual format and will be followed on Thursday by hybrid gatherings in each of the host countries.
Costa Rica will focus on the role of youth in democratic systems. The Dutch are taking on media freedom. South Korea is looking at corruption. Zambia is centering on free and fair elections
The U.S. is no stranger to the challenges facing democracies, including deep polarization and pervasive misinformation.
Lies spread about the 2020 presidential election by then-President Donald Trump and his supporters have convinced a majority of Republicans that Biden was not legitimately elected, normalized harassment and death threats against election officials, and been used to justify efforts in Republican-controlled legislatures to adopt new voting restrictions.
Later this year, the Supreme Court will rule in a case from Alabama that voting rights advocates fear could virtually dismantle the nearly 60-year-old Voting Rights Act. Congressional efforts to shore up that federal law and increase voting access have failed.
Biden came into office vowing that human rights and democracy would play significant roles in his approach to foreign policy. But he's faced criticism from some human rights activists for being too soft on Saudi Arabia and Egypt over their human rights records. The administration sees both nations as important partners in bringing stability to the Middle East.
More recently, Biden administration officials have been at odds with close ally Israel as Prime Minister Benjamin Netanyahu tries to push forward a far-reaching judicial overhaul that the U.S. worries will diminish Israel's democracy.
Netanyahu, in remarks at the summit's opening session, said Israel remained a "robust democracy" in the midst of "a very intensive public debate."
"Democracy means the will of the people as expressed by a majority, and it also means protection of civil rights, individual rights. It's the balance between the two," he said.
Later Wednesday, Biden hosted President Alberto Fernández of Argentina, a summit participant, for talks.
Add TheJapanNews to your Google News feed.