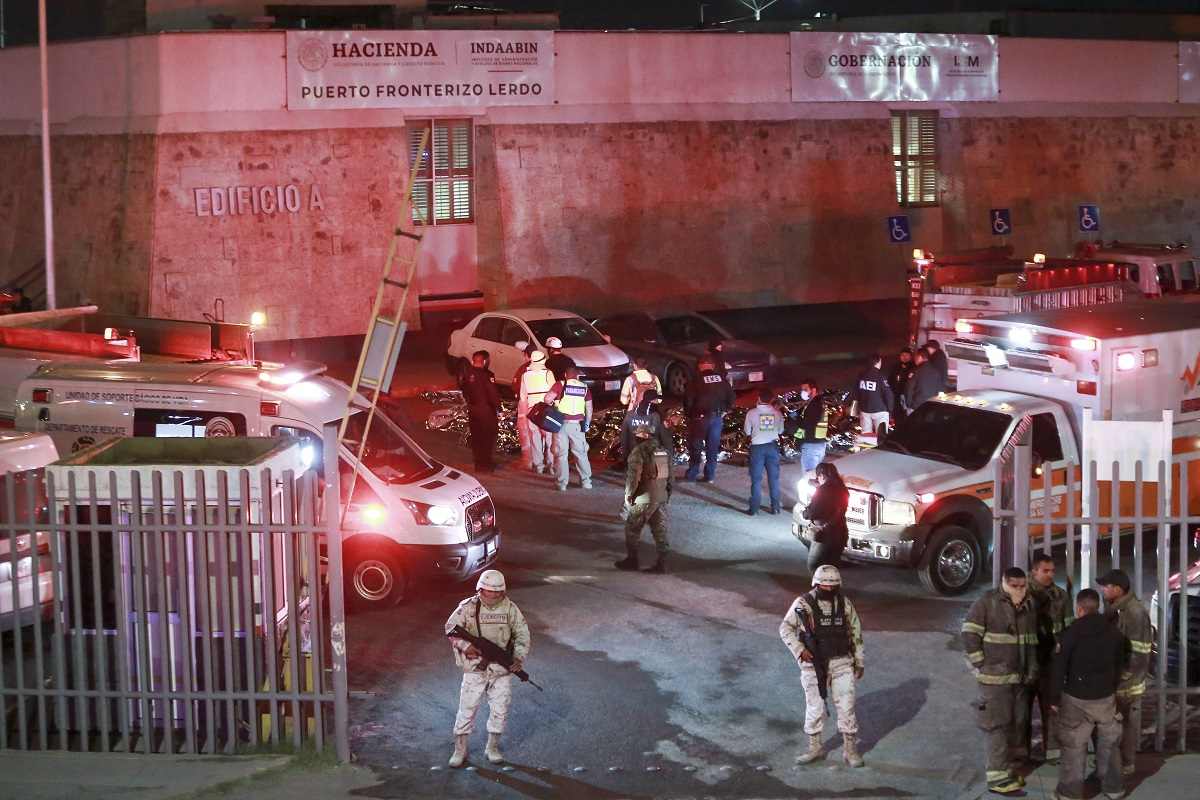 10:45 JST, March 29, 2023
CIUDAD JUAREZ, Mexico (AP) — After migrants in northern Mexico placed mattresses against the bars of their detention cell and set them on fire, guards quickly walked away and made no apparent attempt to release the men before smoke filled the room and killed at least 40, surveillance video showed Tuesday.
Hours after the fire broke out late Monday, rows of bodies were laid out under shimmery silver sheets outside the immigration detention facility in Ciudad Juarez, which is across the U.S. border from El Paso, Texas, and a major crossing point for migrants.
Twenty-nine people were injured and were in "delicate-serious" condition, according to the National Immigration Institute.
At the time of the blaze, 68 men from Central and South America were being held at the facility, the agency said.
In the video, two people dressed as guards rush into the camera frame, and at least one migrant appears by the metal gate on the other side. But the guards did not appear to make any effort to open the cell doors and instead ran away as billowing clouds of smoke filled the structure within seconds.
Adán Augusto López, Mexico's interior secretary, confirmed the authenticity of the video in an interview with local journalist Joaquín López Doriga.
Immigration authorities identified the dead and injured as being from Guatemala, Honduras, El Salvador, Venezuela, Colombia and Ecuador, according to a statement from the Mexican attorney general's office. Guatemala Foreign Affairs Minister Mario Búcaro said 28 of the dead were Guatemalan citizens.
Mexico President Andrés Manuel López Obrador said the fire was started by migrants in protest after learning they would be deported.
"They never imagined that this would cause this terrible misfortune," López Obrador said.
The deaths forced the government to rent refrigerated trailers to hold the migrants' bodies, Chihuahua state prosecutor Cesar Jáuregui told reporters.
The detention facility is across the street from Juarez's city hall.
At a nearby hospital, Viangly Infante Padrón, a 31-year-old Venezuelan migrant seeking asylum in the U.S. with her husband and three children, waited for her husband, who was being treated for smoke inhalation. The previous evening, she was waiting outside the detention center for his release when the fire broke out.
"There was smoke everywhere. The ones they let out were the women, and those (employees) with immigration," she said. "The men, they never took them out until the firefighters arrived."
She saw several dead bodies before finding her husband in an ambulance. "I was desperate because I saw a dead body, a body, a body, and I didn't see him anywhere."
Earlier, about 100 migrants gathered Tuesday outside the immigration facility's doors to demand information about relatives.
Katiuska Márquez, a 23-year-old Venezuelan woman with her two children, ages 2 and 4, was seeking her half-brother, Orlando Maldonado, who had been traveling with her.
"We want to know if he is alive or if he's dead," she said. She wondered how all the guards who were inside made it out alive and only the migrants died. "How could they not get them out?"
Authorities did not immediately answer that question.
Márquez and Maldonado were detained Monday with the children and about 20 others. They had been in Juarez waiting for an appointment from U.S. authorities to request asylum. They were staying in a rented room where 10 people were living, paying for it with the money they begged in the street.
"I was at a stoplight with a piece of cardboard asking for what I needed for my children, and people were helping me with food," she said. Suddenly agents came and detained everyone.
Everyone was taken to the immigration facility but only the men were placed in the cells. Three hours later, the women and children were released.
Tensions between authorities and migrants had apparently been running high in recent weeks in Ciudad Juarez, where shelters are full of people waiting for opportunities to cross into the U.S. or for the asylum process to play out.
More than 30 migrant shelters and other advocacy organizations published an open letter March 9 that complained of a criminalization of migrants and asylum seekers in the city. It accused authorities of abusing migrants and using excessive force in rounding them up, including complaints that municipal police questioned people in the street about their immigration status without cause.
The high level of frustration in Ciudad Juarez was evident earlier this month when hundreds of mostly Venezuelan migrants tried to force their way across one of the international bridges to El Paso, acting on false rumors that the United States would allow them to enter the country. U.S. authorities blocked their attempts.
After that, Juarez Mayor Cruz Pérez Cuellar started campaigning to inform migrants there was room in shelters and no need to beg in the streets. He urged residents not to give money to them and said authorities would remove them from intersections where it was dangerous to beg and allegedly a nuisance to residents.
Migrant advocates who recently denounced more aggressive tactics said Tuesday that the immigration facility was over capacity and that the site of the fire was small and lacked ventilation.
"You could see it coming," the advocates' statement said. "Mexico's immigration policy kills."
The national immigration agency said Tuesday that it "energetically rejects the actions that led to this tragedy" without any further explanation.
The "extensive use of immigration detention leads to tragedies like this one," Felipe González Morales, the United Nations special rapporteur for human rights of migrants, said via Twitter. In keeping with international law, immigration detention should be an exceptional measure and not generalized, he wrote.
Mexico's immigration lockups have seen overcrowding, protests and riots from time to time.
In October, a group of mostly Venezuelan migrants rioted inside an immigration center in Tijuana. In November, dozens of migrants rioted in Mexico's largest detention center in the southern city of Tapachula near the border with Guatemala. No one died in either incident.
Mexico has emerged as the world's third most popular destination for asylum-seekers, after the United States and Germany. But it is still largely a country that migrants pass through on their way to the U.S.
Asylum-seekers must stay in the state where they apply in Mexico, resulting in large numbers being holed up near the country's southern border with Guatemala. Tens of thousands are also in border cities.
At a Mass celebrated in memory of the migrants, Bishop Mons. José Guadalupe Torres Campos lamented the sudden grief that had descended upon the migrant community.
"The shout, the cry of everyone is enough, enough of so much pain, enough of so much death," he said.
Add TheJapanNews to your Google News feed.