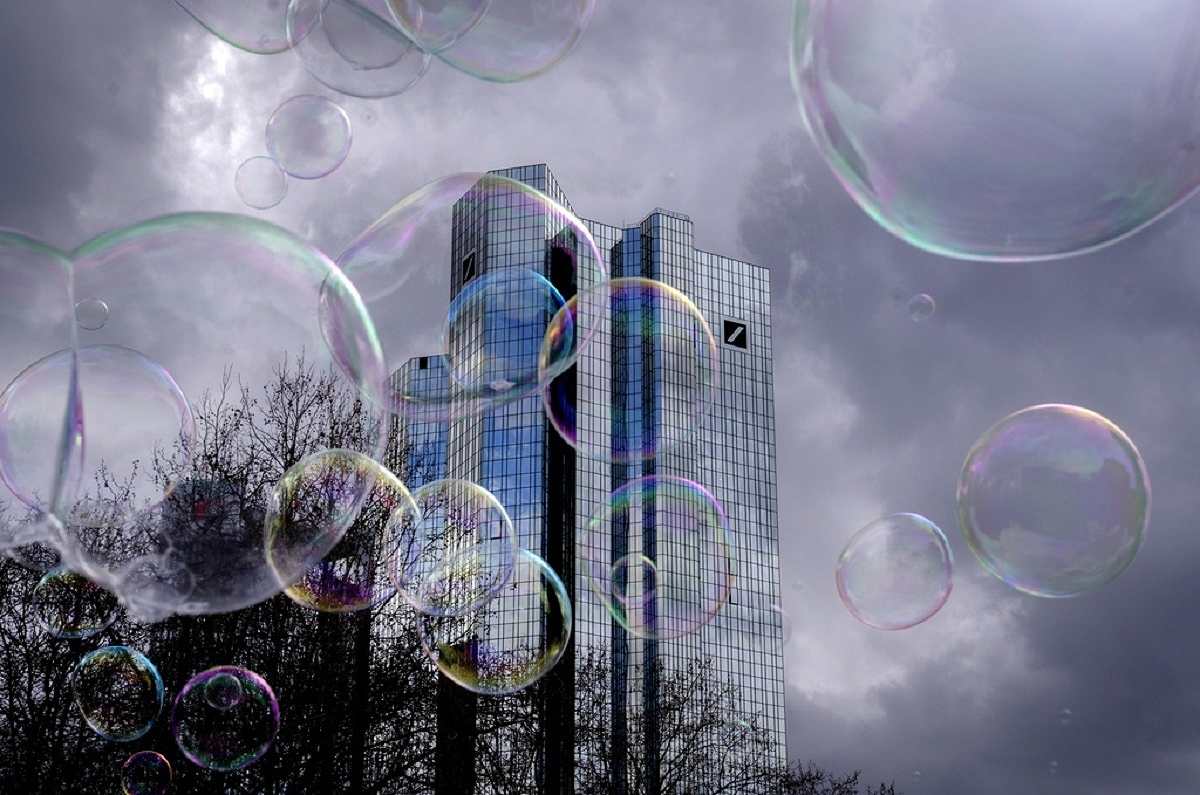 10:50 JST, March 25, 2023
FRANKFURT, Germany (AP) — Shares in Deutsche Bank fell sharply Friday, dragging down other major European banks and leading German Chancellor Olaf Scholz to express confidence in the country's largest lender after fears about the global financial system sent fresh shudders through the market.
Deutsche Bank shares closed down 8.5% on the German stock exchange after falling as much as 14%. That followed a steep rise in the cost to insure bondholders against the bank defaulting on its debts, known as credit default swaps.
Rising costs on insuring debt were also a prelude to Swiss lender Credit Suisse's government-backed rescue by rival UBS. That hastily arranged takeover Sunday aimed to stem the upheaval in the global financial system after the collapse of two U.S. banks and jitters about Credit Suisse's long-running troubles led its shares to tank and customers to pull out their money.
Asked whether Deutsche Bank could be the next Credit Suisse, Scholz said, "There is no reason to worry."
"Deutsche Bank has thoroughly modernized and reorganized its business and is a very profitable bank," Scholz said after a European Union summit in Brussels.
Like Credit Suisse, Deutsche Bank is one of 30 globally significant financial institutions, with international rules requiring it to hold higher levels of capital reserves because its failure could cause widespread losses.
Other major European banks also fell Friday, with Germany's Commerzbank closing down 5.45%, France's Societe Generale off 6%, and Austria's Raiffeisen down 7.9%.
Markets have been rattled by fears that other banks may have unexpected troubles like U.S.-based Silicon Valley Bank, which went under after customers pulled their money and it suffered uninsured losses because of higher interest rates.
Credit Suisse's troubles, including a $5.5 billion loss on dealings with a private investment fund, predated the collapses of Silicon Valley Bank and Signature Bank, but depositors and investors fled after the U.S. failures focused less-friendly attention on banks and a key Credit Suisse investor refused to put up more money.
Deutsche Bank has turned in 10 straight quarters of profit, including 5.7 billion euros ($6.1 billion) last year, improving its fortunes under CEO Christian Sewing.
Before that, the bank went through a long stretch of low profitability and troubles with regulators going back to the 2008 global financial crisis, including a $7.2 billion penalty from U.S. authorities for misleading buyers of complex mortgage-backed securities that later went sour.
Despite the rebound under Sewing, the bank was "a natural candidate" for a market selloff because of its previous troubles, large, sometimes complex holdings and market skepticism about its future profits, said Sascha Steffen, professor of finance at the Frankfurt School of Finance & Management.
The market values the bank at less than the assets on its balance sheet, he said: "That means investors are still very worried about what are the risks that the bank has on its balance sheet or its earnings potential going forward, and that's not good."
Big global banks have sold off more than smaller ones in recent financial turmoil, he said.
"It's contagion — it's lack of confidence, a lack of trust," Steffen said.
The selloff "might also be more emotionally driven, so to speak, rather than based on facts, but this is something that had to be expected" based on its history and performance after the global financial crisis, he said.
Davide Oneglia at investment strategy research provider TS Lombard said it wasn't surprising that "the next bank in the firing line is now Deutsche Bank." It was associated with Credit Suisse in the past because of "managerial/strategic failures and involvement in many financial scandals" despite its recent profits.
"Whether this is just a reflection of investors' anxiety at the end of a very stressful week, some technical market factor, or signs of more problems to come for the weakest European banks, it's still too early to say," he said.
However, the selloff of European bank shares "continues to appear more related to lack of confidence than fundamentals."
Stuart Graham and Leona Li, analysts at global financial research firm Autonomous, said that "Deutsche is in robust shape."
"We are relatively relaxed in view of Deutsche's robust capital and liquidity positions," they said.
Its holdings of derivatives — often complex investments whose price is tied to other assets — are "well known" and "just not very scary, in our view," Graham and Li said.
European officials say banks in the European Union's regulatory system — which doesn't include Credit Suisse — are resilient and have no direct exposure to Silicon Valley and little to Credit Suisse.
Efforts to strengthen banking regulation in recent years "puts us all in a position to say that European banking supervision and the financial system are robust and stable and that we have resilient capitalization of European banks," Scholz said.
European leaders, who played down any risk of a possible banking crisis at a summit Friday, say the financial system is in good shape because they require broad adherence to tougher requirements to keep ready cash on hand to cover deposits.
International negotiators agreed to those rules following the 2008 global financial crisis triggered by the failure of U.S. investment bank Lehman Brothers. U.S. regulators exempted midsize banks, including Silicon Valley Bank, from those safeguards.
The reassurances, however, have not stopped investors from selling the shares amid more general concerns about how global banks will weather the current climate of rising interest rates.
Though higher interest rates should increase bank profits by boosting what they can earn over what they pay on deposits, some long-term investments can sharply lose value and cause losses unless the banks took precautions to hedge those investments.
Add TheJapanNews to your Google News feed.