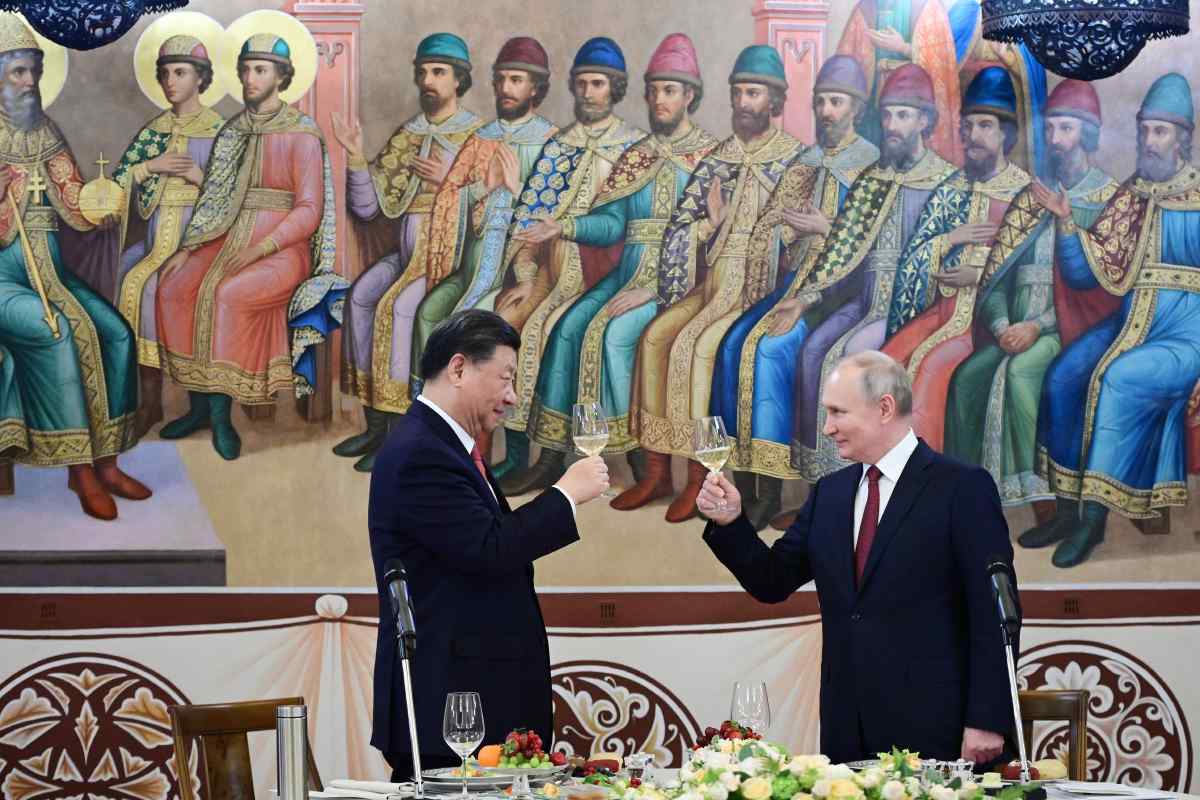 9:24 JST, March 22, 2023
MOSCOW (AP) — Russia and China showcased their "no-limits friendship" on Tuesday during a pomp-laden Kremlin ceremony intended to further cement ties amid the fighting in Ukraine.
After hosting Chinese leader Xi Jinping over a seven-course private dinner for 4½ hours the previous night, Russian President Vladimir Putin greeted him in the old imperial palace for talks involving top officials from both countries.
Xi walked slowly up the opulent red-carpeted staircase of the Grand Kremlin Palace as guards in 19th century-style parade uniforms snapped to attention.
Putin was waiting to greet the Chinese leader in St. George's hall where walls are covered by white-marble plaques with gold engravings of the names of military units and soldiers awarded the order of St. George, a top military award established by Catherine the Great.
In a tightly choreographed ceremony filled with imperial grandeur, the two leaders entered the huge chandeliered room from opposite sides and shook hands in the middle to the sound of the Russian and Chinese national anthems.
They walked past a lineup of Russian and Chinese officials to sit down for talks. Putin and Xi both wore black suits and dark red ties.
The pageantry reflected the importance of Xi's three-day visit to Russia that gave a strong political boost to Putin just days after the International Criminal Court issued an arrest warrant for the Russian leader on charges of alleged involvement in abductions of thousands of children from Ukraine.
Moscow, which doesn't recognize the court's jurisdiction, dismissed the move as "legally null and void," but the arrest warrant further ramped up the pressure on the Russian leader as the fighting in Ukraine has dragged into a second year.
After the talks, Putin and Xi issued joint declarations pledging to further bolster their "strategic cooperation," develop cooperation in energy, high-tech industries and other spheres and expand the use of their currencies in mutual trade to reduce dependence on the West.
They said they would develop military cooperation and conduct more joint sea and air patrols, but there was no mention of any prospective Chinese weapons supplies to Russia that the U.S. and other Western allies feared.
Putin and Xi made long statements after the talks to a selected audience of officials and reporters from their pools. They didn't take questions.
Putin hailed China's proposals for a political settlement and a cease-fire in Ukraine, saying that it could serve as a basis for a peaceful settlement "once the West and Kyiv are ready for it." The U.S. has criticized Beijing's plan as a move intended to allow Russia to shore up its gains.
Putin and Xi wrapped up the day with a state dinner in the 15th-century Palace of Facets that served as a banquet hall for the czars. They again exchanged pledges of expanding the countries' "comprehensive partnership" at a table next to a frescoed wall before the audience of top officials.
Putin cited a long quote from China's classical Book of Changes about friendship capable of overcoming any obstacles that the interpreter failed to fully grasp. He raised a glass with a toast wishing good health to Xi and prosperity for the two countries and their peoples, ending it with 'Ganbei,' the Chinese equivalent of 'cheers.' Xi responded in kind.
After hosting Xi in the Kremlin for six hours, Putin accompanied him down the grand staircase.
"We are now witnessing the changes that haven't been seen for more than a century, and we are pushing them together," Xi told Putin through an interpreter as they stood in the Kremlin's doorway. "Take care, dear friend!"
They shook hands, and Putin stood on the pavement for a moment, waving his hand as Xi's limo drove away.
Before the Kremlin talks, Xi met with Russian Prime Minister Milkhail Mishustin. Unlike them, Russian and Chinese officials who attended the talks wore medical masks — a reminder of the COVID-19 pandemic that halted mutual visits.
Xi briefly referred to it, telling Mishustin he was happy to be back in Moscow after a long break because of the pandemic. He said that he invited Putin over Monday's dinner to visit China later this year to attend a top-level meeting of China's Belt and Road regional initiative.
Kremlin foreign affairs adviser Yuri Ushakov said Putin could make the trip but didn't give the date.
Xi stayed at a brand-new Chinese-owned Soluxe Hotel set in a lavish riverside park in northern Moscow that features trees and plants from all over China. He used a Chinese-made Hongqi limousine for driving around Moscow.
Add TheJapanNews to your Google News feed.