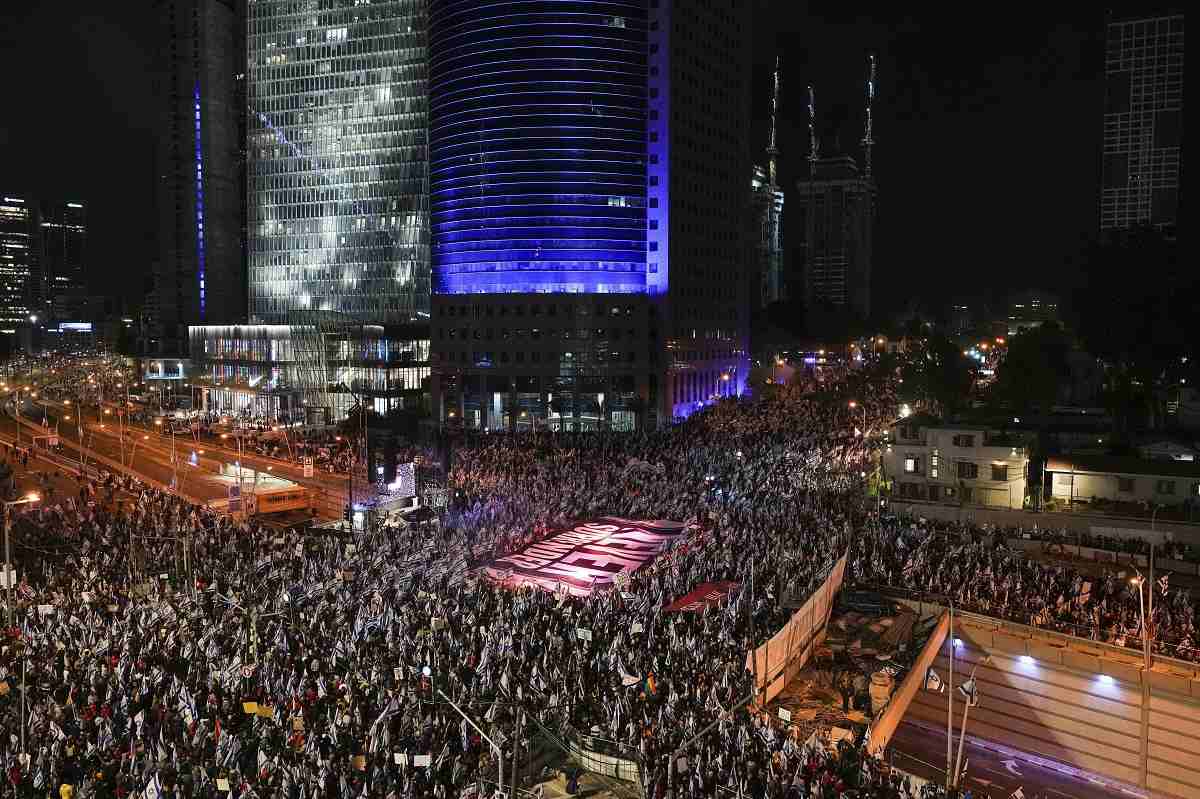 12:07 JST, March 19, 2023
TEL AVIV, Israel (AP) — Israelis on Saturday took to the streets in protests, now in their 11th week, against plans by Benjamin Netanyahu's hard-line government to overhaul the country's legal system.
The protesters say the proposed changes undermine the country's democracy by restricting the power of the Supreme Court. Netanyahu and his allies say the plan is needed to curb what they claim are excessive powers of unelected judges.
The main protest in the central city of Tel Aviv drew tens of thousands of people who waved Israeli flags and traffic sign banners that read "Dead End!" and "Risk Ahead!" Smaller protests were reported in other parts of the country.
On Wednesday, Netanyahu swiftly rejected a compromise proposal by Israeli President Isaac Herzog to resolve the standoff, deepening the crisis over a program that has roiled the country and drawn international criticism.
Israeli police deployed a water cannon to disperse protesters gathered at a main junction in Karkur, a town in northern Israel.
A video obtained by The Associated Press showed the water canon spraying at protesters as they chanted "Democracy," in Hebrew. It was not immediately clear if anyone was injured.
Netanyahu and his ultranationalist and religious coalition allies have pledged to plow ahead with the legal changes despite the demonstrations. Business leaders, legal experts and retired military leaders have joined the protests, and Israeli reservists have threatened to stop reporting for duty if the overhaul passes.
In the latest step of the overhaul plans, the Israeli parliament on Monday advanced a bill that would make it harder to oust Netanyahu over the corruption charges against him, as it plowed ahead with the broader plan to overhaul the judiciary.
Add TheJapanNews to your Google News feed.