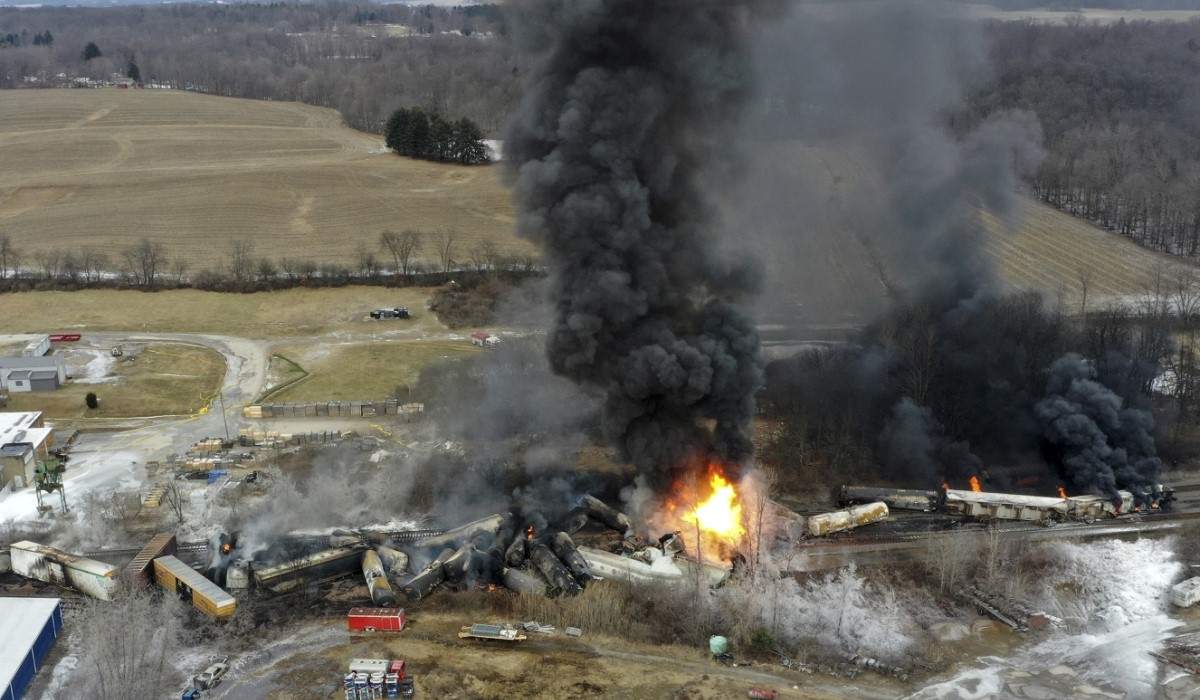 11:59 JST, March 19, 2023
WASHINGTON (AP) — Soon after a train derailed and spilled toxic chemicals in Ohio last month, anonymous pro-Russian accounts started spreading misleading claims and anti-American propaganda about it on Twitter, using Elon Musk's new verification system to expand their reach while creating the illusion of credibility.
The accounts, which parroted Kremlin talking points on myriad topics, claimed without evidence that authorities in Ohio were lying about the true impact of the chemical spill. The accounts spread fearmongering posts that preyed on legitimate concerns about pollution and health effects and compared the response to the derailment with America's support for Ukraine following its invasion by Russia.
Some of the claims pushed by the pro-Russian accounts were verifiably false, such as the suggestion that the news media had covered up the disaster or that environmental scientists traveling to the site had been killed in a plane crash. But most were more speculative, seemingly designed to stoke fear or distrust. Examples include unverified maps showing widespread pollution, posts predicting an increase in fatal cancers and others about unconfirmed mass animal die-offs.
"Biden offers food, water, medicine, shelter, payouts of pension and social services to Ukraine! Ohio first! Offer and deliver to Ohio!" posted one of the pro-Moscow accounts, which boasts 25,000 followers and features an anonymous location and a profile photo of a dog. Twitter awarded the account a blue check mark in January.
Regularly spewing anti-US propaganda, the accounts show how easily authoritarian states and Americans willing to spread their propaganda can exploitsocial mediaplatforms like Twitter in an effort to steer domestic discourse.
The accounts were identified by Reset, a London-based nonprofit that studies social media's impact on democracy, and shared with The Associated Press. Felix Kartte, a senior advisor at Reset, said the report's findings indicate Twitter is allowing Russia to use its platform like a bullhorn.
"With no one at home in Twitter's product safety department, Russia will continue to meddle in US elections and in democracies around the world," Kartte said.
Twitter did not respond to messages seeking comment for this story.
The 38-car derailment near East Palestine, Ohio, released toxic chemicals into the atmosphere, leading to a nationaldebate over rail safety and environmental regulations while raising fears of poisoned drinking water and air.
The disaster was a major topic on social media, with millions of mentions on platforms such as Facebook and Twitter, according to an analysis by San Francisco-based media intelligence firm Zignal Labs, which conducted a study on behalf of the AP.
At first, the derailment received little attention online but mentions grew steadily, peaking two weeks after the incident, Zignal found, a time lag that gave pro-Russia voices time to try to shape the conversation.
The accounts identified by Reset's researchers received an extra boost from Twitter itself, in the form of a blue check mark. Before Musk purchased Twitter last year, it's check marks denoted accounts run by verified users, often public figures, celebrities or journalists. It was seen as a mark of authenticity on a platform known for bots and spam accounts.
Musk ended that system and replaced it with Twitter Blue, which is given to users who pay $8 per month and supply a phone number. Twitter Blue users agree not to engage in deception and are required to post a profile picture and name. But there's no rule that they use their own.
Under the program, Twitter Blue users can write and send longer tweets and videos. Their replies are also given higher priority on other posts.
The AP reached out to several of the accounts listed in Reset's report. In response, one of the accounts sent a two-word message before blocking the AP reporter on Twitter: "Shut up."
While researchers spotted clues suggesting some of the accounts are linked to coordinated efforts by Russian disinformation agencies, others were Americans, showing the Kremlin doesn't always have to pay to get its message out.
One account, known as Truth Puke, is connected to a website of the same name geared toward conservatives in the United States. Truth Puke regularly reposts Russian state media; RT, formerly known as Russia Today, is one of its favorite groups to repost, Reset found. One video posted by the account features ex-President Donald Trump's remarks about the train derailment, complete with Russian subtitles.
In a response to questions from the AP, Truth Puke said it aims to provide a "wide spectrum of views" and was surprised to be labeled a spreader of Russian propaganda, despite the account's heavy use of such material. Asked about the video with Russian subtitles, Truth Puke said it used the Russian language version of the Trump video for the sake of expediency.
"We can assure you that it was not done with any Russian propagandist intent in mind, we just like to put out things as quickly as we find them," the company said.
Other accounts brag of their love for Russia. One account on Thursday reposted a bizarre claim that the U.S. was stealing humanitarian earthquake relief supplies donated to Syria by China. The account has 60,000 followers and is known as Donbass Devushka, after the region of Ukraine.
Another pro-Russian account recently tried to pick an online argument with Ukraine's defense department, posting photos of documents that it claimed came from the Wagner Group, a private military company owned by a Yevgeny Prigozhin, a key Putin ally. Prigozhin operates troll farms that have targeted U.S. social media users in the past. Last fall he boasted of his efforts to meddle with American democracy.
A separate Twitter account claiming to represent Wagner actively uses the site to recruit fighters.
" Gentlemen, we have interfered, are interfering and will interfere," Prigozhin said last fall on the eve of the 2022 midterm elections in the U.S. "Carefully, precisely, surgically and in our own way, as we know how to do," Prigozhin said at the time.
Add TheJapanNews to your Google News feed.