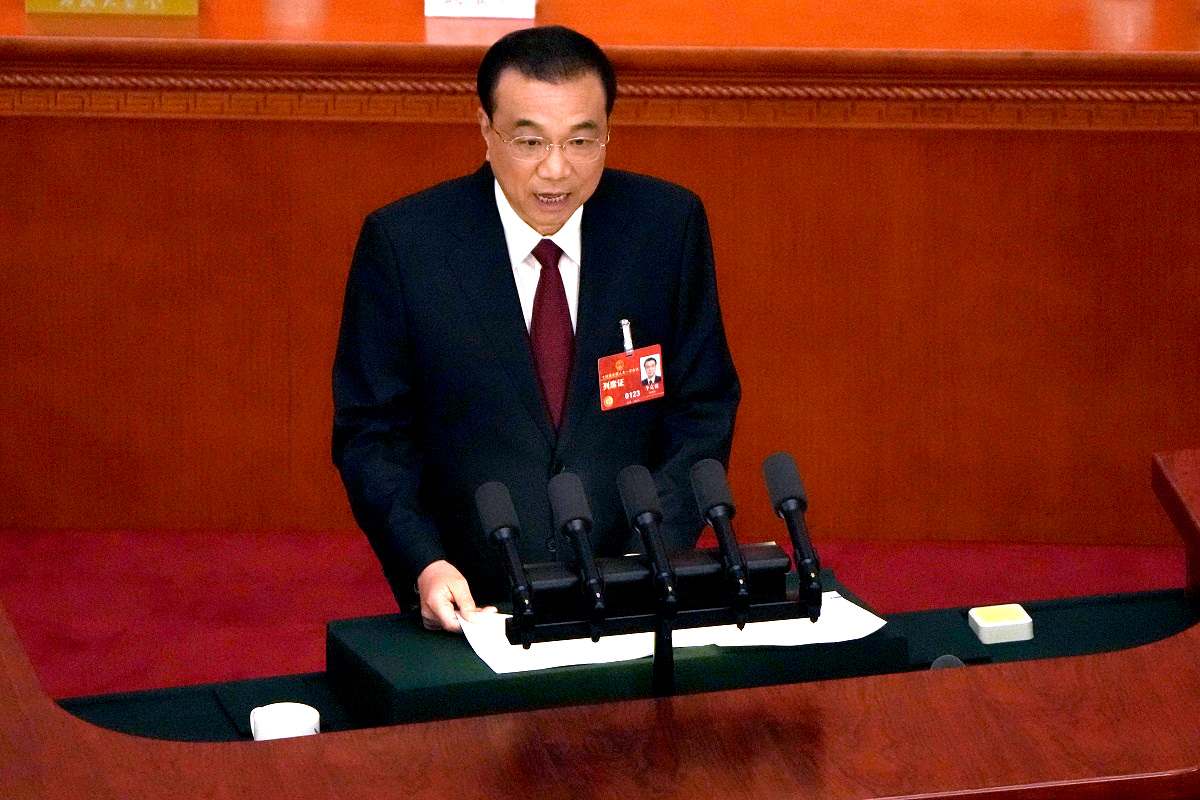 11:37 JST, March 5, 2023
BEIJING (AP) — China's government announced plans to promote a consumer-led revival of the struggling economy as its legislature opened a session Sunday that will tighten President Xi Jinping's control over business and society.
Premier Li Keqiang, the top economic official, set this year's official growth target at "around 5%" following the end of anti-virus controls that kept millions of people at home and triggered protests. Growth last year fell to 3%, the second-weakest level since at least the 1970s.
"We should give priority to the recovery and expansion of consumption," Li said in a nationally televised speech on government plans before the ceremonial National People's Congress in the Great Hall of the People in central Beijing.
The full meeting of the 2,977 members of the NPC is the year's highest-profile event but its work is limited to endorsing decisions made by the ruling Communist Party and showcasing official initiatives.
This month, the NPC is due to endorse the appointment of a government of Xi loyalists including a new premier after the 69-year-old president expanded his status as China's most powerful figure in decades by awarding himself a third five-year term as party general secretary in October, possibly preparing to become leader for life. Li, an advocate of free enterprise, was forced out as the No. 2 party leader in October.
Xi's new leadership team will face challenges ranging from weak global demand for exports and lingering U.S. tariff hikes in a feud over technology and security to curbs on access to Western processor chips due to security fears. Beijing's relations with Washington and its Asian neighbors have been strained by disputes over technology, security and control of the South China Sea.
In his report Sunday, the premier called for accelerating industrial and technology development, an area in which Beijing's state-led efforts have strained relations with Washington and other trading partners. They complain China steals or pressures foreign companies to hand over technology and improperly subsidizes and shields its fledgling competitors in violation of its market-opening commitments.
Xi earlier singled out encouraging jittery consumers and entrepreneurs to spend and invest as a priority at the ruling party's economic planning meeting in December.
Beijing needs to "fully release consumption potential," Xi said, according to a text released last month.
Since taking power in 2012, Xi has promoted an even more dominant role for the ruling party. He has called for the party to return to its "original mission" as China's economic, social and cultural leader and carry out the "rejuvenation of the great Chinese nation."
Xi has crushed dissent, stepped up censorship and control over information, and tightened control over Hong Kong.
Xi's government has tightened control over China's biggest e-commerce and other tech companies with anti-monopoly and data security crackdowns that wiped billions of dollars off their stock market value. Beijing is pressing them to pay for social welfare and official initiatives to develop processor chips and other technology.
That has prompted warnings economic growth will suffer.
Li's report Sunday reinforced the importance of state industry. It promised to support entrepreneurs who generate China's new jobs and wealth but also said the government will "enhance the core competitiveness" of state-owned companies that dominate industries from banking and energy to telecoms and steel.
Li also called for "resolute steps" to oppose formal independence for Taiwan, the self-ruled island democracy claimed by Beijing as part of its territory. He called for "peaceful reunification" between China and Taiwan, which split in 1949 after a civil war, but announced no initiatives.
Taiwan never has been part of the People's Republic of China, but Beijing says it is obligated to unite with the mainland, by force if necessary. Xi's government has stepped up efforts to intimidate the island by flying fighter jets and bombers nearby and firing missiles into the ocean.
Chinese economic growth has struggled since mid-2021, when tighter controls on debt that Beijing worries is dangerously high triggered a slump in the vast real estate industry, which supports millions of jobs. Smaller developers were forced into bankruptcy and some defaulted on bonds, causing alarm in global financial markets.
Longer term, the workforce has been shrinking for a decade, putting pressure on plans to increase China's wealth and global influence.
Consumer spending is gradually recovering, but the International Monetary Fund and some private sector economists forecast growth this year as low as 4.4%, well below the official target.
A measure of factory activity rose to a nine-year high in February. Other measures of activity including the number of subway passengers and express deliveries rose.
A central bank official said Friday real estate activity is recovering and lending for construction and home purchases is rising.
A recovery based on consumer spending is likely to be more gradual than one driven by stimulus spending or a boom in real estate investment. But Chinese leaders are trying to avoid reigniting a rise in debt and want to nurture self-sustaining growth based on consumption instead of exports and investment.
The official in line to become premier is Li Qiang, a former party secretary of Shanghai who is close to Xi but has no government experience at the national level. Li Qiang was named No. 2 party leader in October.
That reflects Xi's emphasis on promoting officials with whom he has personal history and bypassing party tradition that leadership candidates need experience as Cabinet ministers or in other national-level posts.
If achieved, the official growth target would be an improvement over last year but down sharply from 2021's 8.1%.
Last year's slump had global repercussions, depressing Chinese sales of autos and consumer goods and demand for oil, food and other imports. Even after the end of anti-virus curbs, auto sales fell by double digits in January and retail sales contracted.
Entrepreneurs and foreign companies have been rattled by tighter political controls.
Foreign business groups said last year global companies were shifting investment plans away from China because travel curbs blocked executives from visiting the country.
Li, the premier, tried to reassure foreign investors by promising to open Chinese markets wider and repeating previous official pledges to give foreign companies equal treatment with domestic enterprises.
"China is sure to provide even greater business opportunities for foreign companies," he said.
The party has indicated it is winding down regulatory crackdowns on tech companies but has given no sign it is backing off a campaign to tighten political control over them.
Entrepreneurs were shaken anew in mid-February when a star banker, Bao Fan, who was involved in some of the biggest tech deals, disappeared. His company announced last week Bao was "cooperating in an investigation" but gave no details.
Add TheJapanNews to your Google News feed.