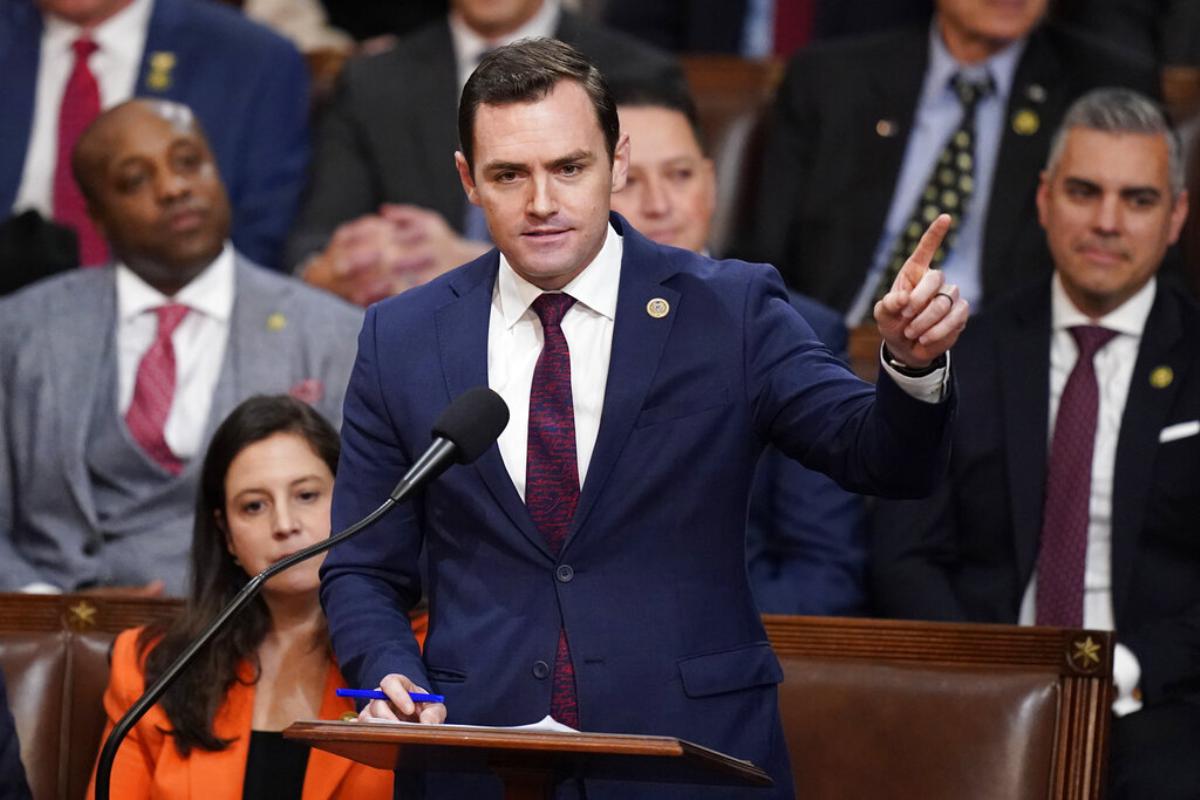 14:43 JST, February 28, 2023
WASHINGTON (AP) — A special House committee dedicated to countering China will make its debut on Tuesday, the opening act in what lawmakers hope will be a robust effort to overcome partisan divisions and address a "generational challenge" to America's national security.
The committee's chairman, Rep. Mike Gallagher, R-Wis., says he's looking to bridge differences rather than exploit them. One of the former Marine's first efforts in that regard will be a hearing focused on informing Americans about what he says is the threat posed by the Chinese Communist Party.
Gallagher has grand visions for the Select Committee on the Chinese Communist Party. He hopes it can shepherd competing bills over the finish line during the next two years and issue a set of recommendations on long-term policies. But as the committee holds its first hearing Tuesday evening in prime time, his first mission will be to communicate to Americans what is at stake.
"We're doing some level-setting here: Why should someone care about the threat posed by the CCP?" Gallagher said. "Or to put it differently, what did we get wrong about the Chinese Communist Party and what do we need to get right about it so as to have a more successful and enduring strategy going forward?"
So far, Gallagher appears to have Democratic buy-in and support. The vote to create the committee was bipartisan, 365-65. Opponents on the Democratic side largely voiced the concern that the committee could stir an even greater rise in anti-Asian hate crimes. Gallagher said he is committed to ensuring the focus is on the Chinese Communist Party, not on the people of China.
"We want to lead with that sort of human rights focused, values-focused agenda," Gallagher said. "And that's an area of unity, too, for a lot of Democrats and Republicans."
Rep. Raja Krishnamoorthi, D-Ill., the ranking Democrat on the committee, said the CCP is counting on lawmakers to be "fractious, divided, partisan and we have to do the opposite."
"We have no choice but to rise to the challenge at this point. It's that serious," Krishnamoorthi said.
Rep. Ro Khanna of California, another Democrat on the committee, said he expects Gallagher will set a sobering tone.
"The hope is that Congress can still rise to a generational challenge, and that is getting our China policy correct," Khanna said. "And there are areas that can be bipartisan, from bringing good jobs back to making sure we're deterring any invasion in the Taiwan Strait."
The witnesses for Tuesday's hearing includes two former advisers to President Donald Trump: Matthew Pottinger, the deputy national security adviser who resigned immediately after the Jan. 6, 2021, insurrection at the U.S. Capitol; and H.R. McMaster, who was national security adviser from February 2017 to April 2018.
McMaster is no stranger to testifying about the threats he sees from China. He has warned Congress that the U.S. clung too long to the idea that China would liberalize its economy and form of governance as it was welcomed into international systems like the World Trade Organization.
He has recommend the U.S. not engage in trade or investment that transfers sensitive technology the CCP can use to gain military and economic advantages. He also has testified the U.S. should not do business in China in a way that helps the CCP stifle freedom and perfect its technology-enabled police state.
Tong Yi, a Chinese human rights advocate, will amplify those concerns at the hearing. She was arrested in the 1990s after serving as an interpreter to a leading dissident who had urged the U.S. to condition trade on China's human rights performance. She spent nine months in detention before being handed a two-and-half year sentence for "disturbing social order" and sent to a labor camp, where she said authorities organized other inmates to beat her up.
"In the U.S., we need to face the fact that we have helped feed the baby dragon of the CCP until it has grown into what it now is," she said in prepared remarks provided to The Associated Press. "Since the 1990s, U.S. companies have enriched themselves by exploiting cheap labor in China and have, in the process, also enriched the CCP."
Scott Paul, president of an alliance formed by some manufacturing companies and the United Steelworkers labor union, will testify that "51 years of wishful thinking by American leaders" has failed to alter the dynamic that the CCP represents a "clear and present danger to the American worker, our innovation base, and our national security."
The reaction to a suspected Chinese spy balloon in the U.S. earlier this month demonstrates the political tightrope that lawmakers will walk to prevent the committee from becoming a dividing force rather than a uniting one. Republicans were highly critical of the Biden administration for not shooting down the balloon days earlier than it did, while Democrats defended Biden and stressed that he followed the military's recommendation on when to take it down.
Gallagher said he suspects there are at least 10 pieces of legislation that the committee can endorse in a bipartisan fashion. Still, he said the members will be looking for support from House Speaker Kevin McCarthy before it backs any legislation. One of the biggest challenges is that jurisdiction over the issues involving China is spread across numerous committees and members of those committees will want a say.
"I think we can play a constructive coordinating function between the committees to ensure that good ideas don't die just because of some committee's cracks or they get referred to multiple committees," Gallagher said.
An example of such an issue is a proposed ban on the purchase of farmland by entities affiliated with the CCP. He said about 10 bills have already been filed to enact that sort of ban.
"That's a perfect of example of why this committee exists, because without it, you just have 10 individual members working in isolation and not necessarily cooperating, and thereby increasing the likelihood that this issue never gets addressed," Gallagher said.
"So, we can, on behalf of the speaker, weigh all these various proposal and see if we can get the members who have the bills to agree on one approach and then work it through the committee process and get it passed on the floor," he said.
Add TheJapanNews to your Google News feed.