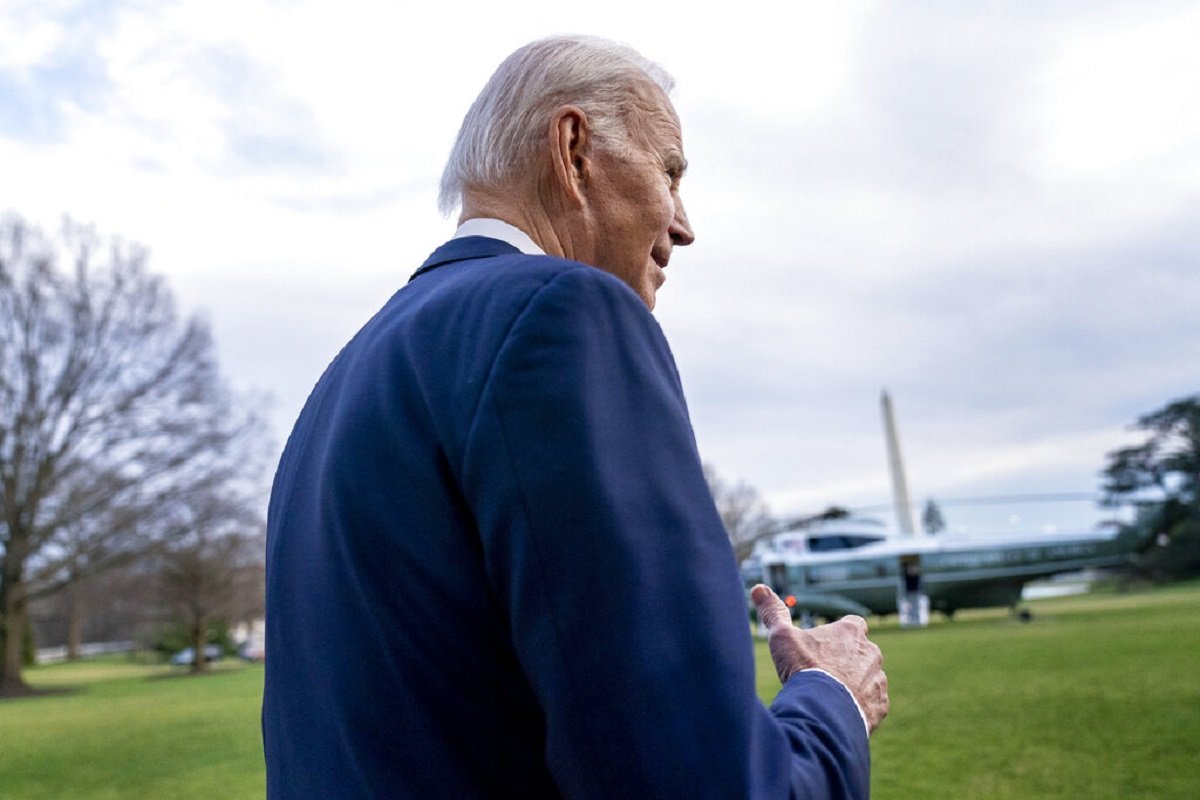 10:56 JST, February 25, 2023
WASHINGTON (AP) — The Biden administration declared its Ukraine solidarity with fresh action as well as strong words on Friday, piling sweeping new sanctions on Moscow and approving a new $2 billion weapons package to re-arm Kyiv a year after Russia's invasion.
Despite the U.S. and allies' continued ambitious efforts to bolster the Ukrainians, there are no signs of an endgame in the war, which seems destined to enter an even more complicated phase in the months ahead.
On the somber anniversary, Biden and fellow leaders from the Group of Seven allies that have been at the forefront of backing Ukraine stayed focused on a unified front.
"Our solidarity will never waver in standing with Ukraine, in supporting countries and people in need, and in upholding the international order based on the rule of law," the G-7 leaders said in a joint statement after a virtual meeting with Ukrainian President Volodymyr Zelenskyy.
As Ukraine mourned its war dead and vowed it would ultimately emerge victorious, the Pentagon unveiled its latest weapons package. It includes more ammunition, electronic warfare detection equipment and other weapons to counter Russia's unmanned systems, and several types of drones, including the upgraded Switchblade 600 Kamikaze attack drone.
The latest aid package uses the Ukraine Security Assistance Initiative to provide funding for longer-term contracts to buy weapons and equipment. Unlike the presidential drawdown authority that the Pentagon has used repeatedly over the past year to pull weapons from its own stocks and quickly ship them to Ukraine, the USAI-funded equipment could take a year or two to get to the battlefront. As a result, it will do little to help Ukraine prepare for an expected new offensive in the spring.
"Difficult times may lie ahead, but let us remain clear-eyed about what is at stake in Ukraine," U.S. Defense Secretary Lloyd Austin said, "to ensure that a world of rules and rights is not replaced by one of tyranny and turmoil."
Biden said in an ABC News interview on Friday that he's not ready to send F-16 fighter jets to Ukraine. Zelenskyy has been pressing the U.S. and allies for jets, but White House officials have pushed back that they are not the weaponry that Ukrainians need in the near term.
"There is no basis on which there is a rationale, according to our military now to provide F-16s," Biden said. "I am ruling it out for now."
Meanwhile, the White House said that new sanctions hitting over 200 people and entities will "further degrade Russia's economy and diminish its ability to wage war against Ukraine." The Biden administration will also further restrict exports to Russia and raise tariffs on some Russian products imported to the U.S.
"Now, not only does Ukraine stand, but the global coalition in support of Ukraine is stronger than ever, with the G7 as its anchor," Biden said on Twitter following Friday's virtual meeting with Zelenskyy.
Still, as the conflict enters a second year, there are no indications that President Vladimir Putin will retreat from the conflict. And the avalanche of international sanctions that have been steadily hoisted on Moscow over the past year have yet to deliver the sort of knockout blow to the Russian economy that the White House — and independent economists — predicted at the outset of the war.
The Russian economy has weathered sanctions better than expected in 2022, in part due to "the slow introduction of commodities sanctions," according to a Moody's Investors Service report on Friday.
The Russian economy is expected to weaken in 2023, with GDP shrinking by 3% this year, according to the Moody's projection. The economy shrank 2.2% in 2022, far short of predictions of 15% or more that Biden administration officials had showcased at the start of the war. Export controls and financial sanctions are gradually eroding Russia's industrial capacity, but oil and other energy exports last year enabled Putin to keep funding the war.
White House National Security Council spokesman John Kirby acknowledged that Russia's economy was "showing some resilience" but he also said it's not clear that it "can be sustained for the long haul."
Of Putin, he said, "He has had to take some drastic measures to prop up his economy, to prop up his currency, including playing pretty aggressively with interest rates for instance."
The new sanctions introduced by U.S. Treasury on Friday hit Russian firms, banks, manufacturers and individuals, taking aim at entities that helped Russia evade earlier rounds. Russia's metals and mining sector are among those targeted in what Treasury called one of the "most significant sanctions actions to date."
Treasury Secretary Janet Yellen, attending meetings in India on Friday with fellow financial chiefs of the Group of 20 leading economies, called out Russian officials in attendance and insisted the world's biggest economies must do more to support Ukraine.
"I urge the Russian officials here at the G-20 to understand that their continued work for the Kremlin makes them complicit in Putin's atrocities," Yellen said. "They bear responsibility for the lives and livelihoods being taken in Ukraine and the harm caused globally."
The U.S. State and Commerce departments as well as the Office of the U.S. Trade Representative also issued plans Friday to increase pressure on Russia. These steps impose visa restrictions on 1,219 members of the Russian military, increase tariffs on Russian products such as metal, worth roughly $2.8 billion, and add nearly 90 Russian and third-country companies, including from China, to a list of identified sanctions evaders.
More than 30 countries representing more than half the world's economy have already imposed sanctions on Russia, making it the most sanctioned nation in the world.
The sanctions have imposed price caps on Russian oil and diesel, frozen Russian Central Bank funds and restricted access to SWIFT, the dominant system for global financial transactions.
The U.S. and allies have directly sanctioned roughly 2,500 Russian firms, government officials, oligarchs and their families. The sanctions are depriving them of access to their American bank accounts and financial markets, preventing them from doing business with Americans, traveling to the U.S. and more.
By Friday afternoon, the Paris-based Financial Action Task Force, an international standard-setting body on illicit finance, suspended Russia from its membership. The removal occurred for the first time in the body's 34-year history.
Britain also announced new sanctions Friday on firms that supply Russia's battlefield equipment and says it will bar export to Russia of all items it has used in the war, such as aircraft parts, radio equipment and electronic components of weapons.
"We don't think the job is by any means done," Britain's Treasury chief Jeremy Hunt said.
Add TheJapanNews to your Google News feed.