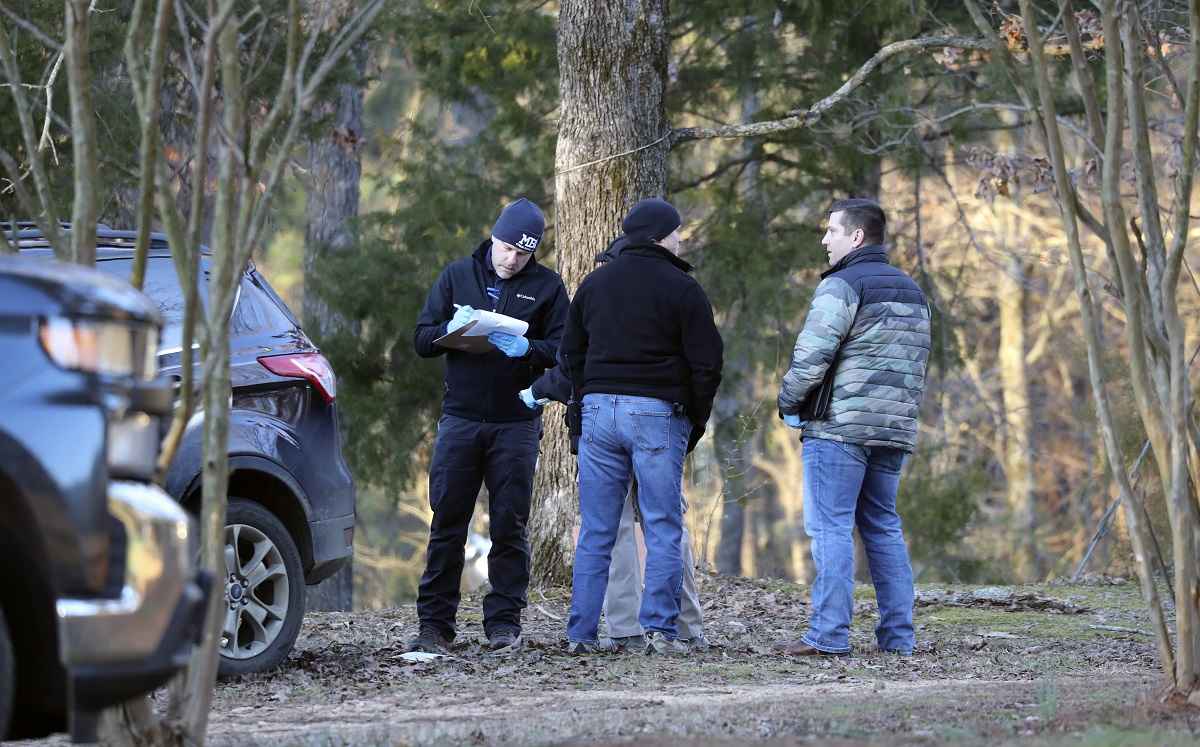 18:17 JST, February 19, 2023
ARKABUTLA, Miss. (AP) — A lone gunman killed six people including his ex-wife and stepfather Friday at multiple locations in a tiny rural community in northern Mississippi, the sheriff said, leaving investigators searching for clues to what motivated the rampage.
Armed with a shotgun and two handguns, 52-year-old Richard Dale Crum, who a family friend said had a history of mental illness, opened fire at about 11 a.m. and killed a man in the driver's seat of a pickup truck parked outside a convenience store in Arkabutla, near the Tennessee state line, Tate County Sheriff Brad Lance said.
Deputies were working the crime scene when a second 911 call alerted authorities to another shooting a few miles away. After arriving at a home, they found a woman, whom the sheriff identified as Crum's ex-wife, shot dead and her current husband wounded.
Lance said deputies caught up with Crum outside his own home and arrested him. Behind the residence they found two handymen slain by gunfire — one in the road, another in an SUV. Inside a neighboring home, they discovered the bodies of Crum's stepfather and his stepfather's sister.
Everybody has crime, and from time to time we have violent crime, but certainly nothing of this magnitude, Lance said in an interview. He added: "Without being able to say what triggered this, that's the scary part."
Crum, 52, was jailed without bond on a single charge of capital murder, and Lance said investigators were working to bring additional charges. It was not immediately known if Crum had an attorney who could speak on his behalf.
That initial murder charge was for the killing of Chris Eugene Boyce, 59, the man who was shot outside the store. Boyce's brother was in the truck with him at the time and fled, according to the sheriff. Lance added that Crum chased the brother through a wooded area before he escaped unharmed.
Deputy Tate County Coroner Ernie Lentz identified the others killed as Debra Crum, 60; Charles Manuel, 76; John Rorie, 59; George McCain, 73; and Lynda McCain, 78. Lentz also said Boyce was from Lakeland, Florida.
Ethan Cash, who lives near the store, told WREG-TV he heard a gunshot from inside his house.
I had just woken up and I look back here, and I see dude walking back here with a shotgun, he said.
Cash added that he went to the scene and found one person who had been shot. He checked for a pulse, but found none.
In the lobby of the Sheriff's Office, Norma Washington told The Associated Press that Boyce was her nephew. She said he and the brother, Doug, who lives in Alaska, had been in town cleaning up a property they inherited from their deceased uncle.
I lost my brother, and now this one, Washington said. "This has been something else."
It was unclear whether Crum knew either of the brothers.
Ashley McKinney, a 38-year-old from Memphis, Tennessee, dated Debra Crum's son, Sid Furniss, when the two were teens and has remained friends with the family ever since.
She recalls when Debra Crum started dating Richard Dale Crum. At first all was well, but then signs of Richard Dale Crum's mental illness became apparent, with him suddenly imitating the moves of Hong Kong action star Jackie Chan. Sometimes he even had swords.
He ain't never been right, McKinney said.
Debra Crum was hopeful that the psychiatric facilities could fix him. But eventually she grew uncomfortable working her overnight shifts at the Waffle House restaurant alone, unsure what Richard Dale Crum would do, and asked McKinney to keep her company.
McKinney had no knowledge he was physically abusive, saying, "I don't know how to put it other than that he wasn't all there."
She said that Richard Dale Crum largely worked odd jobs, like cutting firewood. McKinney said he told Debra Crum that when he qualified for disability that he would leave her. And that is exactly what happened, said McKinney, adding that he was living with his stepfather.
Debra Crum had survived breast cancer and was getting ready to undergo surgery in March for another medical condition. But McKinney said she was the "sweetest person" and happy with her fiancé.
The killings stunned residents of Arkabutla, home to 285 people and located about 30 miles (50 kilometers) south of Memphis, Tennessee. It's the hometown of famed actor James Earl Jones, and nearby Arkabutla Lake is a popular fishing and recreational destination.
An elementary school and a high school in nearby Coldwater both went on lockdown while the suspect was being sought, according to the Coldwater Elementary School Facebook page. A short time later, a second post on the page said the lockdown had been lifted and "all students and staff are safe."
April Wade, who lives in Arkabutla and grew up in Coldwater, said both are small communities where most people know each other, "but if you don't, you know somebody who knows somebody."
Speaking from a local tire store in the afternoon, Wade said she and her husband were aware of the shootings but had not yet heard the names of the suspect or victims.
I think it's crazy, Wade said. "You do not expect something like that to happen so close to home."
The Bureau of Alcohol, Tobacco, Firearms and Explosives said its agents were providing assistance to the sheriff's department and state investigators. Lance said one of their top priorities was to determine a motive.
The sheriff, who has lived in the area his entire life and served in law enforcement for 25 years, said he could recall no prior problems with Crum.
The U.S. has seen a deadly start to 2023, including six mass killings in a three-week period in January, according to an Associated Press/USA Today database. It defines a mass killing as four or more people dead, not including the perpetrator.
There have also been a number of mass shootings in which fewer people were slain, such as Monday's shooting at Michigan State University in which three people were killed and five were wounded.
In a statement, President Joe Biden said he and first lady Jill Biden were mourning the six victims and praying for the survivors. He urged Congress to act now on gun law reforms to address what he called "an epidemic" of gun violence.
Add TheJapanNews to your Google News feed.