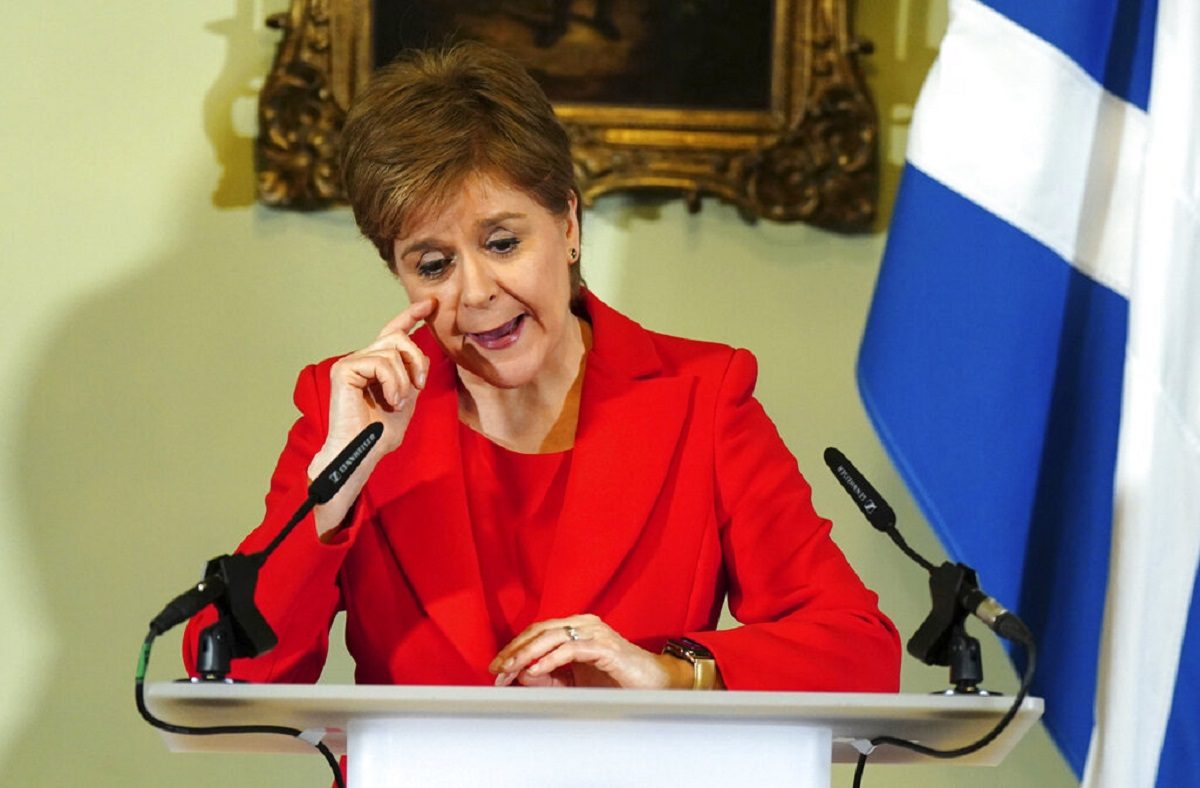 13:06 JST, February 17, 2023
LONDON (AP) — Scotland's independence movement needs a new leader — and a new plan.
With the resignation of First Minister Nicola Sturgeon, the decades-long campaign by Scottish nationalists to secede from the United Kingdom is losing its star politician and strongest communicator, at a time when efforts to hold a new vote on independence are at an impasse.
The Times of London said Thursday that Sturgeon's departure was a "huge boost to unionism," and a "generational setback" to the independence cause. Financial Times columnist Robert Shrimsley said simply: "Nicola Sturgeon ran out of road."
Sturgeon took the U.K. by surprise when she announced her resignation on Wednesday after eight years in office, saying she knew "in my head and in my heart" it was time to leave.
She will remain first minister for several more weeks while the Scottish National Party picks a new leader, a job for which there is no clear favorite. Potential successors include Angus Robertson, a Sturgeon ally who serves as Scotland's constitution secretary, Finance Secretary Kate Forbes and Health Secretary Humza Yousaf. But none of the contenders has Sturgeon's profile or proven political skills.
Voting for the new party leader will open March 12 and close March 27.
Whoever wins will have to find a way to break the independence logjam. Scottish voters opted by 55% to 45% to remain in the U.K. in a 2014 referendum that was billed as a once-in-a-generation decision.
Sturgeon took power in the wake of that defeat and tried to forge a path to a second vote. Brexit looked like it might give her a chance: The U.K. as a whole backed leaving the European Union in a 2016 referendum, but voters in Scotland strongly favored remaining. Sturgeon argued that Brexit had made a new referendum essential because it had dragged Scotland out of the European Union against its will.
But a binding referendum needs agreement from the U.K. government, and the Conservative administration in London has refused to grant one.
Sturgeon ruled out emulating Catalan separatists in Spain and holding an unauthorized vote, a decision that struck some independence supporters as too cautious.
Instead she unsuccessfully challenged the British government at the Supreme Court for the right to hold a new referendum. Then she said she would use the next U.K. national election, due by 2024, as "de facto" plebiscite on independence — though it was unclear exactly how that would work.
The SNP on Thursday postponed a special conference on its independence strategy that had been set for March 19,
Recent polls suggest Scots are about evenly split on the issue of independence. John Kampfner of think tank Chatham House said that with Sturgeon gone it's possible "some of the air has gone out of the bubble" of the independence movement.
He said that momentum could weaken even more if the opposition Labour Party wins the next U.K. election, due by 2024, as polls currently suggest it will. He said Labour leader Keir Starmer is a more appealing figure to many Scots than "very English, divisive and right-wing" former Prime Minister Boris Johnson, Sturgeon's long-time antagonist.
Sturgeon exits without fulfilling her dream of leading Scotland to independence, but leaves a large, and contested, legacy. Scotland's first female leader refashioned the SNP from a largely one-issue party into a dominant governing force with liberal social positions. Her departure brought praise from Nancy Pelosi — who hailed her "strong, values-driven leadership" — and a jibe from Donald Trump, who bid "Good riddance to failed woke extremist Nicola Sturgeon of Scotland!"
Admirers praised her calm, measured public communications during the coronavirus pandemic — a contrast to Johnson's erratic bluster.
But Sturgeon's plan to make it easier for people in Scotland to legally change their gender caused a storm inside the party that may have hastened her decision to leave.
Scotland's gender recognition bill would allow people aged 16 or older to change the gender designations on identity documents by self-declaration, removing the need for a medical diagnosis of gender dysphoria.
Hailed as a landmark by transgender rights activists, the legislation faced opposition from some SNP members who said it ignored the need to protect single-sex spaces for women, such as domestic violence shelters and rape crisis centers.
What to do about the bill — which has been passed by the Scottish parliament but blocked by the U.K. government — will be another challenge for Sturgeon's successor. Some in the party strongly support it, while others see it as a distraction from the party's main goal: independence.
Some have already left to join Alba, the rival party formed in 2021 by former First Minister Alex Salmond, Sturgeon's now-estranged friend and mentor.
John Curtice, professor of politics at the University of Strathclyde, said "the $64,000 question is" whether the party can find a leader with "the public impact and rhetorical skill" of Salmond and Sturgeon.
"The SNP needs more than just a competent first minister. It needs a campaigning politician who can move the dial on the independence debate. That's the big question mark," he told Times Radio.
Add TheJapanNews to your Google News feed.