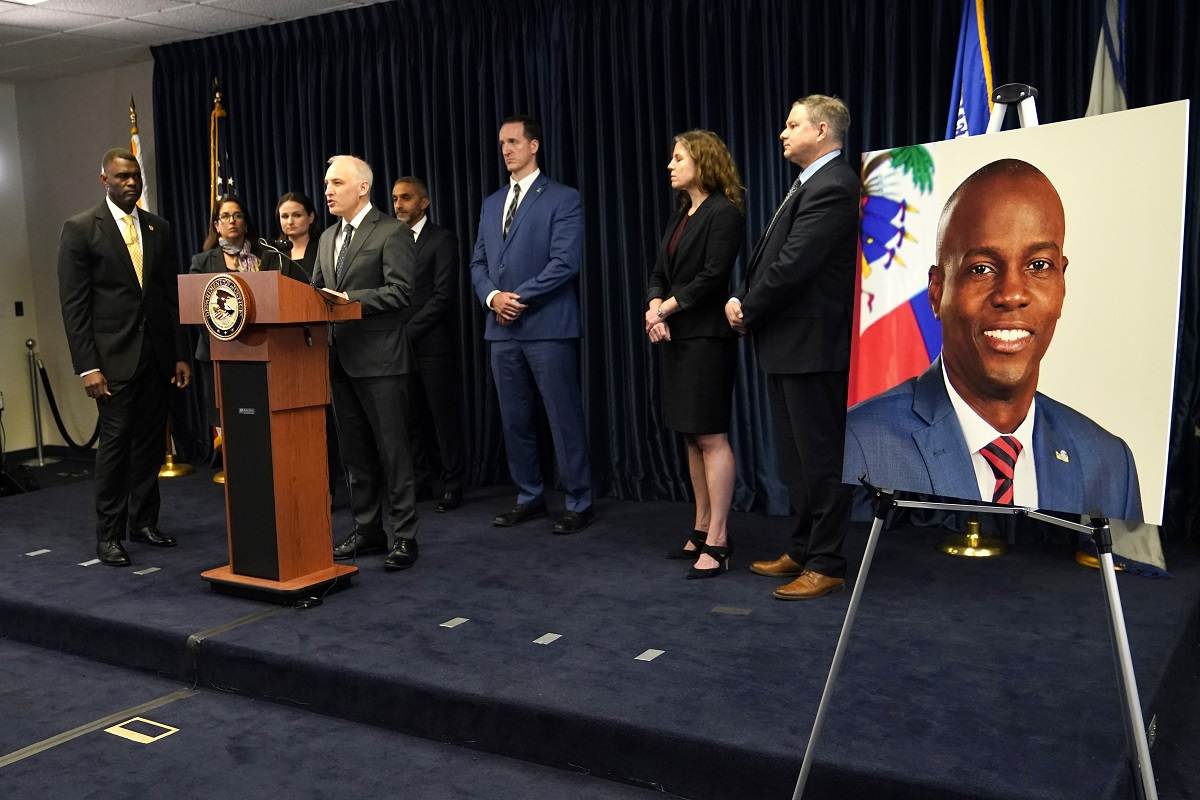 7:39 JST, February 15, 2023
MIAMI (AP) — U.S. authorities have arrested four more people in the slaying of Haitian President Jovenel Moïse, including the owner of a Miami-area security company that hired ex-Colombian soldiers for the mission, prosecutors announced Tuesday.
The squad of former Colombian soldiers are among dozens of suspects who carried out the July 2021 attack that authorities say originally was envisioned to be a coup rather than an assassination. The plotters had hoped to reap lucrative contracts under a new administration once Moïse was out of the way, investigators allege.
"This was both a human tragedy and an assault on core democratic principles," said Assistant U.S. Attorney Matthew G. Olsen.
Antonio "Tony" Intriago, 59, a Venezuelan-American who owned CTU Security that hired the Colombians, is charged with conspiracy to kill or kidnap a person outside the U.S. among other charges. CTU company representative Arcangel Pretel Ortiz, 50, a Colombian-born resident of the U.S., faces the same charges.
Florida-based U.S. financier Walter Veintemilla, 54, of Weston, Fla., is accused of funding the operation. A fourth suspect, Frederick Joseph Bergmann Jr., 64, of Tampa, is accused of smuggling goods including 20 CTU-branded ballistic vests disguised as medical X-ray vests and school supplies.
Intriago was known among plotters as "The General" and Pretel as "Colonel Gabriel," according to authorities.
Tama Kudman, Veintemilla's attorney, told The Associated Press that he would plead not guilty to both charges.
Claude Joseph, who was serving as prime minister when Moïse was killed, cheered the announcement. "Justice must prevail," he tweeted.
A total of 11 suspects are now in U.S. custody, including key players like James Solages and Joseph Vincent, two Haitian-Americans who were among the first arrested after Moïse was shot 12 times at his private home in July 2021. Other suspects include Christian Emmanuel Sanon, a pastor and failed businessman whose associates have suggested was duped by the plotters.
A power vacuum following the assassination has allowed gangs in Haiti to gain more power and control more territory, with experts estimating that they control 60% of Port-au-Prince. A spike in kidnappings, rapes and killings have prompted Prime Minister Ariel Henry to demand the immediate deployment of foreign troops. But the request in October has gone unheeded by the U.N. Security Council, which has opted to implement sanctions so far.
Federal authorities said that in April 2021, Veintemilla's company, Worldwide Capital Lending Group, provided CTU with a $175,000 line of credit.
"By that time, the men planned to foment a public uprising aimed at ousting President Moise and installing Sanon as president," charging documents say.
Authorities said that Intriago, Ortiz and Veintemilla expected to "reap significant financial benefits" if Sanon became president via anticipated contracts for infrastructure, military equipment and the provision of security forces.
Also in April, Ortiz and others met with the FBI and unsuccessfully tried to draw them into "a discussion about regime change in Haiti."
Around that time, Ortiz told Solages that "the current president is the thief…delete the messages that could compromise you in case of being captured." Ortiz also sent a text message to another suspect, Colombian citizen Germán Rivera García, with a photo of a whiteboard sketch of an assault plan including "snipers" and "10 warrior-neutralizers," according to court documents.
The suspects had used coded language like "screws" and "nails" for ammunition and "tools" or "instruments" for firearms, with Veintemilla providing $15,000 to Solages to buy ammunition and $250,000 for armored vests, authorities said.
Authorities have said that the original plan was to detain Moïse, force him onto a plane and whisk him to an unidentified location, but that plot crumbled when suspects couldn't find a plane or sufficient weapons, according to court documents.
Sanon, who envisioned himself as Haiti's new leader, was supposed to seize power, but some suspects soon favored a former Haitian Supreme Court judge to take over instead. Ortiz, Intriago, Veintemilla and others realized that "Sanon had neither the constitutional qualifications nor the popular support of the Haitian people to become president," according to court documents.
Police say the judge remains a fugitive.
A day before the killing, Solages falsely told other suspects that it was a CIA operation and that the real mission was to kill the president. Shortly before Moïse was killed, Solages yelled that it was supposedly a DEA operation so that the president's security detail would comply.
Also detained are former Haitian Sen. John Joël Joseph, who had fled to Jamaica, and former U.S. government informant and Haitian businessman Rodolphe Jaar, who was extradited from the Dominican Republic.
As the U.S. investigation pushes forward, the probe in Haiti is nearly idle. Three judges have stepped down from the case amid fears of reprisals and a fourth one was dismissed. Meanwhile, no court hearings have been held yet for the more than 40 suspects arrested in Haiti, with many of them including 18 Colombian soldiers languishing in a severely overcrowded jail in Port-au-Prince that often lacks food and water.
The situation has angered and frustrated the president's widow, Martine Moïse, who lashed out in a 13-minute video she posted earlier this month, noting that things have worsened in Haiti since the assassination.
"It's a huge crime that happened against the nation," she said. "Where is the mother law of the country, where are the people, where is the democracy?"
Add TheJapanNews to your Google News feed.