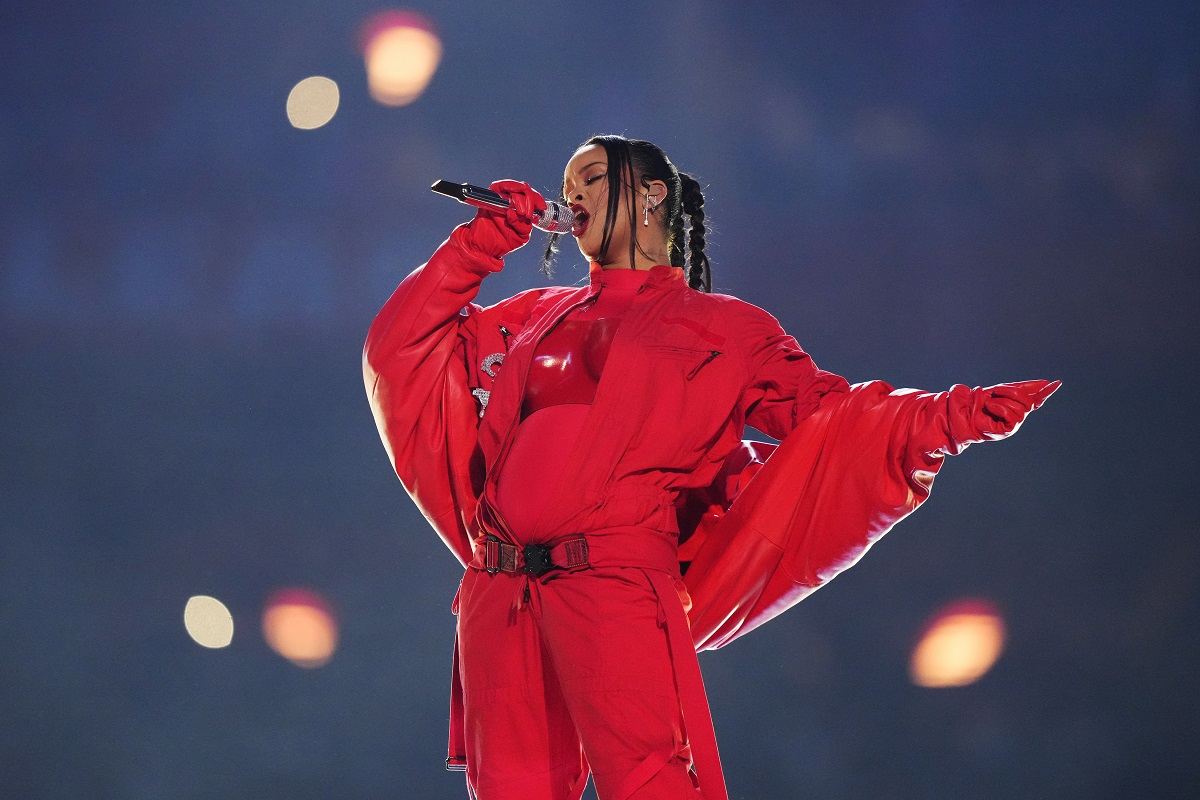 11:00 JST, February 14, 2023
NEW YORK (AP) — When one becomes a mother, Rihanna mused before her epic Super Bowl halftime show, "there's something that just happens where you feel like you could take on the world — you can do anything."
And so she did Sunday, on one of the biggest stages in the world. Live. Just about nine months after giving birth to her first child, a boy (whose name hasn't yet been revealed), with A$AP Rocky.
While haters and stans debate Rihanna's performance, some of the former trashing the show overall, she joins a contingent of famous women to capture a cultural moment with a pregnancy reveal.
And she did it while floating on a platform, in a fire-engine-red boiler suit zipped strategically down to reveal her substantial bump. Underneath was a matching bodysuit with a leather breastplate tied on.
She did it wearing three vintage diamond brooches, in a pair of low sneakers. And halfway through, she did it in a huge red puffer coat and matching gloves.
To her navy, she shined like a diamond.
Rihanna didn't talk about the pregnancy before the Super Bowl. Instead, she focused on the decision to spend time away from her son for the first time, and how difficult that was. If she was going to leave her baby to perform, she said, she was going to do it for something big.
That alone turned the pre-Super Bowl discourse to working mothers, without her even mentioning she was having another child.
Rihanna fans were having none of it when it came to criticism of her performance.
"What I don't wanna hear, and def not from ANY MAN was that Rihanna didn't do enough during her #Superbowl performance. Y'all get a cold and you'll think the Bubonic Plague got you. This woman is pregnant, performed and danced for 13 mins while suspended in the air," tweeted the writer Luvvie Ajayi Jones.
Added actor and writer Danielle Pinnock on Twitter: "My girl was pregnant and y'all still not happy with the performance?! The internet is wild. Preggers and probably swollen AF, Rihanna gave us choreography in the sky, dancers that look like the Michelin men, hit after HIT all while pregnant! Go AWF sis!"
To be clear, women the world over have worked while pregnant since the beginning of time. So while social media sorts its feelings on Rihanna's show, here's a quick look back on a few other pregnancy reveals that played out while the expectant mothers were essentially at work.
KEKE PALMER
Palmer did it during her opening monologue Dec. 3 while hosting "Saturday Night Live." She got right down to baby business.
"There's some rumors going around, people have been in my comments saying, 'Keke's having a baby, Keke's pregnant,'" she said. "And I wanna set the record straight — I am!"
Palmer unbuttoned her long, roomy brown coat and slightly pushed down her trousers to proudly reveal her exposed bump under a matching crop top.
She's currently expecting her first child, with boyfriend Darius Jackson.
BEYONCÉ
Palmer's style move, according to Vogue, was "not dissimilar" to Beyoncé's famous pregnancy reveal with eldest Blue Ivy at the 2011 MTV VMAs.
After performing, a huge smile on her face, she dropped her mic (in the truest sense), unbuttoned her bedazzled purple blazer and stroked her belly under black trousers to massive cheers.
For the twins Sir and Rumi, Bey took to Instagram to announce, wearing a long veil and kneeling in front of a floral display in lingerie while holding her bump.
KATY PERRY
Perry and Orlando Bloom welcomed their first child together , Daisy Dove, in August 2020 after she announced her pregnancy that March in a music video for "Never Worn White."
And Perry did it, yes, in white, while stroking her bump and singing about her love for Bloom. She later confirmed the pregnancy on social media.
"omg so glad I don't have to suck it in anymore," Perry tweeted.
Bloom has a son, Flynn, with his ex-wife, Miranda Kerr.
JASMINE TOOKES
Many others have leaned on Instagram to spread the baby word to their millions of followers
The model did it in a series of Old Hollywood black-and-white video clips with husband Juan David Borrero on Nov. 22.
Wearing a creamy, elegant gown, Tookes caressed her bump and exposed the behind-the-scenes underpinnings of the pregnancy shoot, including projecting her own image on a computer screen in one clip. Another had Borrero embracing her from behind.
ZAWE ASHTON
Ashton was solo when she attended the "Mr. Malcolm's List" premiere last June, walking the red carpet in a tan, floor-length gown that showcased her bump.
Fiance Tom Hiddleston didn't attend, but the reveal came two weeks after Hiddleston confirmed he popped the question. Ashton, who played Julia Thistlewaite in the period drama, was accompanied by co-stars Theo James, Freida Pinto, Ṣọpẹ́ Dìrísù and Siânad Gregory.
News outlets confirmed in October that the couple welcomed their child, but no name has been publicly announced.
Add TheJapanNews to your Google News feed.