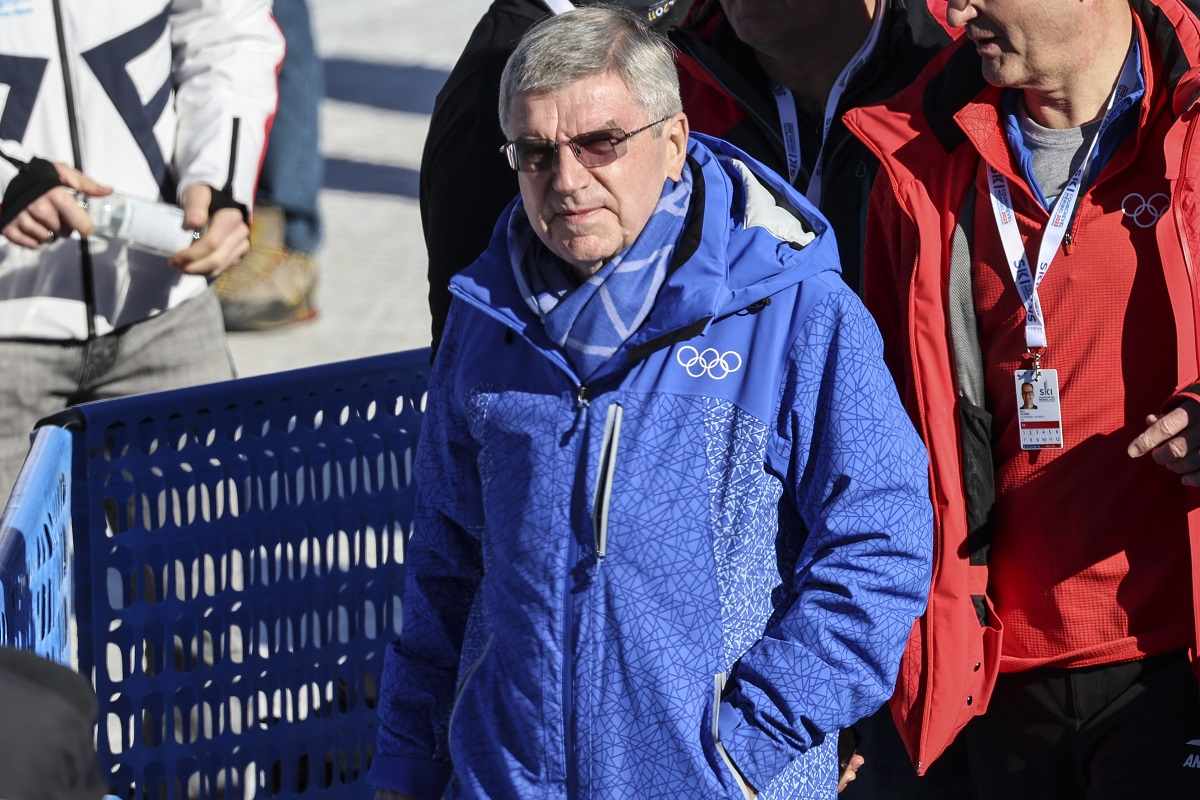 10:48 JST, February 13, 2023
COURCHEVEL, France (AP) — Insisting sports had to respect the human rights of all athletes, International Olympic Committee president Thomas Bach on Sunday denied that the organization was on the wrong side of history by helping Russians and Belarusians qualify for the 2024 Paris Summer Games.
Bach and the IOC have faced a widespread backlash from Ukraine and its allies, including comments directed at him by Ukrainian President Volodymyr Zelenskyy, since setting out a path last month for some athletes from Russia and Belarus to return to international competition despite the war waged by their countries.
Asked Sunday at the Alpine skiing world championships if the IOC could be on the wrong side of history, Bach dismissed the suggestion.
"No, history will show who is doing more for peace. The ones who try to keep lines open, to communicate, or the ones who want to isolate or divide," the IOC leader said.
"We have shown this in the past with great success in the Olympic movement," Bach said, pointing to the examples of North and South Korea, Israel and Palestine, and Kosovo. "Our role is bringing people together."
Bach spoke with international media ahead of the men's downhill, the marquee race in a sport from which Russians and Belarusians were excluded since the war started last February. Ivan Kovbasnyuk was the only Ukrainian skier taking part.
Kovbasnyuk told The Associated Press earlier at the championships no Russians should be allowed at Paris, echoing comments by Ukrainian Olympic medalists including boxer Wladimir Klitschko, high jumper Yaroslava Mahuchikh and tennis player Elina Svitolina.
"Russia is killing my people. Not good situation for Olympic Committee," Kovbasnyuk said in Courchevel.
Bach spoke Sunday of his support for "every Ukrainian athlete. We can from a human point of view understand their reactions, we share their suffering."
"Every Ukrainian athlete can be rest assured that we are standing in full solidarity with them and that all their comments are taken very, very seriously into consideration," he said.
The IOC has cited advice from United Nations human rights experts that banning athletes on the basis of their passport would be discrimination.
Germany and Japan were not invited to the 1948 London Olympics after they were the aggressors in World War II and South Africa was excluded from 1964-88 because of its racist Apartheid laws.
"The IOC being committed to human rights, like the international sports federations, has of course to address these serious concerns," Bach said Sunday, adding Olympic sports had a "unifying mission of bringing people together" amid other wars across the world.
Olympic leaders have set out a path for athletes from Russia and Belarus who have not actively supported the war to try to qualify and compete as "neutral athletes" without a national identity such as team uniforms, flags and anthems. Governing bodies of each Olympic sport must decide if and how athletes could compete.
But Zelenskyy told a summit of sports officials from 36 countries Friday that Russian athletes have "no place" in Paris while the invasion of Ukraine continues.
"Unfortunately, what they have not addressed, at least so far as we can see, are these human rights concerns," Bach said Sunday. "There, we don't have an answer but we have to take it seriously."
Political leaders of Ukraine's nearby allies in Poland and the Baltic states have said there could be Olympic boycotts if the IOC forges ahead with its plan. Any country that boycotts Paris will likely have their national Olympic body suspended by the IOC.
Paris Mayor Anne Hidalgo, who visited Kyiv last week, has also said Russian and Belarusian athletes should be barred from the Olympics in her city if the war is still going on by then.
Asked Sunday about Zelenskyy's recent invitation to Bach in a nightly video address to visit Bakhmut at the front line of fighting, the IOC president said: "I have seen a tweet but there have been no ongoing discussions."
Add TheJapanNews to your Google News feed.