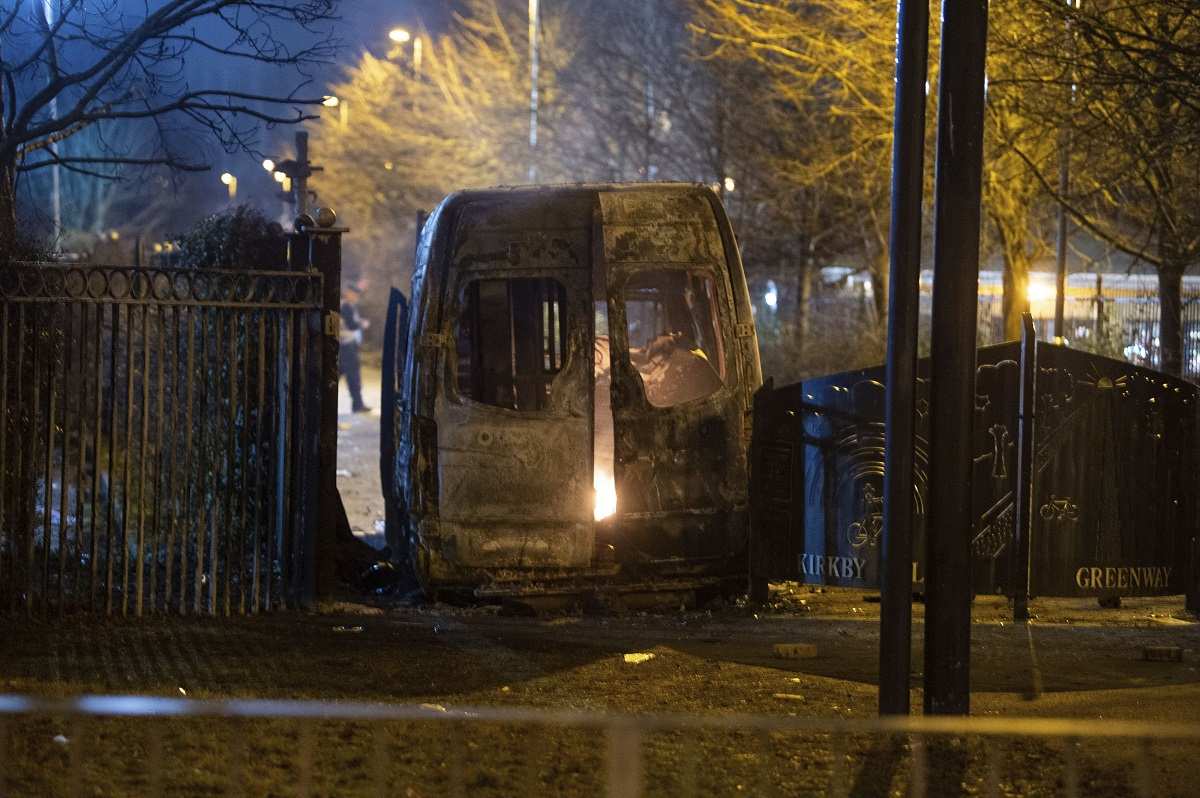 11:52 JST, February 12, 2023
LONDON (AP) — An anti-migration protest outside a hotel housing asylum-seekers in northwest England turned violent and resulted in the arrests of 15 people, local police said Saturday.
The Merseyside Police department said a police officer and two civilians sustained minor injuries during the disturbance on Friday night in Knowsley, a village located 13.5 kilometers (8.4 miles) from the city of Liverpool.
The police force said some protesters threw objects and set a police van on fire. The people arrested, who ranged in age from 13 to 54, were detained "following violent disorder."
"A number of individuals who turned up at the Suites Hotel last night were intent on using a planned protest to carry out violent and despicable behavior," Merseyside Chief Constable Serena Kennedy said. "They turned up armed with hammers and fireworks to cause as much trouble as they could, and their actions could have resulted in members of the public and police officers being seriously injured, or worse,"
Speculation on social media about a man accused of making inappropriate advances toward a teenage girl in a nearby town might have triggered the demonstration outside the hotel, Kennedy said. The man in his 20s was arrested elsewhere in England on Thursday "on suspicion of a public order offense" but later released on the advice of child protective services, she said.
George Howarth, who represents Knowsley in the U.K. Parliament, said the violence on Friday night did not reflect the community.
"The people of Knowsley are not bigots and are welcoming to people escaping from some of the most dangerous places in the world in search of a place of safety," he said. "Those demonstrating against refugees at this protest tonight do not represent this community."
Britain takes in fewer asylum-seekers than some other European countries, including France and Germany, but has seen a sharp increase in the number of people trying to reach the U.K. across the English Channel in dinghies and other small boats.
More than 45,000 people reached Britain by that route in 2022, and most applied for asylum. The system for considering asylum applications has slowed to a crawl because of political turmoil and bureaucratic delays, leaving many migrants stuck in hotels or other temporary accommodation.
The Channel crossings have become a hot political issue, with the Conservative government promising to "stop the boats." Opponents accuse the government of demonizing desperate people fleeing war and poverty.
In October, a man firebombed a processing center for new arrivals in the Channel port of Dover. Police said he was motivated by far-right ideology. He killed himself after the attack.
Add TheJapanNews to your Google News feed.