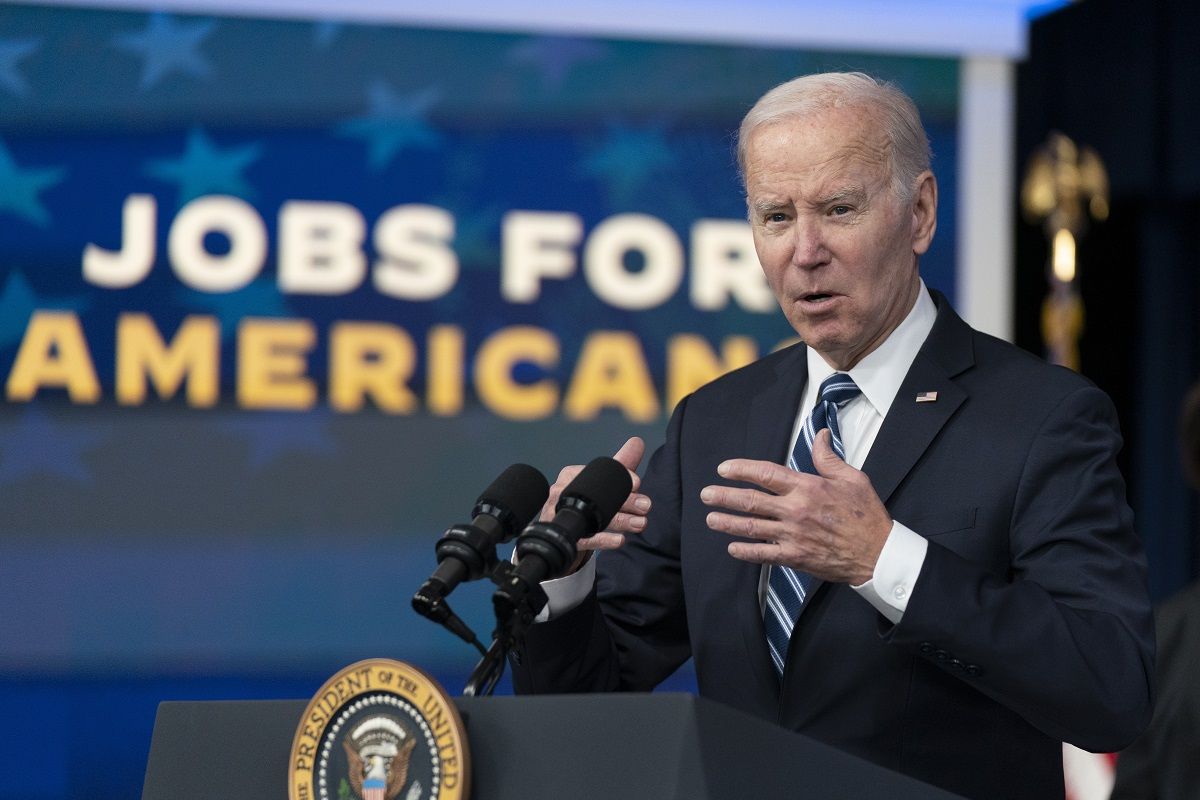 13:27 JST, February 5, 2023
WASHINGTON (AP) — Going into Tuesday's State of the Union address, President Joe Biden sees a nation with its future aglow.
Republicans take a far bleaker view — that the country is beset by crushing debt and that Biden is largely responsible for inflation. And the GOP now holds a House majority intent on blocking the president.
The harder reality is that the United States is on a tight rope, trying to balance efforts to reduce inflation with the need to stay upright and avoid falling into a recession. That's with the seemingly inherent contradiction of the Federal Reserve's interest rate increases and the unemployment rate falling to a near 54-year low.
Based on past speeches, Biden believes the policies adopted under his watch can fill the U.S. with new factories and protect against climate change. Roads, bridges, sewer systems, ports and internet service would be improved. The middle class would be more financially secure. So would America's place in the global economy's hierarchy.
On Friday, the president said the proof was in the January employment report. It showed 517,000 jobs were added as the unemployment rate fell to 3.4%, making it "crystal clear" that his "chorus of critics" were wrong.
"Here's where we stand: The strongest job growth in history," Biden said. "Put simply, I would argue the Biden economic plan is working."
Republicans are pushing back. They blamed Biden's trillion-dollar plus spending for high inflation and surging gas and food prices. GOP lawmakers want to repeal his tax increases and additional money for the IRS. They oppose his forgiveness of student debt and blame him for the migrants seeking to enter the country at the U.S.-Mexico border.
Neither side captures the fullness of the actual state of the economy.
One group of experts can read the data and claim a recession is on the horizon. A different group can focus on a separate set of figures and see reason to rejoice. It's a disorienting moment.
Biden can celebrate the low jobless rate even as Republicans bemoan inflation that is still running dangerously hot.
"It's the best of times and the worst of times for the U.S. economy, to borrow a phrase," said Mark Zandi, chief economist at Moody's Analytics. "The economy is full of contradictions as it struggles to get beyond the massive global shocks of the pandemic and the Russian invasion of Ukraine."
Zandi said he expects the U.S. economy will "skirt" a recession this year, though many economists believe a downturn will come.
Gus Faucher, PNC Financial Services' chief economist, pegs the odds of a recession this year at 60%. But he said any downturn would be "mild" because "worker shortages will limit layoffs, consumer balance sheets are in great shape, the banking system is solid."
Most people in the U.S. assume the nation is already in a recession, even if they personally feel fine.
Only 24% of adults call the national economy good and 76% say conditions are poor, according to a poll by The Associated Press-NORC Center for Public Affairs Research. At the same time, 57% say their personal financial situation is good. That's unchanged since December, but it has eroded slightly since earlier last year when 62% felt positively about their finances.
The key force shaping the economy right now is the Fed, which has the mission of keeping prices stable and inflation at around 2%. Consumer prices jumped 6.5% last year.
To bring down inflation, the Fed has tried to slow down hiring and growth by raising its benchmark rate over the past year. When Biden delivered the State of the Union Address in 2022, the Fed's benchmark rate was effectively near-zero. It's now over 4.5%, the fastest increase in four decades, and Fed Chairman Jerome Powell said Wednesday that the rate will likely go higher.
"Without price stability, the economy does not work for anyone," Powell told reporters after the Fed board's most recent meeting.
The Fed rate increases mark a major reversal in how the economy operates.
Ever since the 2008 financial crisis, the U.S. central bank had held its benchmark rate near historic lows to bring back growth. That made it easier for tech start-ups because cheap money meant investors expected them to focus on growth instead of profits. Consumers got use to historically cheap rates for mortgages and auto loans.
The past year's rate jumps produced a sudden whiplash. The stock market fell. Prominent tech companies such as Google and Microsoft recently announced layoffs. Even as computer chip companies began building new plants and crediting Biden's policies, the world economy swung from a dearth of semiconductors to a glut. Mortgage rates initially doubled to over 7%, before falling back a bit to 6% last week. The big increase meant monthly payments became unaffordable for would-be homebuyers, forcing many to stay in rentals.
Glenn Kelman, CEO of the real estate brokerage Redfin, said the housing market is stronger than many people expected. But the years of low rates worsened generational inequality. Baby boomers became wealthy as their homes increased in value, but then rates jumped at the time when more millennials wanted to buy and they found themselves priced out.
"A generation ago, boomers owned 21% of U.S. wealth," Kelman said. "For millennials, that number is 7%. They're still on the outside looking in."
Carl Tannenbaum, chief economist for Northern Trust, said he is surprised that the rate increases have hit housing but not employment. Traditional models assumed that efforts to lower inflation would automatically include job losses. But when he talks to companies, most are reluctant to fire their workers because businesses had trouble finding skilled employees during the pandemic.
"Because the supply of labor has been so starved for the past two years, firms are holding on to who they have," Tannenbaum said. "The prevailing wisdom is if we have a recession it's going to be shallow. Firms are going to want to be ready to go."
As much as Biden says his mission is about giving Americans a sense of confidence, his challenge might rest with an economy in which few things are certain.
When the pandemic hit in 2020, the government aid was so overwhelming that a financial market crash turned into a rally. Biden tried to assure the country in 2021 that rising prices were a temporary inconvenience, only to find that inflation defined how many perceived his first two years as president. The expectation was that interest rate increases would ultimately lead to layoffs and higher unemployment, but hiring stayed robust in a sign that the economy is unmoored from traditional expectations.
If Biden faces a challenge on the economy, it might just be that no one really knows what could happen next.
"We're in an environment where there is a lot of uncertainty," said Gregory Daco, chief economist at EY-Parthenon. "The conflicting signals we keep getting on the economy make it very hard to get an accurate pulse."
Add TheJapanNews to your Google News feed.