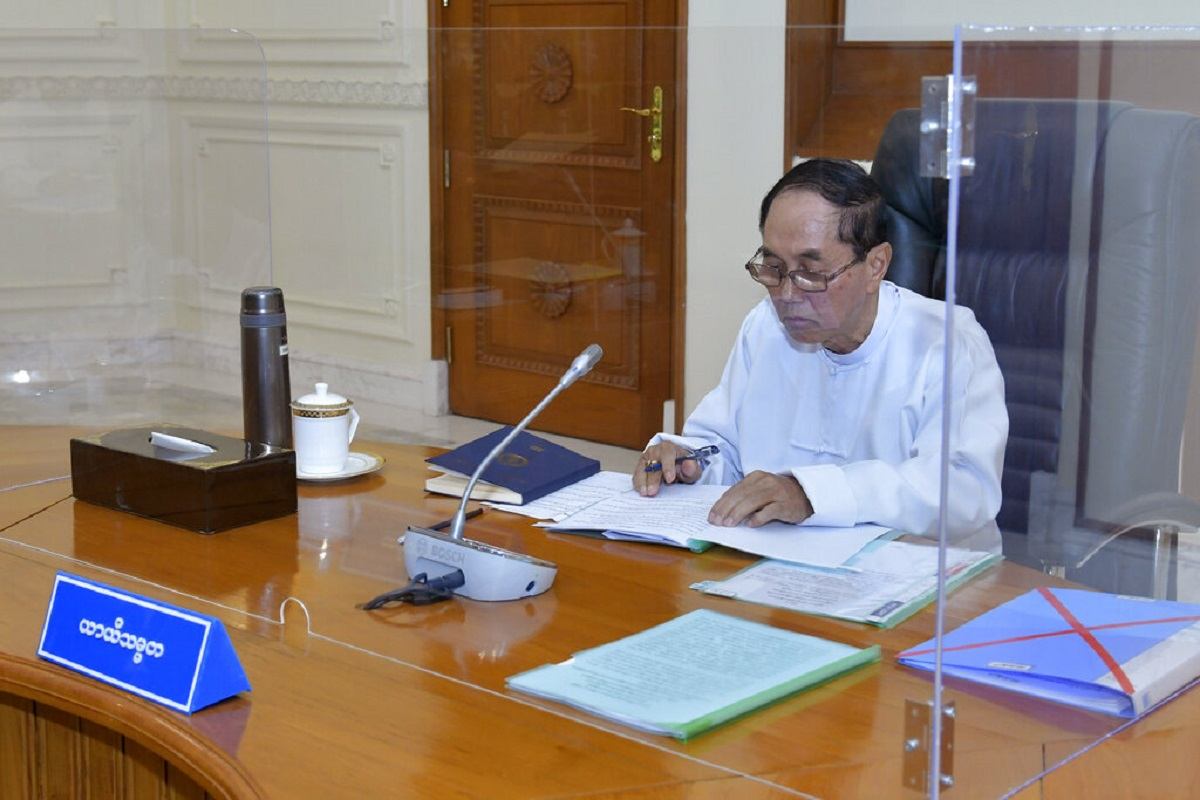 15:29 JST, February 3, 2023
BANGKOK (AP) — Martial law was declared in several areas of military-run Myanmar on Thursday, a day after authorities extended a state of emergency throughout the country wracked by violence that some U.N. experts have described as a civil war.
State-run MRTV television broadcast an announcement by Aung Lin Dwe, secretary of the military's State Administration Council, imposing martial law in 37 townships across eight of the country's 14 regions and states. Eleven of the townships are in Sagaing region and seven in Chin state, areas in the northwest where fighting has been fiercest between the army and guerrillas belonging to pro-democracy People's Defense Forces and their allies in ethnic minority militias.
The army has been struggling to contain a nationwide insurrection by opponents of military rule who took up arms after peaceful protests against the army's Feb. 1, 2021, seizure of power were suppressed with lethal force. The military has declared martial law before, most notably in early 2021 in Yangon, the country's biggest city, after which violence escalated against protesters. According to the Assistance Association for Political Prisoners, an independent watchdog group that tracks killings and arrests, at least 2,948 civilians have been killed since the army takeover.
Aung Lin Dwe said in a statement that it was necessary to declare martial law to effectively carry out security and the rule of law. Martial law supersedes all other laws, giving the military total authority over a specified area, including administrative, judicial and law enforcement functions. The other areas where martial law was declared are in Magway, Bago and Tanintharyi regions, and Kayah, Kayin and Mon states.
A spokesperson for the opposition's underground National Unity Government, which acts as a shadow government opposed to army rule, told The Associated Press that he believes the military will increase killings and torture of people under the pretext of stabilizing the country.
"We want to inform the soldiers and policemen who are protecting the junta not to continue fighting the unwinnable war, that the people are fighting them back," Nay Phone said.
A separate statement from the military said all administrative and judicial work in the specified areas must be led by regional military commanders, who can initiate military tribunals for 23 offenses with punishments including the death penalty and indefinite imprisonment.
While no appeals will be allowed, submissions for a revision of the punishment can be filed within 15 days. The offenses that can be heard by military tribunals include those under the Counter-Terrorism Law, sedition, treason, incitement, corruption, unlawful association, murder, rape, media law, publishing law, immigration and electronic transactions charges.
On Wednesday, the military government announced it has extended the state of emergency it imposed when it seized power two years ago, a move that sets back plans for a general election that had been expected in August. It said it was necessary to extend the emergency for six months because the country remains in an abnormal situation and time is needed to prepare for a peaceful and stable election.
A major reshuffle of the Cabinet and the military's State Administration Council was also announced Wednesday.
A report on the reshuffle in Thursday's Global New Light of Myanmar and other state-run newspapers said the Cabinet has been reorganized "for the emergence of a modern, developed, genuine and disciplined democratic nation and for the benefit of the nation and the entire ethnic people." No specific reasons were given for any transfers or dismissals.
The Cabinet, in theory the nation's top administrative body, in practice has less power than the military-dominated State Administration Council. The Cabinet's power is diminished further under the state of emergency, which allows the military to assume all government functions, and gives the military chief, Senior Gen. Min Aung Hlaing, legislative, judicial and executive powers.
The ministers of defense, home affairs, transport and communications, and planning and finance were appointed to serve concurrently as deputy prime ministers, joining Vice Senior Gen. Soe Win in that position.
Foreign Minister Wunna Maung Lwin, one of the few members of the leadership with an international profile, was moved from his job to the State Administration Council. The ministers of agriculture, livestock and irrigation, construction, hotels and tourism, and ethnic affairs were also replaced.
A separate announcement said nine out of the 20 members of the State Administration Council were replaced, with most of them moved to a newly formed Central Advisory Body.
Add TheJapanNews to your Google News feed.