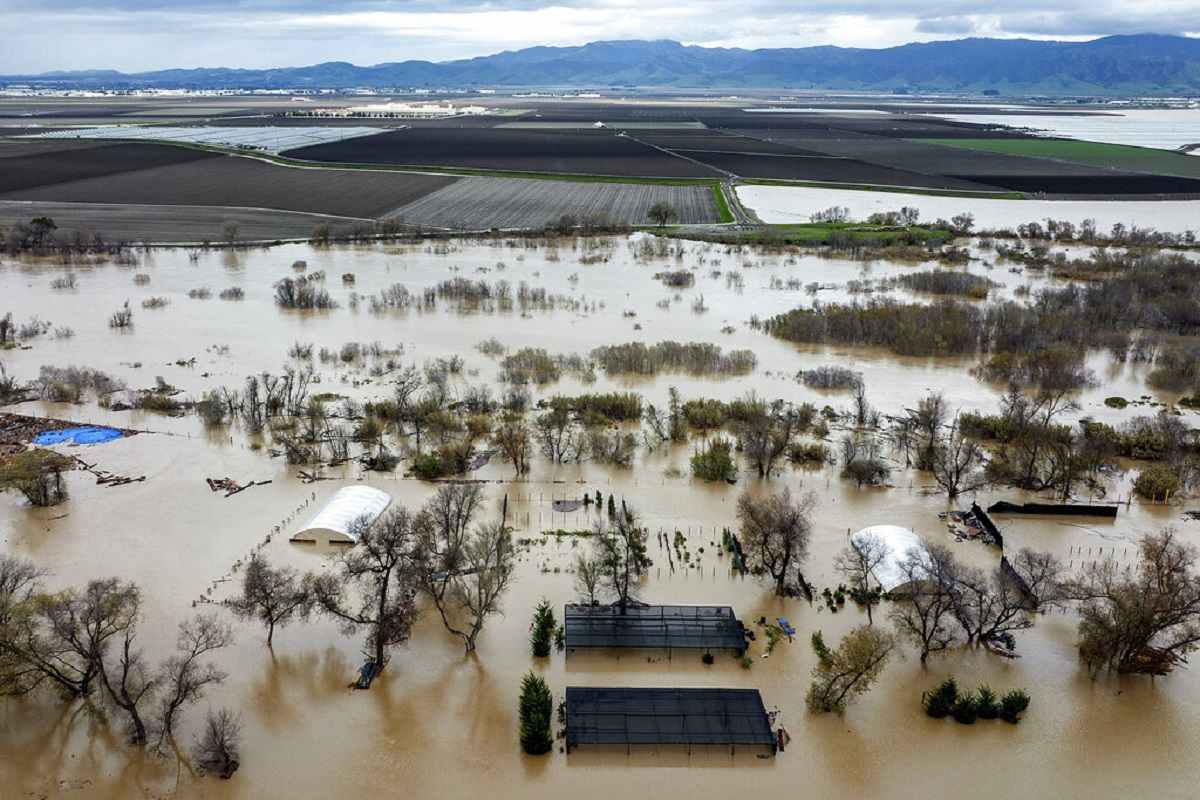 10:56 JST, January 27, 2023
SACRAMENTO, Calif. (AP) — Weeks of historic rainfall in California won't be enough to end a severe drought but it will provide 27 million people with five times more water than suppliers had been told to expect a month ago, state officials announced Thursday.
The Department of Water Resources said public water agencies will now get 30% of what they had asked for, up from the 5% officials had previously announced in December. That's because for the first three weeks of January nine atmospheric rivers dumped an estimated 32 trillion gallons of rain and snow on California. It was enough water to increase storage in the state's two largest reservoirs by a combined 66%.
"We're not out of drought in California, but this certainly makes a significant dent," said Karla Nemeth, director of the California Department of Water Resources.
California pumps water from its major rivers and streams and stores it in a bunch of reservoirs known as the State Water Project. State officials then deliver that water to 29 public agencies that supply the state's major population centers with drinking water and irrigate 1,151 square miles (2,981 square kilometers) of farm land.
Years of drought have depleted many of those reservoirs to dangerously low levels, forcing significant cuts to water agencies across the state. Many agencies imposed mandatory restrictions on customers, and Gov. Gavin Newsom called on people and businesses to voluntarily reduce their water use by 15%.
The Metropolitan Water District of Southern California, which includes major population centers like Los Angeles and San Diego counties, last month declared a drought emergency for all of its 19 million customers. It has imposed mandatory restrictions on 7 million customers, meaning they can only water their lawns one day per week.
Thursday's announcement did not automatically end those restrictions. Adel Hagekhalil, the district's general manager, said the extra water "will certainly help communities hit hardest by this drought." But he warned that "Southern California's water challenges are far from over."
The district gets about a third of its water from the State Water Project, a third from the Colorado River and a third from other sources. The Colorado River system has benefited from the recent storms, but not to the same extent as California's water system. Hagekhalil warned Southern California may "see significant reductions" from the Colorado river beginning next year.
"To replenish local storage and reduce reliance on imported supplies, we must all use water as efficiently as possible," he said.
The U.S. Drought Monitor said Thursday that severe drought was reduced to moderate drought in most of the San Joaquin Valley and the lowest category — abnormal dryness — has replaced moderate drought on the entire central coast, including Monterey Bay.
Most of the state, however, remains in moderate or severe drought, with only a fraction on the far north coast entirely free of drought.
The worst categories of drought — exceptional and extreme — were eliminated from California earlier this month.
The recent storms have highlighted how difficult it is to manage water in the West, where long dry spells are often punctuated by intense periods of rain and snow that leave officials scrambling to capture it all before it flows out to the Pacific Ocean. Environmental regulations limit the amount of water state officials can take out of rivers, making sure to protect habitat for endangered species of fish.
But when strong storms hit, like the ones that pummeled the state in January, state officials say they are limited more by outdated infrastructure than they are by environmental rules. The State Water Project has been pumping at maximum capacity the past few weeks, pulling out water at 9,500 cubic feet per second (269 cubic meters per second). Meanwhile, Nemeth said water is running into the ocean at 150,000 cubic feet per second (4,247 cubic meters per second).
California is trying to build seven new water storage projects, paid for in part by a $7.5 billion bond voters approved in 2014. But it has taken those projects nearly a decade to get off the ground amid a long permitting and approval process.
Meanwhile, it has been 17 years since the State Water Project has delivered 100% of its water allocation. State officials say part of the problem is a climate change that causes more rain to evaporate into the warmer air and seep into the drier ground instead of flowing into the state's rivers and streams.
State officials said Thursday they're cautiously optimistic about the rest of this year. California has twice as much snow in the Sierra Nevada compared to its historical average, and Thursday's water announcement did not include the amount of water it will generate when it melts in the spring.
The intense rainfall has saturated the ground, meaning when the snow melts in the Sierra Nevada this spring less of the water will be absorbed by dry ground and more of it will flow into the state's reservoirs.
Still, even with the series of intense rainfall, it's possible California's water year — which runs from Oct. 1 to Sept. 30 — will be average.
"We can have intense dry conditions and intense wet conditions all in the same year," Nemeth said.
Add TheJapanNews to your Google News feed.