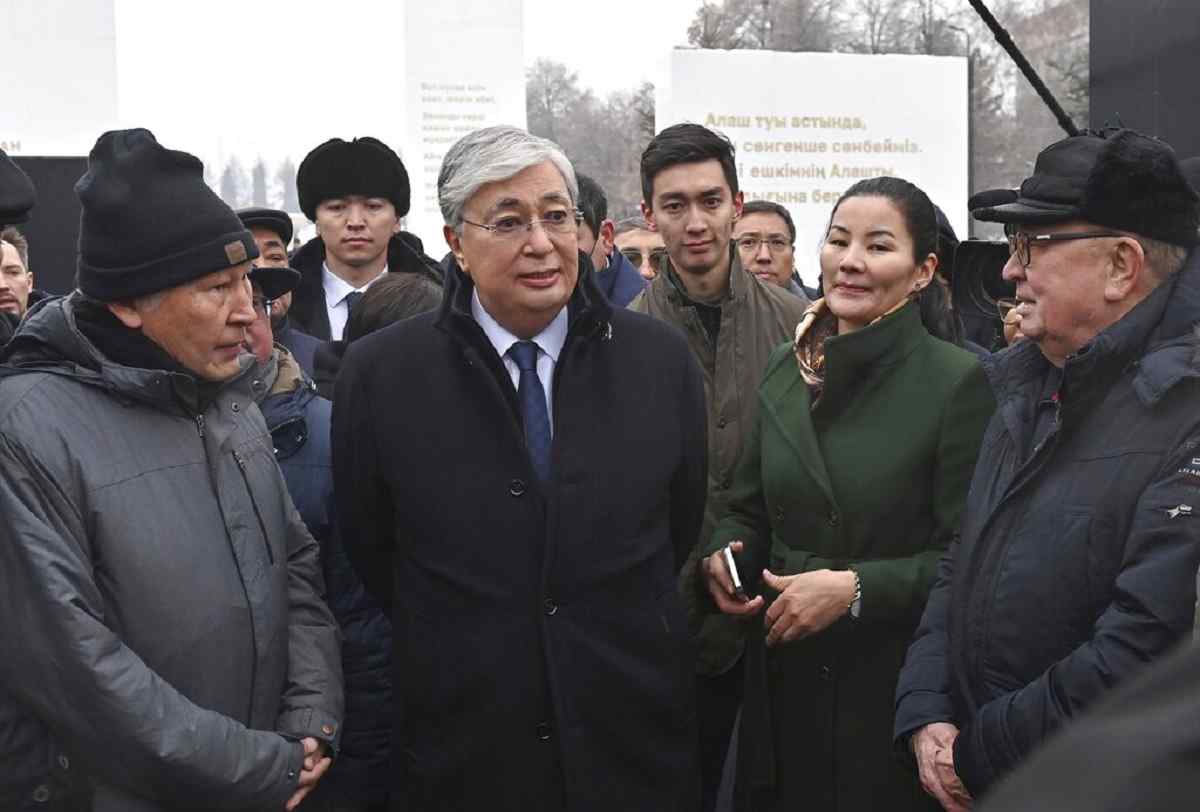 17:19 JST, January 20, 2023
Wisps of fog hung over central Almaty, Kazakhstan, last month as President Kassym-Jomart Tokayev somberly unveiled a monument to those killed a year ago in the worst unrest in the Central Asian nation's three decades of independence.
Words on the stark concrete "Reverence" memorial speak of the need for unity and harmony in the energy-rich country of 19 million.
But a year after calm was restored and a state of emergency lifted on Jan. 20, 2022, both appear elusive. And an official fog still shrouds many of the events surrounding the days known as "Bloody January."
Despite government promises of accountability as well as promises of economic and political reforms in the former Soviet nation, many Kazakhs say they have not seen meaningful changes or even clarity about what happened to those who were killed and detained in the rioting.
"So many questions remain about what happened," said Dimash Alzhanov, a Kazakh political analyst and co-founder of the civic movement known as Oyan, Qazaqstan, or "Wake up, Kazakhstan."
Government video of the memorial's Dec. 23 unveiling in Republic Square, attended by about two dozen officials, showed a subdued ceremony. The scene was starkly different 11 months earlier, when protesters stormed two palatial state buildings on Jan. 5 and set them ablaze.
The Prosecutor General's office said 238 people were killed; human rights groups say over 10,000 were detained.
The demonstrations began Jan. 2 in western Kazakhstan's oil-producing region over an increase in state-controlled gas prices as 2022 dawned. Those protests spread and morphed into broad criticisms of corruption, economic inequality and a continuing grip on power and the country's energy wealth by its long-serving first leader, Nursultan Nazarbayev, and his family. Marchers referred to him by shouting "Old man out!"
Over the course of a week, the initially peaceful gatherings grew violent. Participants in the marches told The Associated Press at the time that armed men, their faces covered and riding with cars without license plates, appeared in Almaty, the former capital, and urged them to storm government buildings, promising guns.
The government, led by Nazarbayev's hand-picked successor Tokayev, responded with "shoot-to-kill" orders, blaming foreign-trained and funded "terrorists."
At Tokayev's request, 2,000 mostly Russian peacekeeping troops were sent in by the Collective Security Treaty Organization, a military alliance of six former Soviet states. This raised fears of an intervention by Moscow — weeks before its Feb. 24 invasion of Ukraine. Those fears never materialized, with the CSTO pulling out in late January.
Human rights activists allege that Kazakh security troops used excessive force, arbitrary detentions and widespread torture on thousands of detained protesters. They criticized government-published lists of victims for not clarifying the circumstances of their deaths.
Tokayev's administration rejected calls for an international investigation.
It did, however , push through reforms that included strengthening parliament, reducing presidential powers and limiting the presidency to a single seven-year term. Tokayev, who succeeded Nazarbayev in 2019, won a snap presidential election in November with a reported 81% of the vote, ensuring he will stay in office until 2029.
The reforms also stripped Nazarbayev, 82, of his remaining powers over domestic and foreign policy. In September, the capital of the country reverted to the name of Astana, after being renamed Nur-Sultan in his honor in 2019.
Despite those reforms, human rights campaigners and analysts say they see troubling familiar patterns.
"We continue to live in a Soviet-style authoritarian regime, and it hasn't changed very much since the January events," Yevgeniy Zhovtis, head of the Kazakhstan International Bureau for Human Rights and Rule of Law, told AP. "In fact, the January events have led to new issues, linked to torture and civilian deaths and related investigations being closed."
Kazakh human rights lawyer Tatiana Chernobil, working with the Coalition Against Torture nongovernmental organization, said that while her group received 190 complaints of torture and ill-treatment in 2022, the real number could be much higher.
She said 104 of those cases brought by her organization were dismissed for lack of evidence. The Kazakh ombudswoman, Elvira Azimova, gave a similar figure in November, with state media quoting her as saying about 80% were dismissed before going to court.
In February, the press service of the president said criminal investigations were launched into 170 instances of torture and abuse of power from the unrest. In October, Deputy Prosecutor General Aset Chindaliyev said 17 police officers and 12 security operatives were implicated in criminal cases into the alleged torture of detained protesters.
Chernobil said authorities don't do enough to verify the allegations, noting many people claim they can identify their torturers and have medical records of injuries. Investigators "often stop at questioning the suspects, who claim that they didn't commit any wrongdoing — and that's it," and then conclude the account can't be verified, she said.
According to the United Nations, the burden of proof in torture cases lies with the state. As long as complainants can provide evidence of bodily harm or being held in custody, it is up to authorities to prove torture did not occur.
"In Kazakhstan, we see a lack of compliance with international standards. We see a kind of victim-blaming, laying the burden of proof on those bringing the allegations," Chernobil said.
Rachel Gasowski, a Central Asia researcher at the International Partnership for Human Rights, said torture allegations in Kazakhstan predate 2022. Cases cited after protests in the oil-producing city of Zhanaozen in 2011 led to neither investigation nor redress for victims, despite recommendations from U.N.-linked rights bodies. A joint report by Kazakh and international groups on torture is to be published this month.
Gasowski said her group was "dismayed" that most cases from the 2022 protests have been closed.
Chernobil expressed cautious optimism about a government decision to transfer jurisdiction in torture cases from the police and state anti-corruption agency to the Prosecutor General's Office but is unsure if it will bring real change. Her group has stopped demanding an independent investigative body, she said, "because it's a major question to what extent you can really be independent in Kazakhstan."
Zhovtis, the activist, said an international probe is needed because most criminal investigations of civilian deaths have been dismissed due to authorities frequently withholding key evidence such as CCTV video, citing national security.
The government list of those killed often omits whether they were accidental deaths, such as from excessive force, or if they were "genuinely terrorists," Zhovtis said, referencing the government line of foreigners being behind the unrest. The administration has yet to provide any such evidence.
An official in the Prosecutor General's Office told Kazakhstanskaya Pravda in February that authorities were investigating the deaths of at least six people in custody as the result of "prohibited interrogation methods."
Some high-ranking officials were accused of involvement in the unrest. Former anti-terrorism chief Karim Masimov, described as a Nazarbayev ally, was detained in January 2022, along with other key security figures and charged with high treason in an ongoing closed trial.
Tokayev speaks often of a "new Kazakhstan" that breaks with the Nazarbayev era, one with accountability and democratization. But Zhovtis sees limits to these promises.
Human rights defenders and independent journalists still face pressure, from online harassment to detentions and physical attacks.
On Saturday, journalist Dinara Yegeubayeva, who plans to run in March 19 parliamentary elections, posted photos of her burned-out car in Almaty.
"Tokayev! Explain! Is this your new Kazakhstan?" she said. Media reports say Yegeubayeva received bomb threats last year, although emergency responders found no evidence of one in her car. A criminal investigation has been opened.
Zhovtis linked the attack to what he called an official unwillingness to allow true political opposition.
Alzhanov, the analyst, said candidates have difficulty registering and gathering signatures from supporters.
He accuses Tokayev's administration of "imitation reforms" for the benefit of the West. He cited the case of opposition figure Zhanbolat Mamai, who has been charged with organizing mass riots and spreading false information in the 2022 protests. He faces up to 10 years in prison on allegations he calls politically motivated.
Despite the challenges, Zhovtis remained optimistic.
"Society is different now. The January events and their coverage in social media networks have played their part, and society has become more open — there is more information and more criticism of the authorities," he told AP.
He also hopes some opposition and independent candidates could be elected. Authorities allow 30% of parliament seats to be allocated from outside party lists.
"Something is happening. Very slowly, and the regime stays very much the same, but change is happening," he said.
Add TheJapanNews to your Google News feed.